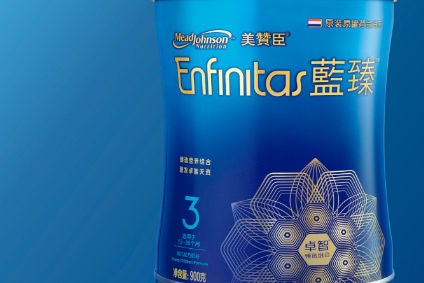 Mead Johnson has been the subject of takeover talk ever since it was spun-off from pharma group Bristol-Myers Squibb in 2009. Today's (10 February) news that the board of the US infant formula business has backed a potential sale came as little surprise – but what has raised eyebrows is the seemingly unlikely source of interest, UK condom-to-cleaning product provider Reckitt Benckiser. Katy Askew looks at the potential deal.
Reckitt Benckiser, the UK-listed company that manufactures brands including Durex condoms and Flash cleaning products, has offered to pay US$90 per share for Mead Johnson in a deal that values the world's third-largest infant formula maker at around $16.7bn.
The offer price represents a premium of 29% above the $69.50 that Mead Johnson's stock closed on 1 February, the day prior to the announcement that RB had made a takeover approach. The total value of the transaction is approximately $17.9bn including the assumption of Mead Johnson's debt. This represents a multiple of 17.4 x 2016 EBITDA. RB said it expects the acquisition to be earnings accretive in the first full year.
However, it is worth noting Mead Johnson's stock has been trending down for the past six months, suggesting the timing of Reckitt Benckiser's offer opportunistically hopes to take advantage of the US infant formula company's depressed share price. On 2 August last year, Mead Johnson's shares were trading at $87.29.
It would seem, then, that acquisitive Reckitt Benckiser thinks it can get Mead Johnson at a markdown price. But that is not the company's only motivation to snap up what, at first glance, does not seem like a natural fit for the UK group.
As with many branded FMCG companies, Reckitt Benckiser is dealing with a slowdown in growth in the face of sluggish demand. In 2015, Reckitt Benckiser booked like-for-like sales growth of 6%. In the first nine months of this year organic growth stood at 4%, the lower ended of its 4-5% full-year target range and well down from the highs of 7% organic growth witnessed in the third and fourth-quarters of last year.
"The company's recent lacklustre growth trends are a big reason for the approach for Mead Johnson – i.e. garner a new growth platform," Pablo Zuanic, an analyst at US investment and trading firm Susquehanna International Group covering Mead Johnson, suggests.
In that context, it is tempting to view M&A as a means for Reckitt Benckiser to give its top line a shot in the arm. However, while the acquisition of Mead Johnson would provide Reckitt Benckiser with an additional growth engine, the US infant formula business is facing sales struggles of its own.
Only last week, Enfamil maker Mead Johnson predicted its underlying net sales – its top-line number excluding the impact of exchange rates – could continue to decline in 2017. The company provided a range for its 2017 constant-dollar net sales of negative 1% and plus 2%. The company issued this forecast alongside full-year results, which revealed an 8% drop in net sales or a 3% decrease excluding currency exchange.
Zuanic believes Reckitt Benckiser stands a good chance of turning these trends around. "Reckitt Benckiser is acknowledged as a top steward of brands and we would assume they could improve the performance of the Mead Johnson portfolio, both in developed as well as in developing markets," he says.
Commenting on the deal today, Mead Johnson CEO Kasper Jakobsen confirmed he expects the deal to open new doors for the infant formula company. "As part of Reckitt Benckiser, a bigger health care focused business recognised for its marketing capabilities, we will derive benefits from both increased scale and diversification. We are pleased that our shareholders have an opportunity to recognise significant and immediate value and are excited for the new opportunities for our employees as part of a larger company."
Mead Johnson has been beset by issues in China, its largest market accounting for 30% of group sales. Problems have ranged from the swift channel shift that took many international infant formula brands by surprise, to an increasingly competitive environment marked out by heavy discounting, to shifts in the regulatory scene. But, while China has been proving a headache for Mead Johnson's management, it is likely its exposure to this high-growth country is one of the attributes Reckitt Benckiser finds most appealing about the group.
Reckitt Benckiser generates the lion's share of its sales in European and American markets but it has also identified so-called "power markets" in which it aims to ramp up its presence in. Alongside India, China is chief among this group of countries. In China, Reckitt Benckiser has been investing in e-commerce, with online sales now accounting for 30% of total sales in the market. For its part, Mead Johnson has been working to expand sales in two key channels – e-commerce and baby stores. In July, Mead Johnson's Jakobsen said online sales were rising by around 70% in the country year-on-year.
The acquisition of Mead Johnson strengthens RB's presence in emerging markets like China, Rakesh Kapoor, RB CEO, stressed this morning. Mead Johnson generates 67% of sales in Asia and Latin America. In 2015, Mead Johnson had net sales of $1.2bn in China. Kappor noted: "Mead Johnson's geographic footprint significantly strengthens our position in developing markets, which will account for approximately 40% of the combined group's sales, with China becoming our second-largest power market."
Euromonitor International's Lianne van den Bos believes exposure to the Chinese infant formula sector will be crucial for companies wanting to grow in the global category in the coming years. "With China expected to drive half of global growth in milk formula in the next five years, this is a battle worth fighting and a solid reason why a company with hardly any stake in packaged food would want to venture out," she notes.
If Reckitt Benckiser's track record of growing brands leaves it well-placed to strengthen the top line performance of Mead Johnson, the UK firm has also shown its mettle in boosting margins through past acquisitions. Mead Johnson already generates strong operating profit margins at 20%-plus. RB believes it can build on this foundation and the company indicated it expects to generate annual run-rate savings of GBP200m by the third year.
While Reckitt Benckiser does not have a foothold in infant nutrition, Sanford Bernstein analyst Andrew Wood – who did describe the company's bid for Mead Johnson as "out of left field" – says a move into the infant formula category by the UK business is not quite the stretch it might first appear. Expansion in this area fits with Reckitt Benckiser's focus on consumer health through brands such as Nurofen and Strepsils, as well as the more recently acquired vitamin business Schiff. Describing the categorisation of sports nutrition and weight management as part of the consumer health industry but infant nutrition as within the food sector as "arbitrary", Wood argues an acquisition of Mead Johnson would be a tool for Reckitt Benckiser to increase its focus on its higher growth health division.
"Perhaps [infant nutrition] is in the grey area between the two industries. Related to that, perhaps Reckitt Benckiser will consider infant nutrition as part of its health business…which would push [that division] up to 49% of sales on a 2017 pro-forma basis," he wrote in a note to investors.
Reckitt Benckiser's health business currently accounts for around one-third of group sales and, in the first half of the year, like-for-like sales increased by 9% (dropping to 2% in the third quarter due to one-time issues). The company's health brands are therefore already expanding at a faster rate than the company's hygiene and home care units, which are growing in the low single digits. Mead Johnson's infant and children's nutrition business will increase RB's revenues in consumer health by approximately 90%, the company noted. Increasing the scale of this division could signal a greater push on health.
N.B. This is an updated version of an article originally published on 3 February, shortly after Mead Johnson confirmed it had recieved an approach from RB.