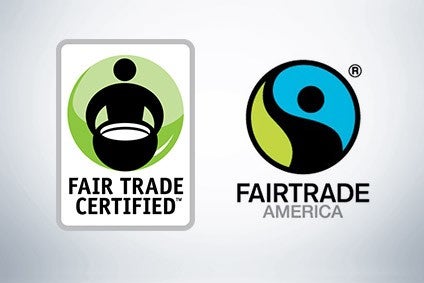 Ben Cooper examines the market for fair trade in the US, where two organisations are looking to grow the market for the ethically-traded goods.
Bringing up the idea of 'fair trade' in the US in the current political environment would be likely to spark a lively discussion, though probably not about the market for ethically-traded goods or consumer attitudes to products certified as having higher ethical credentials.
However, there could perhaps be no better time to have such a conversation than when the question of what constitutes fair trade for the nation as a whole is such a live political issue. While Donald Trump's adversarial view of international trade as a zero-sum game that must be won has found favour with some voters, the market for ethically traded foods in the US is also gaining momentum and drawing in more consumers.
While Donald Trump's presence in the White House bears witness to popular support Stateside for an aggressively adversarial approach to trade, the market for ethically-traded foods appears to be in relatively good health.
The US market is distinctive for having two significant organisations certifying "fair trade" foods: Fair Trade USA, which was the Fairtrade International affiliate organisation in the US until it broke away from the system in 2011; and Fairtrade America, which launched as the Fairtrade International organisation for the US market in 2013.
Both organisations report growing sales in key food categories and increasing consumer awareness for their respective marks.
In its 2016 Almanac, published in September, Fair Trade USA reports sales of products bearing its mark across food and non-food categories reached US$6bn in 2016.
Given its short history, Fairtrade America not surprisingly has a smaller footprint than Fair Trade USA, which has been operating since 1998, but is "catching up fast", says executive director Hans Theyer.
According to the Fairtrade International annual report, published in October, retail sales of Fairtrade-certified products in the US rose by 5% in 2016 to US$1.07bn.
"Steadily" might therefore be a fairer way to describe the rate at which Fairtrade America is gaining ground on its predecessor. However, the difference in the scale of the two organisations is not only a reflection of Fair Trade USA's fifteen-year head start.
Fair Trade USA split from the Fairtrade International system in order to pursue a higher-volume approach, in particular extending its remit from helping smallholders grouped in cooperatives to working with large farms and plantations.
In view of the extensive discussion now being devoted to the challenge of scaling up organisations such as Fairtrade and Rainforest Alliance, the differences between the two models running in the US are salient.
At Fairtrade America, Theyer stresses a key point of difference between the two models relates to governance. Since 2013, Fairtrade producer networks have held a 50% share of the voting rights of Fairtrade International's general assembly. Having the beneficiaries as decision-makers is "unique in the development world", Theyer says.
Fair Trade USA emphasises the shared objectives of the two organisations. "Fair Trade USA and Fairtrade International are two organisations that share a common mission to improve lives and protect the environment around the world," says Jenna LeDoux, interim communications director at Fair Trade USA. "We work with many of the same producer communities, and share several core standards. Where we differ is primarily in who we include in the scope of Fair Trade certification. We're proud of the common things we share with FLO [Fairtrade International], and we're proud of the areas where we differ."
Perhaps the most striking departure from the original Fairtrade model Fair Trade USA has made is its decision last year to certify products from US farms and fisheries.
Nathalie Marin-Gest, director of produce and floral at Fair Trade USA, says the decision last year was about "bringing the benefits of Fair Trade to farm workers in southern Arizona and empowering shoppers to support a farm where workers' rights, safety and environmental sustainability are valued".
At Fairtrade America, Theyer concedes the domestic producers Fair Trade USA is certifying need help but he does not believe its model offers a viable solution to the scaling-up challenge for the Fairtrade movement. "Using the concept of fair trade to me in that way and scaling that way is really hindering the focus we need for the communities we are helping. My concept of scale is getting more companies into Fairtrade without diluting the standards and getting more consumers into it."
Theyer adds many of the producers with which Fairtrade America works, for instance in cocoa and sugar, sell a relatively small proportion of what they produce on Fairtrade terms even though 100% of their production could be certified as Fairtrade. That means the scaling up challenge lies far more at the market level than on the supply side.
In common with Fairtrade-labelling organisations in some other countries, Fairtrade America has focused on a small number of core products, such as cocoa, bananas, sugar and honey. Meanwhile, Fair Trade USA has aimed to grow by broadening its offer and adding new categories, notably seafood in 2015.
Seafood was Fair Trade USA's fastest growing category in 2016, up by 368% off a low base. Among the other fastest-growing categories were sugar, up 29% in volume terms, cocoa (+23%), honey (+26%) and coconuts (+15%), though sales of grains and produce fell by 24% and 1% respectively.
What both organisations agree on, however, is on the demand side there is room in the marketplace for them both. "There's a huge space out there," Theyer says. "A lower share than in the UK or Germany, for example, means a lot of people. So, there's quite a lot of potential in the US."
They also agree the ethically-traded sector actually benefits from having two organisations working in different ways to build sales and consumer awareness. "The more groups out there working to serve different types of communities, the better," Fair Trade USA's LeDoux says.
Theyer concurs. "I would tend to agree that it [having two organisations] has helped," he tells just-food. "To the point of making fair trade more well known in companies, businesses and individuals, I think it's a good thing."
At present, consumer recognition of the Fair Trade USA mark is, not surprisingly, higher than for Fairtrade. According to a survey commissioned by Fairtrade America from market research firm GlobeScan, published in September, 26% of consumers had seen the Fairtrade label 'often' or 'occasionally', compared with 32% for the Fair Trade USA mark.
The research also confirms the higher awareness of fair trade in urban communities, with the recognition of the Fairtrade label rising to 40% in cities.
Theyer says US consumers are in general more aware and more motivated by environmental issues than by social impacts in agricultural supply chains, whereas in many European markets the reverse may well be the case. "Europeans first think about social impact and then environment, whereas in the US it's first about green and the environment then around social impacts. So, there's a huge cultural difference there."
In that context, it is interesting to note Fair Trade USA stresses both the environmental and social aspects of its fisheries programme. "It was the first programme of its kind to address both social and environmental responsibility in fishing communities," Ashley Apel, the programme's senior manager tells just-food, adding Fair Trade USA certifies tuna, shrimp and scallop from four countries "ensuring better labour practices and environmental stewardship".
The Fair Trade USA seafood programme was launched in partnership with supermarket group Albertsons. At Fairtrade America, Theyer stresses the vital role the country's powerful supermarket retailers can play in building sales and awareness of ethically traded food in the US. He also emphasises Fairtrade America's outreach to major food manufacturers. Recognition of the Fairtrade label in multinationals "was very strong and continues to be very strong", he says and this has been helpful as Fairtrade America has set about the task of re-establishing the Fairtrade mark in the US.
Fairtrade America's partnership with Unilever-owned ice cream brand Ben & Jerry's is the "poster-child" for Fairtrade in the US, Theyer says.
In identifying what he believes sets the Fairtrade system apart, Theyer stresses it is the needs and priorities of the suppliers that matter most and that the system exists for them.
However, he says being responsive to the requirements of food companies is also vital, adding that he is very encouraged to see the progress the system is making towards becoming "not just a label but a real business partner".
As well as offering consumers alternative routes into the ethically-traded sector, having two fair trade certifiers also gives food manufacturers more choice when looking for potential partners.
Fairtrade America's capability to link with an international network of labelling organisations with common standards may be attractive to some, while the larger volumes Fair Trade USA has been able to source since its split from the Fairtrade system could be a critical selling point for others.