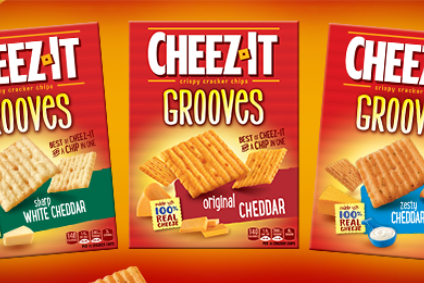 Kellogg's decision to end the direct store delivery of its snacks in the US is expected to give the company's profitability some momentum, with the Cheez-It owner saying the move would leave it better placed to grow revenues from that part of its business. However, the Pringles maker faces an uphill challenge to turn around declining sales trends. Katy Askew reports.
Kellogg revealed last week that it will end the direct store delivery of snacks in the US this year and move that side of the business to the warehouse model already used by Pringles and by the rest of its operations in North America.
Direct store delivery, or DSD, is the distribution model for Kellogg's cracker, cookie and fruit snack brands in the US. The company says DSD accounts for two-thirds of its US snack sales, although its warehouse system accounts for three-quarters of the cereal-to-snack group's total US sales.
The arrangement sees Kellogg ship products directly to stores. In future, the company will ship products to customers' warehouses.
The move is expected to help boost Kellogg's margins by reducing complexity and the company said it was looking to its 2018 margin target – a goal to expand operating margins by 350 basis points – with increasing confidence.
From a P&L standpoint, Kellogg has indicated it expects the elimination of the DSD network to be neutral in 2017 and accretive by 2018. The DSD transition will come in addition to savings achieved through Kellogg's Project K efficiency drive. That initiative generated savings of $296m in 2016 and is forecast to lower costs by a further $300-400m by 2019.
"We believe that this shift from DSD to warehouse will allow us to compete more effectively in today's market environment," CEO John Bryant suggested last week after Kellogg announced the move. "Moving fully to a warehouse distribution system offered the best path to more profitable growth going forward."
According to Sanford Bernstein analyst Alexia Howard, if Kellogg can bring its US snack margins in-line with the rest of its business in North America, it will have a positive impact on the group overall. "If over time, the exit of DSD will enable the margin of US snacks to converge to the level of total North America (a circa 450 basis point improvement), then this implies a margin benefit of circa 110 basis points for the overall company. Not all of this will be realised by 2018 due in part to reinvestments in selling and brand-building activities, but this is an important lever that puts this seemingly unattainable goal more within reach," she wrote in an investor note last week.
However, Kellogg insisted the move is also a way of positioning its snack business for growth. The performance of Kellogg's snack business has been marked by weak sales trends in the US. The unit saw sales decline by 1% in 2016, Kellogg said on Thursday when it announced its annual results. But the company flagged a sequential improvement at the unit, with sales increasing 2% in the fourth quarter. In North America, where Kellogg competes against Mondelez International's Nabisco family of brands, the company claimed it was able to gain share in the cracker and "wholesome snack" segments.
Kellogg hopes the adjustments it is making to the unit's distribution will leave it positioned to continue a sales revival by freeing up resources that can be placed behind brand-building.
"Right now, much of our US snacks resources are dedicated to a distribution system, DSD. That doesn't allow us to invest enough in the pull-oriented activities that resonate better with today's consumer and to drive our categories," Paul Norman, the head of Kellogg's operations in North America, suggested.
Kellogg's aim is to redeploy resources from "trucks and distribution centres" to "pull-oriented investment" that enable the group to make a closer connection to consumers, Norman claimed.
However, Barclays analyst Andrew Lazar believes the move raises the possibility Kellogg's in-store presence in the snack aisle could be negatively impacted. "A move like this is not without top-line risk, in our view, given the sensitivity of DSD-supported sales to the enhanced in-store sales effectiveness via feet on the street, as well as Kellogg's secondary positioning in the category," he noted.
Norman played down any such concerns. "Let's be very clear. We will continue to have significant presence in-store. We will have feet on the street just as we do in Morning Foods [Kellogg's division that handles its breakfast cereal] today," he insisted. "This action demonstrates just how serious we are about creating a more competitive and faster growing snacks business. We can generate more growth by shifting resources to brand building whilst improving margins for both our retailers and our sales."
However, Kellogg did conced the move could weigh on US snacks volumes in the near term. Delivering its full-year results on Thursday (9 February), Kellogg forecast a 2% drop in organic sales for 2017. The company said that decrease would be due to the changes it is making to its US DSD network, with the rest of the business likely to be flat-to-down 1% in 2017.
Sanford Bernstein's Howard believes Kellogg has "bought some time to stabilise the top line" through its DSD initiative.
However, investors will continue to look for a return to positive growth and, on balance, it seems that the initiative also carries significant risk that 2017's expected lower volumes could translate to market share erosion in 2018 and beyond. "The proof of the pudding will be in whether growth can be brought back in 2018 or whether the exit of the DSD system encourages opportunistic competitive activity, which when combined with ongoing weakness in key brands and categories could make for a bumpy outlook over the longer term," Howard notes.