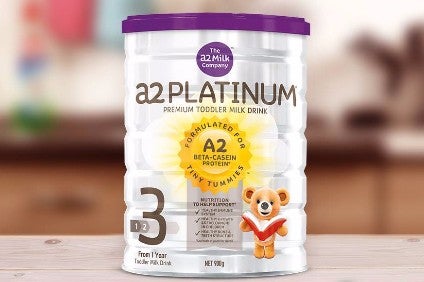 A2 Milk Co., the New Zealand-based dairy and infant formula business, has had a bumper 12 months. Two weeks ago, the company reported a near-trebling in its annual profits. Revenues jumped more than 50%, fuelled by growth in its home markets of New Zealand and Australia, rapid expansion in China and improved performances from smaller businesses in the UK and the US. Where next? Dean Best spoke to A2 Milk executive Scott Wotherspoon who has been handed a new role that could see the business cast its net wider.
After 12 months of significant growth, the management of New Zealand's A2 Milk Co. is studying where could be next for the dairy and infant formula supplier.
A fortnight ago, A2 Milk filed a set of very healthy-looking numbers for the year to the end of June. Annual net profit after tax stood at NZD90.6m (US$65.3m), up sharply from NZD30.4m a year earlier. The business' EBIT more than doubled from NZD51.8m to NZD138.5m.
The growth in profits came on the back of robust sales. The owner of A2 Platinum infant formula saw its revenue jump 56% to NZD549m, with sales from its combined Australia/New Zealand division and from its China arm growing strongly.
A2 Milk is present in five countries and, although its fledgling businesses in the UK and the US are not yet profitable, it said its unit in the UK made its first annual operating profit. In the US, a market at an even earlier stage for A2 Milk than the UK, the company said it had built its distribution and is targeting local monthly EBITDA in its 2019/2020 financial year. To give an indication of how fledgling A2 Milk's businesses in the UK and US are, their combined revenue in the year to the end of June was NZD21m (of the NZD549m generated by the company as a whole).
"What's very interesting for the board and for A2 shareholders anyway is what you are seeing is really strong results across all of the markets. We've always had great results in Australia and then China was a struggle – but now China's doing brilliantly. The US was a struggle and now the US is going in the right direction and the UK is profitable. Across the board, there's really clear progress," A2 Milk executive Scott Wotherspoon says.
Wotherspoon joined A2 Milk three years ago, hired to lead its new business in the UK. He was then given the added task of improving the performance of the company's unit in China, a difficult market for most businesses but especially those in infant formula and dairy, with regulations changing regularly and at short-notice. He has now been handed a new role, heading A2 Milk's businesses in the UK, its possible moves into Europe and unspecified "strategic initiatives".
"The brief was to get China going and then recruit someone to take over based in China, which is exactly what's happened. In two years, we've gone from a 0.5 share to a 3.5 share in China," Wotherspoon says. "It's not job done in China but certainly, for me, that first set-up has happened. Now what I'm doing is UK, Europe and the strategic initiatives."
As with many food companies, A2 Milk has seen its products crop up in markets without it actively pushing, with its long-life milk "appearing various places in Europe and the Middle East", Wotherspoon says. He plays down the possibility of A2 Milk embarking on a significant push into Europe but says the company will be weighing up its options and moving "opportunistically".
"The European part [of my new role] is really to review what we're going to do. We've had various discussions with a few people and we've not really pushed that because the company has not [yet] wanted to invest in this," Wotherspoon explains. "I don't see us doing some massive opportunity in Europe on our own. This will be about looking at the opportunities. We call it in the annual report 'opportunistic new markets'. We've got to find what those are and, at the moment, we're just working on that. It's really early days but the brief is to work out what we do in Europe and then put that into place.
"We're talking about three sets of products at the moment at a global level – milk and milk-based products; infant formula; and then adult nutrition. We're at various stages on each of those products globally. How we go into new markets and who we partner with, we're looking at different possibilities. We literally have not done that work yet but I do see different opportunities."
How about the "strategic initiatives" element of Wotherspoon's new role? He is, perhaps naturally, coy about the details. "There's a couple of big juicy projects, working with the CEO [Geoffrey Babidge] on various things and you'll see the results of those at some stage. I can't really say what those are. You can imagine with the level of demand, the level of growth we're doing at the moment and the fact we're actually only really in four countries the questions are 'What next? How do we move forward?' We're getting lots of interest from major players who want to talk to us and it's how do you move this on."
Asked to clarify the nature of that interest and whether it could mean companies partnering with A2 Milk on production, whether it could lead to an equity stake in the business being offloaded or whether the entire company could be sold, Wotherspoon says: "To be honest, it's such a wide range. Particularly from sitting in China, the level of interest we'd get from many different players in lots of different categories, people who want to get into this or who saw this as an interesting bolt-on, over the years – and some of them a lot more realistic than others, let me put it that way – they were talking [about] all those eventualities you were talking about."
Wotherspoon insists the industry's perception of A2 Milk and its focus on the A2 protein in cow's milk has changed as the business has grown. "Five years ago, people were just not taking it seriously and wondering whether it would go anywhere. People can really see that there is something here. The science is growing. You're starting to see people do independent studies on this. There's a lot more interest in what's happening and people taking it seriously. Consequently, you get interest from different commercial parties."
Since the interview with Wotherspoon took place, A2 Milk has been reported in Australia to be weighing up whether to make a move in some way for assets owned by local, under-pressure, dairy giant Murray Goulburn. A2 Milk had not responded to a request for comment at the time of writing. If an approach for Murray Goulburn assets is under consideration at A2 Milk, it is likely the growing company, given its size, would need to team up with others to lodge any offer. Moreover, it is likely only parts of the Murray Goulburn empire would interest A2 Milk.
The year ahead looks set to be one of considered moves by A2 Milk to continue to grow the business. A2 Milk expects more growth, in particular from infant formula and milk powder products in Australia and China and has spoken of improved momentum in its US and UK businesses.
In the UK, where A2 Milk focuses on milk, Wotherspoon says the company won listings at Asda, the country's third-largest grocer, towards the end of the financial year, meaning it has secured business with all the market's main food retailers. In the past, Wotherspoon has spoken of plans of launching the higher-margin infant formula in the UK retail sector. The formula is available in the UK wholesale channel but the company's growth in China meant a UK roll-out had to be put on hold. "I was running China so it was clear to me that starting a new market when we didn't have enough stock for the existing market was not a priority. We've been sorting that out, reviewing it and we'll launch when it's the right thing to do," Wotherspoon says.
Nevertheless, he still sees the UK as a market of solid potential for A2 Milk, in part riding on the back of the growth of lactose-free category. "We're seeing exactly the same thing in the US. Lactaid in the US, Lactofree [in the UK], these brands are growing really fast. These are people who struggle with milk and when you offer them something that enables them to either come back to or try milk they're really keen. In every supermarket here – and in the States too – that whole free-from area is growing really fast. All of the major [retailers] have created space. Whether we sit in the milk aisle next to that or whether we're part of that, this is a growing area, no question."
Overall, after a positive year for A2 Milk, one in which its international operations, albeit businesses of different size, are making progress, the company is now carefully looking at where it can take its business next – and how.
"There's definitely opportunities in Asia. They tap into the Australian 'clean and green ethos' if you like so there's no question those are opportunities. We're clear we're looking at other opportunistic new markets. I wouldn't say that the company wants to do huge investment in another full region or another full country. We've got to find the right way to manage this."