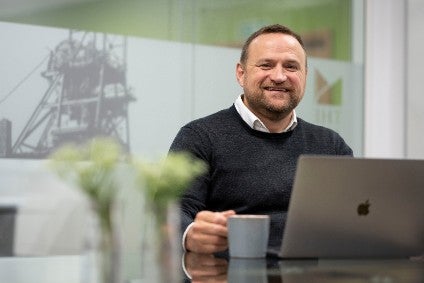 Abergavenny Fine Foods has entered a new era under new ownership and with a recently-installed managing director who has already made a mark on the UK-based private-label business. Simon Harvey speaks with Jason Rees about the plans ahead.
Abergavenny Fine Foods in Wales, once a competitor of Scotland-based Innovate Foods in frozen appetisers and snacks, now finds itself under the same roof.
Over the past year, the companies have been bought out by Frostkrone Food Group, with the Germany-based business announcing its move for Abergavenny Fine Foods earlier this month.
The deals have given private-equity owned Frostkrone a presence in the UK, to where previously it was shipping products from Germany, and the business has identified the country as a "very healthy growing market" in finger foods, Jason Rees, the recently-appointed managing director of Abergavenny Fine Foods, tells just-food.
Rees, a graduate of the Royal Military Academy at Sandhurst, says he was hired last July to oversee the sale to Frostkrone, marking his first job in the food sector, having worked in the tech industry for a number of years.
"We are still working through the finer details but the Frostkrone Food Group are on a mission to grow the Abergavenny business and that's taking advantage of the growth in frozen and the growth in the finger-food market," Rees explains. "They've got so much business because of the demand they are seeing for this frozen finger food that new capacity and more efficient routes into the UK market are really interesting to them."
Abergavenny Fine Foods is a predominately own-label business for major UK retailers, although it has a small presence in foodservice and quick-service restaurants, and the shape of the business helped shield the company from the financial effects of the Covid-related lockdowns. It produces value-added frozen and chilled finger foods such as Jalapeno peppers, vegan mozzarella sticks, halloumi fries and breaded mushrooms from its manufacturing facility in Blaenavon, south-east Wales.
Another part of the business is engaged in the production of goat's cheese, where Abergavenny Fine Foods is the "market leader" in the UK, Rees says. The base curd is processed at the company's creamery site in Abergavenny before it enters the production cycle at Blaenavon, which is earmarked for a "multi-million-pound" expansion to take advantage of the rising demand for plant-based products.
"We have a very healthy market share in goat's cheese, and we've got relationships with the retailers there and in the value-added component, so it's a good business with reasonable margins and it helps diversify those relationships," Rees says.
One of Rees' first decisions after coming on-board was to dispose of the company's blended cheese operations in November. "I was very keen for us to reinforce the business that's growing and doing well and that really for us is all about value-added," he explains. "We redeployed the personnel working on that and reinvested everything in the added-value part of the business, which is growing nicely, and obviously, looking at the forecast this year, that's showing us up 30%, so we think it was the right thing to do."
Abergavenny's financial results for the year ended on 31 March are still in audit, but it posted revenues of GBP30.9m (US$42.9m) in the previous 12 months, an increase of 16%.
Rees was reserved in giving too much away on the business's more recent performance but said: "We've landed at GBP32m [in revenue] but that is taking out the blends business. Overall, that gives us a very healthy year-on-year outlet to value-added."
The Blaenavon plant expansion is still at the planning stage and is going through a design and cost estimate. Once on-stream, Rees envisages doubling production capacity "in a relatively short period of time".
Rees sums up the immediate plans for the business. "You'll see more of what we are doing already. We are doing more product development on the plant-based market with an eye on flexitarians and we are having conversations with customers on some of those ideas.
"We are also looking at things like breaded cookie bites in desserts and innovating on sweets rather than the savoury side of our product set as well. That's something that's starting to gather a bit of momentum. And to protect our market position in goat's cheese."
Quick-service restaurants are an area in which Rees is keen to expand Abergavenny Fine Foods' presence, along with an effort "to go hard on our plant-based finger food revenues". He is also seeking to grow what he calls the company's tertiary branded business, Glorious Foodies, consisting of halloumi fries, camembert wedges and cheese balls, which are currently sold in club stores such as Costco.
"We are driving more capacity in order to cope with the uplift we are seeing but we are also looking at creating the conditions for some QSR launches as well down the line. But we know business development can take some time on that so that's what we are planning for the future. And that's certainly something we expect to see more of now we are sat in the Frostkrone Food Group."
Private label makes up more than 85-90% of Abergavenny Fine Foods' group revenue, with more customers added this year. The company also exports to the US, Japan and Australia but is noticeably absent in the rest of Europe, where Frostkrone has a broad presence. The Welsh firm also supplies Northern Ireland and the neighbouring Republic.
"We've never really done much in Europe," Rees says coyly. "Obviously, with the caveat that I've only been here since last July but the export footprint for us has always been the US, Japan and Australia."
Exports more than doubled to GBP6.5m in the previous financial year and Rees is now targeting growth of 20% in frozen finger foods annually. Overseas shipments currently make up 20% of the business, he says.
Appetite for frozen foods has increased during the coronavirus lockdowns as people stocked up freezers, particularly during the early days of the stay-at-home restrictions, but Rees says it was a trend that was already gaining traction before Covid-19 and so he expects demand to hold up post-pandemic.
Rees continues: "It's an interesting one because no one can predict the future. But at the moment, it's a trend we saw before continuing and so it's very difficult to figure out whether it's Covid-driven. I don't think it is, it's just a continuance of that. But there's no reason to believe that people are going to stop eating frozen and chilled finger food. I'm intrigued to see how the next period pans out but, certainly, the retailers are continuing to ramp up their plans."
He's equally confident on the outlook for plant-based foods and private label, noting recent murmurings from Tesco with a plan to boost animal-free sales by 300% by 2025. And Rees envisages a pick up in demand for discount own-label products in an environment where economic growth has slowed, while inflation is accelerating.
"Because we work with own label that tends to be lower in the value stakes, which plays also to a Covid demographic in some ways and the macro-economic pressures. But I can't see it slowing, I can only see it accelerating. I don't think it's a blip," Rees says.
Price of goods might also become an issue in an inflationary world, which to some degree might expose Abergavenny Fine Foods to the whim of retailers trying to keep costs down and reluctant to pass on those costs to the consumer in such a fragile environment.
"At the moment we are, as with any other food production company, in the middle of those pressures. I think everyone is trying to protect their end customer. We are definitely seeing some pressure for cost inflation in the market, whether that's wheat that manifests itself in crumb or whether that's cardboard in terms of boxing, or whether that's oil or even labour through the minimum wage increase. We are speaking with retailers to understand what that means and how we can best work together to get the right outcome."
The go-forward strategy for Abergavenny Fine Foods will ultimately rest in the hands of Frostkrone, and its independent plans for Innovate Foods in Kirkcaldy, and how in Rees' words, the German firm "can leverage the strengths of both companies".