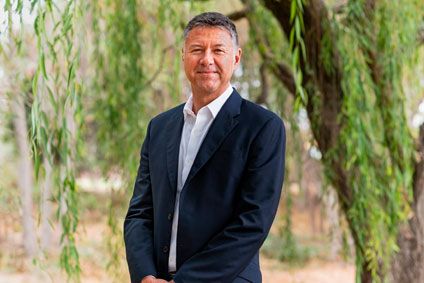 Xavier Unkovic, the CEO of Amy's Kitchen, is preparing for the opening of the US food manufacturer's latest factory, a project the family-owned business announced in November amid buoyant demand for its products.
"I'm driving down tomorrow to meet everyone," Unkovic tells just-food on a video call on 28 January. "We're on-time and ready. We've been very quick in putting together this facility. I'm delighted about the mobilisation towards servicing our customers and consumers. There's definitely a sense of urgency."
The new plant is located in the Californian city of San Jose and is the company's fourth in the US. Amy's Kitchen decided to invest in its manufacturing base in the face of the Covid-19 pandemic fuelling sales.
With its range of frozen ready-meals and canned soups, Amy's Kitchen had been "growing two times faster than every category average we're in", Unkovic, hired from Mars as president in 2017 before becoming CEO last summer, says. "We couldn't react quickly enough to fulfil all the demand that we'd been tracing. We're thankful and grateful of what we've experienced. Still, it's a significant stress, so we had to react quickly to put together another factory to be able to fulfil our orders. A good problem to have."
The San Jose factory will initially focus on pizza, a product Unkovic says is "probably our biggest bottleneck at the moment, where we've not had enough flexibility to answer consumer demand" before also manufacturing entrées.
Unkovic believes some of the consumer trends that have gained prominence during the Covid-19 pandemic benefited Amy's Kitchen. "People were looking for more plant-based products [and] I guess Amy's is a plant-based leader in the industry. People were looking for more meat-free products. We are a vegetarian company. People were looking for products that not only feel good, but also taste good and, guess what, we're making enough investment in our ingredients and in the way we cook that make our products the best-tasting products in the marketplace," he asserts. "People were looking for products that make the greatest impact on the planet. We're organic and vegetarian. And consumers really re-discovered the frozen category as well and were stocking their pantry. They kind of went away from it and now realise this is great food."
Industry watchers had been proclaiming the return of frozen food in the US several quarters before Covid-19 upended the way consumers shopped for food and there's no doubt the category saw sales heat up further in the early months of 2020. While the solid double-digit growth registered by frozen food in the US during several months last year won't be repeated as we move through 2021 and – hopefully – into a period where the dust settles on the worse impacts of the virus, some pundits believe the category is set for continued expansion.
Unkovic believes the US frozen-food market will see "steady growth", adding: "Consumers that have re-discovered the category are sticking to it."
A key job for CEOs like Unkovic and their colleagues is to try and best-guess which of the changing consumer habits and purchasing behaviours seen over the last year will persist. Unkovic calls out the growing interest in "health and well-being" and in "sustainability" as two trends he thinks will stick and suggests Amy's Kitchen needs to work to take advantage.
"I think Amy's has to put together a better consumer experience in order to tell our story because we are at the forefront of those elements," he says. "We're B Corp. We're organic. All those elements I think will stick and continue."
The firm "has never been a strong marketing company, so to speak, when it comes to reaching out to its consumer", Unkovic continues. "It was built on very solid foundations around the products, taste and making the products available, very much aligned with the purpose of our founders, which is to make it easy and enjoyable for everyone to eat well.
"We have a great packaging story but not a marketing story"
"I keep saying it's somewhat of a beautiful story to imagine a company of that size not having such strong marketing. We have a great packaging story but not a marketing story, so, now I think more than ever, the company feels we have the confidence to reach out to consumers to tell our story."
Amy's Kitchen, then, is set to up its spending on marketing in 2021 and also on new products, two areas that, understandably in the teeth of the pandemic, the company, like many others, put on the back-burner in a bid to focus on distribution.
"The number one focus of the company was not about marketing. It was definitely to make products available," Unkovic says. Buyers, he adds, wanted the focus to be on delivering products to stores. "Now, the discussion with buyers is changing a little bit," he adds. "They're very much forward-looking, so in six to seven months, they're looking for innovation and we're having those discussions now with them."
In common with executives across the packaged food industry, Unkovic also calls out the e-commerce channel as a likely long-term beneficiary of the pandemic. E-commerce now accounts for 10% of Amy's Kitchen's sales, a proportion Unkovic says surprised he and his team.
"It was already growing and now it's completely exploding," he reflects. "The classic brick-and-mortar retailers, not only Amazon, were big winners of the situation we face. We've seen significant growth with every of our regular customers in that particular channel."
However, the make-up of the Amy's Kitchen product portfolio, with its significant presence in frozen, means direct-to-consumer is not a niche the company is looking at. "We did look. It's impossible to make it work and consumers looking for the one-stop-shop today, so we have little to bring to the consumer compared to our retailers in that aspect."
Some 15% of Amy's Kitchen's sales are generated outside the US, with the company present in more than 25 countries. The UK is a notable market for the business, although it no longer has a plant in the country after closing a facility in 2014 opened three years previously.
Unkovic has an eye on significantly growing Amy's Kitchen's international business and says the company is considering setting up another production facility in Europe.
"We're very much looking to establish production in Europe," Unkovic says. "We don't have any firm plans but it is 100% certain that, if we want to get serious in Europe, we have to be established. We cannot afford to have products being shipped from California, or even from the [US] East Coast to Europe. That's a good way to somewhat drive the penetration in markets but that's not sustainable when it comes to growth and profitability. We're very close to making some decisions, which we'll inform you on when it's going to be firm and definitive."
Unkovic suggests the company is aiming for international markets to account for 30% of sales in five years' time. "I'm very excited that in next five years, we should have 30% of all volumes and sales in the international market. I think in five years Amy's should be over the $1bn mark."
The Amy's Kitchen chief executive says the company "did well everywhere" last year, although he says France was a market where its performance wasn't as strong. "We did a little bit less well than everywhere else due to the fact people were cooking at home and Picard, a frozen chain store, was doing a very good job of delivering to customers, so there were options for the consumers to do things differently than going to retail," he says. "Everywhere else we've been experiencing double-digit growth. We're very pleased about our international expansion in Canada, in the UK. We're going to keep investing in the UK where we see some amazing potential ahead of us."
France, however, remains a market in which Amy's Kitchen believes it can grow. "We're very keen on investing in France as well because we see significant potential, especially on the soup side and in some frozen products, where our plant-based approach really resonates very well," Unkovic adds.
"Winning in Europe is going to be very important. Germany is the second-biggest organic market in the world as well, so there's a piece around continental Europe and the UK that is going to be very critical. We still need to develop strongly Canada. It's a great market as well. When this is all done, then we'll look further."
Before Christmas, analysts at investment bank Credit Suisse published research in which they suggested there could be a period of portfolio re-shaping among US food groups. Covid-19, the analysts argued, had "provided a shot of adrenaline to these companies' balance sheets that increases their financial flexibility", and they asserted food business management teams continue to express their desire to either shift the weight of their portfolios toward higher-growth segments or offload slower-growth brands.
Amy's Kitchen was highlighted by the Credit Suisse team as a "highly-attractive" asset, although they acknowledged the likelihood of a sale was lower than elsewhere due to the company's "family ownership and independent mindset".
When just-food met Amy's Kitchen co-owner Amy Berliner (after whom parents Rachel and Andy named the business) eight years ago, she said the company had often attracted expressions of interest from major food groups.
Unkovic says that attention continues but insists the family's ownership of the business remains strong through the founders and Amy herself. There is, he adds, no appetite to sell up. "We take a lot of pride to be where we are, and the owners have that purpose and vision, that is in their DNA," he explains. "We're not just a family-owned company. We're a company where the founders are still there and where Amy and Jace [Ricafrente] – their daughter and son-in-law – are also very well-vested in the company because they've been in a position to bring in some of their beliefs and also to develop their legacy."
"I came from another family-owned business that believes a lot in the engagement of people and how people can make a difference every day. I am coming from that world, too, and so my role is very much to be a leader and bring people together to accelerate the beautiful story of Amy's."
What does Unkovic think needed improving at Amy's Kitchen? "It was around strategy, understanding what the next two to three years are going to look like, how are we going to develop the organisation, how are we going to better measure and manage work so we can drive more growth in the future," he says.
Amy's Kitchen seems to be betting it can build further on what, albeit with significant operational challenges, has been a year of growth for one of the largest family-owned businesses left in US packaged food.