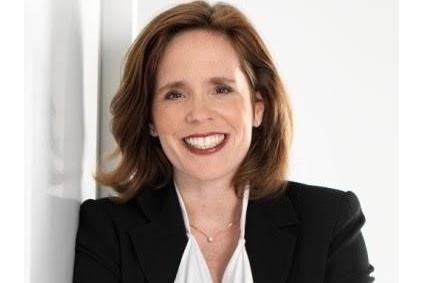 This year looks set to be another challenging one for the dairy sector, amid concerns over the momentum of economies in emerging markets and commodity prices remaining in the doldrums. Natalie Knight, the CFO of European dairy giant Arla Foods, talks to Dean Best about the co-operative's outlook and insists there are opportunities for growth.
The forecasts being made for dairy commodity prices in 2016 cast doubt on whether there will be a significant recovery from last year, when prices came under huge pressure from the end of EU quotas on production and reduced demand from some of the world's largest customers.
The removal of EU limits on production led to a rise in the bloc's output at a time when demand in China in slowed and Russia's restrictions on dairy imports remained in place. The consequence was a fall in dairy commodity prices – and pressure on the profits of many an international dairy company.
Arla Foods was no exception. The Lurpak owner spent 2015 trying to divert as much of its milk as possible away from the low-margin trading in commodities and into the more profitable retail and foodservice sectors. On that score, Arla had some success – but still saw sales and profits fall last year.
Assessing the outlook for dairy prices in 2016, the co-operative is circumspect. "We remain very, very cautious in terms of what milk prices are likely to do," Arla CFO Natalie Knight tells just-food on 17 February, the day the company's results for 2015 are announced. "We talked to a variety of sources, looked at all kinds of things and nothing that we're reading from any of the industry experts says there is going to be a turnaround before the second half of the year. Most of them are saying fourth quarter. I think we're more in that camp of it's going to be late in the year before we see any kind of price improvement potential."
Working to such tentative forecasts, Arla has set a target of saving EUR400m (US$450.8m) by 2020, starting with EUR100m in 2016. In January, Arla announced plans to cut 500 jobs as part of changes the co-operative hopes will help it grow amid what CEO Peder Tuborgh called "fierce competition". Since just-food spoke to Knight, Arla has announced another measure, putting forward plans to close a dairy at Hatfield Peverel in the UK.
Outlining Arla's strategy on costs, Knight tells just-food: "The first place we always look is at our production. When we look at other opportunities, we are continuing to grow strongly in marketing but we're growing at a slower per cent. In both years, we're growing EUR50m, but obviously if I compare this year's to last year's that mean it's growing at – I don't know the exact number, but it's 5% less, something like that, than what it would have been in the prior year. Otherwise, I would say it's really just an across-the-board approach. We're always looking on a non-production costs, fixed costs. How can we hold those constant? That's something you may not be able to maintain forever, but certainly in an environment like where we are now, we're trying very hard to continue that in '16."
Arla will also look to drive the growth of its brands again this year, Knight says. She reveals when she was approached by Arla to join the dairy group from sportswear giant Adidas, the Castello owner "came to me and said 'we want to be a fast moving consumer goods company'". She adds: "I like that at Arla, there's a big desire to grow this branded side, which is a place where that's where I bring a lot of my expertise."
In 2015, Arla managed to increase the proportion of its sales generated through branded products, from 41.2% in 2014 to 42.1%. "We're really trying get everything we can into the retail and foodservice piece as opposed to trading – then looking at making that as branded as we can get it," Knight says. There is then a second step to Arla's strategy on brands, Knight explains. "And then the one that's really growing in '15 and particularly '16, is how much of that branded can we get to international because obviously international is much heavier in the brands. That's where we have an even higher margin."
In December, Arla set out its strategy to grow over the next five years. It identified eight product categories on which it will concentrate its innovation: butters and spreads; spreadable cheese; speciality cheese; milk-based beverages; milk and milk powder; and yoghurt, mozzarella and ingredients. Growth in these categories will be pursued via the company's three international brands – Arla, Lurpak and Castello. The strategy also revealed six markets in which Arla could concentrate: Europe, the Middle East, China, Russia, Nigeria and the US.
Given Arla's desire to put more of the milk its members produce into brands, where are the white space opportunities for the business? "I would say probably the white space we are talking about the most of is Lurpak, which is the biggest global brand in butter, but it really has its revenues from a pretty small number of countries actually. That's one when you'll see us make an effort to really try to make that brand be stronger around the globe. I think when you look at other places, we do expect cheese to grow over proportionally. That's a place where there's a lot of those efforts where we're looking at trying to be more creative with things," Knight says.
Outside of Europe and the US, three of Arla's focus emerging markets – the Middle East, China and Russia – are under scrutiny. Often FMCG companies can focus on the opportunities in the Middle East, pointing to rising incomes and favourable demographic trends in markets like the UAE and Saudi Arabia. Such optimism has been added to in recent weeks with the easing of sanctions of Iran. However, the geopolitical crisis in much of the Middle East means packaged food executives are growing cautious about the region's prospects in the short term.
Knight focuses on the economic pressure parts of the Middle East could feel due to the recent volatility in oil prices but believes Arla could benefit from its brands. "It's definitely a market when we look at 2016 it will be under more pressure than others because of the high sensitivity of that market to oil prices and other commodities. That's definitely something that like everyone else we'll experience, but it is something where, because our business in the Middle East is 100% branded, we definitely have stronger positions than we do in other places where they might be volatility."
China – which alongside Russia is one of the world's two largest dairy importers – has been central to the pressure on dairy commodity prices in recent quarters, with the country's economic slowdown depressing demand. Dairy industry executives the world over are watching the market closely.
"Our expectation is not that they're going to step back in soon in any big way," Knight says, reflecting on the impact a recovery in demand in China could have on dairy commodity prices. However, looking at consumer confidence in the country, where has local partnerships with Chinese dairy Mengniu, she adds: "I think from our perspective we feel certainly more positive than what you would maybe read in the headlines about the stock market volatility," Knight says. "I think it's reserved optimism."
In Russia, Moscow's embargo on dairy imports from the EU – introduced in 2014 in retaliation to sanctions on the Kremlin over Ukraine – remains in place. Arla is among the dairy companies to have suffered. Knight says Arla's revenues in Russia stood at around EUR40m last year, compared to the pre-embargo level of almost EUR150m. However, Russia remains one of Arla's six key "market regions" under its Strategy 2020 growth programme.
"When we look at Russia, our expectation is that that embargo is not going to be in place forever and we're certainly very well positioned to support the market when it does open back up," Knight says.
Another emerging market, Nigeria, is among Arla's six priority geographies. After what Knight says was a "very strong" finish to 2015 for Arla in the African country, the company has some confidence about its prospects there this year. "When we look at this year, our outlook is actually quite high for Nigeria – probably high single digits [percentage growth rate], potentially even a hundred million [euros] in incremental revenue," Knight says. "However, I put a little caveat on that because obviously exchange rates and things like that are going wild in that region at the moment. It's definitely something where when we look at it between now and 2020, we'll triple our revenue there and that's already the large part of what we're showing in the overall sub-Saharan number that you see from our published stuff."
In September, when Arla announced joint ventures in Nigeria and Senegal, it revealed its sales in sub-Saharan Africa were EUR90m, with EUR80m coming from Nigeria. Arla is aiming to grow its annual revenue in sub-Saharan Africa to around EUR460m in 2020.
The ventures in Nigeria and Senegal – plus another in Egypt – were Arla's only deals in 2015. The company sold an asset – juice arm Rynkeby Foods and quit a venture with Lactalis but the co-operative made no acquisitions. How much of a role will M&A play in Arla's 2020 strategy?
"When you look at Arla over the last five years, there was lot of conversations more on the merger side [on] 'how are we bringing all of the co-operatives closer together in northern Europe?' I think that story has largely played itself out," Knight says. "You never know what happens with market consolidations and things like that. In general, I think our focus for the next five years is obviously much more on how the organic growth is coming and how do we drive that in a positive and margin-growing way? I do think we definitely still have the door open for acquisitions that either strengthen our brand position or our global position in these key markets. They're probably not going to be anything big, but they might be things that really help us, I say, sharpen the point in terms how we address those specific needs to each of the markets."
There is, as we approach the second quarter of 2016, plenty to focus minds at Arla.