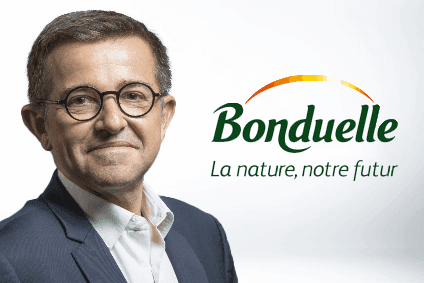 Adapting to the challenges Covid-19 has brought to the industry remains an ongoing, daily effort, trying to keep workers protected, food manufactured and shipped to customers and movements in consumer demand monitored. Packaged food is more insulated than many industries from the worst business impacts of the virus due to the simple fact that we all need to eat. But that doesn't mean executives in the industry aren't being tested daily.
At the same time, food-company boardrooms are also having to weigh up how the pandemic could affect the industry over the longer term. What will the virus mean for the way operations – manufacturing and office-based – are set up? What impacts could there be on the way consumers shop – and on what they buy?
For publicly-listed companies, for all the benefits of access to capital, there are the additional demands of scrutiny from shareholders and quarterly reporting, including for those businesses, like France's Bonduelle, which still has family shareholders holding a significant chunk of the business.
Speaking to just-food after Bonduelle reported its annual financial results, deputy CEO Grégory Sanson discussed the company's performance and its outlook for the next 12 months but also considered how Covid-19 could affect the business further ahead.
Like most packaged-food companies, the international vegetable-products supplier has been juggling the management of reconfigured manufacturing facilities with a raft of new sanitary measures and of its white-collar staff now largely working remotely.
Sanson says Bonduelle has not seen Covid-19 transmitted within its factories, although cases among staff, he notes, have emerged through external transmission socially. Bonduelle, like its peers across the packaged-food industry, ran up extra costs implementing social distancing in factories, buying protective equipment and paying staff bonuses to maintain production, weighing on the group's profitability in the year to the end of June.
Asked to what extent the changes Bonduelle has had to make within its manufacturing facilities could become part of a new way of working, Sanson is unsure. "It was already the case at Bonduelle," Sanson says, pointing to health-and-safety requirements needed in factories for reasons other than Covid-19. "Food safety is a priority and our industry has been affected in the past by e.coli, by listeria issues.
"We must be prepared, from time to time, to live in this kind of environment. This does not constitute a new way of working in the production facilities. Working remotely is a different story. In the production facilities, we will benefit from some learnings but we cannot consider that, in the long run, that's a way to operate in the industry, because all the measures which were supposed to be taken to make sure that people work safely have already been implemented."
Sanson does anticipate more of Bonduelle's white-collar staff working from home more often and says the company will have to work on areas such as communicating company culture and on-boarding new team members. However, he asserts employees at an innovative packaged-food manufacturer also need to work together in-person.
"We had an internal survey asking people what they consider would be a good mix and they mentioned one or two days working remotely would be very attractive but also sufficient – and that's what the management also considers as the good mix to make sure people have more comfort but we continue to work efficiently," Sanson says.
"You cannot innovate, you cannot conduct R&D in our industry, without being present with others"
"We need to do better, incorporating newcomers, for instance, spreading the culture, that is very clear. In the future, we must bring to our associates a good reason and the appropriate environment for them to go to the office. One of the reasons is you cannot innovate, you cannot conduct R&D in our industry, without being with others."
However, Sanson adds: "There must be also a change in the office environment to improve this collaboration. If you have small offices like you would have at home, there's no reason to come to the office. If you offer digitalisation, new tools, a very appropriate environment, there is a reason, an interest, for people to come to the office."
Could there be a cost benefit to Bonduelle if more people work from home? Could Bonduelle look to change the number of offices it needs? Investors and equity analysts have been asking listed packaged-food companies those kinds of questions almost since the pandemic started.
"There will be an impact, negative and positive, probably less square metres, but, on the opposite, in terms of technology, computers, equipment, etc., etc. there will be a cost associated to that," Sanson says. "The most important thing is in terms of efficiency, productivity – but not only productivity in the sense of efficiency. The outputs of the collaboration. That's what we must pay attention to more than the cost of savings."
Looking outwards, with many countries in recession and uncertainty about the trajectory of the virus remaining high (and therefore, too, uncertainty about any further impacts on economies), there is a danger the health crisis spirals into an economic one. In the round, packaged food is one of the more recession-resilient sectors but what consumers buy to eat is still shaped by pressure on incomes.
Sanson points to the "diversified" nature of Bonduelle's business, citing the supply of branded and own-label products and its presence in the canned and frozen markets as evidence of the group's own resilience in the face of macroeconomic pressures buffeting the industry.
"We are on both branded sales and private label. We addressed the two and we have been selective in this respect, meaning the private label we address is profitable," he says. "I'm not saying it would not have an impact but, in terms of activity, we do have both, and which are equivalent – 47% [of revenue] on branded sales this year and 48% in private label. So, if there's a switch in terms of [consumer] activity, this would not affect Bonduelle."
Sanson, one of three deputy CEOs at Bonduelle, acknowledges there are, at present, parts of the company's operations that may suffer – its sales to a still very challenged foodservice market and its fresh-food sales (fresh food accounted for 37% of sales in the group's financial year just ended), which could see demand fall as consumer spending is pinched.
"Canned and frozen can benefit from this environment. On the opposite, the fresh business is very sensitive to the economic environment, something which has been reflected in the past, in 2008, for instance," he says. "It's our strategy to be diversified in terms of segments or technology – canned, frozen and fresh – and to be both in foodservice – in the past, retail was limited, and foodservice was growing, in this context that's the opposite – and also being in different geographical areas, meaning the impact can be similar but not at the same time. That's the strategy we have as a family-owned company to diversify our activity, our risk and to be resilient against this kind of situation."
Some 20% of Bonduelle's annual revenues are made through foodservice and, at the moment, Sanson says, the company's sales are tracking down 20%. By the close of Bonduelle's new financial year, which runs until the end of June 2021, the group sees its foodservice sales being down 10% on "a normalised year", he notes.
But what about further forward? When just-food last spoke at length to Sanson, on the back of Bonduelle's 2014/15 results, he described foodservice as an "engine" for the company's future growth in what was then its largest market, Europe. (Subsequent M&A, particularly in the US, has meant Bonduelle makes more of its sales outside Europe each year).
"Foodservice has been and will be a growth engine at Bonduelle"
Asked if Bonduelle still saw foodservice as that growth engine for the business, Sanson replies: "That is clear. [Customers] are looking not for products but for services, something which is convenient but ensuring in terms of quality benefits and we are well positioned in this category. Clearly, it has been and it will be a growth engine at Bonduelle once we are out of this specific situation. Definitely."
Bonduelle is looking at its mix of sales channels closely. In May, the company took part in a funding round (in partnership, it says, with the Russian Direct Investment Fund (RDIF), Russia's sovereign wealth fund) of investment in Elementaree, a meal-kit business selling in Moscow and St. Petersburg. "Elementaree is one of the leaders in Russia, which is very interesting for us. First we discover new channels and also dedicated logistics that we do not master but, on top of that, we supply our products in the meal kits under the Bonduelle brand, so we are a real partner," Sanson says. "There are other opportunities we are considering by selling directly to the consumers."
Overall, e-commerce accounts for 5% of Bonduelle's sales and, like many others in his position, Sanson believes the channel is, due to Covid-19, on a long-term, higher trajectory. "That's clearly a long-term trend and where we are we are well-positioned. The way to address this business is very different from the regular distribution in terms of advertising; being seen by the consumers is something we need to learn."
The acquisition of a minority stake in Elementaree was one of a handful of minor (in terms of size) transactions carried out by Bonduelle over the last couple of years. The 2019/20 fiscal period, for example, saw Bonduelle increase its stake in Soléal, a local joint venture run with three French agri-food co-ops.
At present, though Bonduelle is "really open" to acquisitions, it is not the company's top priority, Sanson says. That, he explains, is improving the returns Bonduelle can extract from Ready Pac Foods, the US business the company acquired in 2018  and now housed in its Bonduelle Fresh Americas unit.
"Our challenge – and we are very confident in these respect, even if it is taking more time than expected – is the contribution of Bonduelle Fresh Americas [and] the company we bought two years ago, Ready Pac, in terms of growth, in terms of profitability and, more important, in terms of return on capital employed." Bonduelle, he says, has a target for return on capital employed (ROCE) of 12.5% by the 2024/2025 fiscal year. In the last financial year, Bonduelle's ROCE stood at 8%. "Bonduelle Fresh Americas is a key lever to achieve and exceed the 12.5% the company already achieved in the past," Sanson says.
Asked why the returns from Ready Pac are taking longer than expected to achieve, Sanson says: "We have to cope with an environment where increasing the price is a real challenge and when we have to cope with very strong inflation, especially in freight and labour costs," he asserts. "And there is a strong competition, so that's why we invested massively to improve the profitability. For the time being, we only offset the cost but the solution will not come from efficiencies. Efficiency will protect the profitability but we will make the difference by the differentiation of products and pushing out on the on-the-go products on top of the existing bowls we have."
Reflecting on where Bonduelle could – and it's important to underline could – acquire businesses, Sanson points to the company's position in the US.
"In the US, it's the very beginning of the story at Bonduelle because we are the leader in bowls but bowls are 10% of the huge salad market," he says. "In the US, we have for the time being a low market share in long-life – which, for us, is mainly frozen – and without the brand.
"There might also be some opportunities to consolidate the market in Europe. We might consider also opportunities in some areas where we are not [present] like the Middle East, for instance, like Asia. We are really open providing that there is potential, value creation behind that and we are using our assets – our know-how industrial-wise and in terms of agronomy."
He adds: "We are open to M&A. That's the way we grew in the past for 50% of our growth. I think the priority is to fill the base, to cope with the current situation, but we are open. If there would be an opportunity, we are prepared for that and our organisation is prepared for that. It's not priority number one. I think that we can extract a lot of value creation from our existing perimeters of activity."