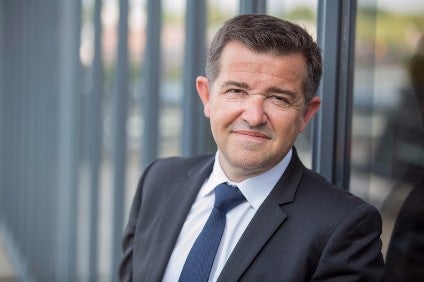 France-based international vegetable supplier Bonduelle this week reported its annual financial results, a year of rising sales and earnings and in which it struck a major acquisition – that of US produce group Ready Pac Foods. Dean Best spoke to Bonduelle CFO Grégory Sanson about the numbers, the company's outlook for the 2017/18 financial year and why it is ready for more M&A.
In some ways, 2016/17 was a difficult year for Bonduelle – but the France-based vegetables giant will remember it as one in which the company largely (though not in all cases) withstood some challenging trading conditions and one in which it announced a significant piece of M&A.
Turnover was up more than 16% (a figure inflated by the acquisition of Ready Pac; the like-for-like number was growth of 2.7%, within its guidance range of 2-3%). Operating profit rose 4.6% (by 1.2% when stripping out Ready Pac and exchange rates), with net profit 11.4% higher. Bondeulle's return on capital employed rose and its debt fell.
When Bonduelle announced the numbers on Monday (2 October), the company's shares slid but the decline was seen mostly as a result of profit-taking – the group's shares are up more than 40% this year – and as a result of the benefits of the Ready Pac acquisition being priced-in.
In sum, the results showed the canned, fresh and frozen produce supplier was broadly able to ride out the impact of tricky harvests in 2016, muted consumption in Europe and challenging conditions in its two major emerging markets of Russia and Brazil.
"We were expecting a decrease of our profitability in connection with the bad weather conditions that we had during the summer of 2016 and, later, early 2017 on salads," CFO Grégory Sanson tells just-food. "It's an increase of profitability of the historical perimeter of activity – so excluding Ready Pac Foods – so it has been a very good performance. Despite this environment, we once again delivered 2.7% growth on a like-for-like basis, clearly in-line with our mid-term target of delivering something around 2.5%."
However, there were aspects of Bonduelle's performance that disappointed the business. Sanson pointed to the results of the company's fresh processed division in Europe.
Bonduelle was affected by the poor harvest in early 2017 that hit Europe's salads sector and Sanson pointed to "sluggish consumption" in the region. Nevertheless, Sanson indicates Bonduelle's fresh business in Europe did not perform as the company would have hoped.
"In fresh, it's clearly linked with the consumption climate. If consumption is better, it will be better also for the segment," he says, before adding: "The key element is innovation. We have a lot of innovation already launched or which will be launched that might fuel the growth in the fresh segment. It's a segment where you must on a constant basis innovate – even more than in frozen or in canned. That's what we did in the previous two years with great success. We clearly over-performed the market during those two years. Last year, I would say we under-performed the market. I am convinced that with the innovation that we will launch next year we will over-perform the market."
Overall, Bonduelle's worldwide fresh processed division saw its annual turnover jump more than 59% but that was boosted by its new Ready Pac assets in the US. On a like-for-like basis, the unit reported a 0.2% decline in turnover.
Bonduelle is only predicting "limited growth" from its European fresh processed business in its 2017/18 financial year. "We see a recovery in the economy but we do not see for the time being a real impact on food consumption," Sanson says.
Bonduelle's total European business – that is taking into account canned and frozen, as well as fresh – saw its turnover inch up 0.2% last year, although Sanson believes the company can get growth from that part of its business to accelerate in the medium term. "I would say it should be between 2% and 3% and mainly fuelled with fresh because the penetration is limited in this segment and thanks to the foodservice activities," he says, adding the foodservice channel will be central to Bonduelle's attempts to speed up the growth from its European business, with consumption habits changing and more people eating out-of-home.
Across the Atlantic, Bonduelle expects to see more growth from its newest asset in the new financial year, though the Ready Pac acquisition did have a dilutive effect on the French group's bottom line in 2016/17 and the company will look to focus more on what Sanson calls "profitable growth".
"The acquisition of Ready Pac Foods delivered last year 20% growth. We are a little bit more conservative this year because what we will focus on is profitable growth," Sanson says. "It's a growth engine – but most important is to have profitable growth. That's why we are a bit conservative with our growth for next year – about 10%. But we should increase by more than 30% the level of profitability. [Ready Pac] will improve by far the profitability of this company."
Sanson insists Bonduelle is prepared to strike again, even after moving to buy Ready Pac. M&A, he says, is "part of our business model". Bonduelle is targeting annual turnover of EUR3.5bn (US$4.12bn) by 2025 and sees deal-making as one way to achieve that goal. With the acquisition of Ready Pac, Bonduelle has created five units and each has M&A as part of its own strategy.
"In the roadmap for those business units, external growth is on the agenda," Sanson says. "Because we have such a big acquisition as Ready Pac Foods does not mean we cannot afford from an operational standpoint some acquisitions in the other segments."
The Bonduelle finance chief says the company also has the financial resources to again add to its business through acquisitions. "The other question is financial resources. Thanks to the strong performance we had in terms of capital employed this year, we have available something around EUR150-200m available for further external growth," he explains. "In this respect, we see a lot of opportunities but we are clearly selective. We want to stick to the ambition we have, to be the worldwide reference in well-living through vegetables products and mainly focused on brands."
Not unexpectedly, Sanson is coy about whether the market could see Bonduelle make another acquisition this year. "There might be some," he says, before adding for emphasis: "It's not because we had Ready Pac Foods that we will not have additional acquisitions this year. We are ready for that, provided that we find the right targets – at the right price, which is another story."
Sanson also gives little away about what and where Bonduelle could look next to acquire but he does give a flavour of the company's thinking. "We are open to consider all categories. In Europe, considering the market share we have in our three segments, the room for acquisitions is pretty limited but we have clearly identified some big brands – for limited areas but big brands that might be of interest to Bonduelle," he explains. "We are in some countries but not in all technologies. We are really weak I would say in Spain compared to the potential of that market, so that might be a target for us but we do have other targets in Europe."
Bonduelle could also look at adding other businesses to its operations in the US, now its largest single geographic market following the Ready Pac transaction. "The focus clearly is also on the US. That's the very beginning of the story for Bonduelle, not just in the fresh segment but also in the other segments," he says. "We are in canned and frozen but a limited level of canned, [while] in frozen we are in foodservice and in private-label. So they might be areas of future growth for Bonduelle."
And, despite the recent challenges Bonduelle has faced in countries like Brazil and Russia, the company would consider getting out its chequebook in emerging markets. Brazil's economy has struggled in recent years, with two years of recession, though, based on GDP figures at least, that period ended in the second quarter of this year. Similarly, Russia's economy contracted in 2016, although its numbers for the second quarter of 2017 showed also GDP growth, even if growth in wages remains muted. Bonduelle has a significant share of Russia's canned vegetables category and Sanson describes the market as "one of the most profitable areas we have in our portfolio".
He says: "For sure we face a pretty challenging environment [in emerging markets] but we are thinking of the next 20 years. Some emerging countries in eastern Europe might be of interest. In South America, we are only in Brazil for the time being but there are many countries in South America where we are not. In Russia, we have a 50% market share but it's only in canned. We are not in frozen. One day or another we will be in frozen in Russia. You see, there are many areas and many segments where we can continue to grow. Asia is not priority number one on the agenda due to the structure of consumption, mainly devoted to fresh vegetables and not processed vegetables."
It has been nine years since Sanson was promoted from a divisional role to CFO and he argues Bonduelle is now a "more focused" business. "We have clearly defined what we want to do with this ambition of being the worldwide leader of well-living through vegetable products. The playground now is clear, our focus is clear on brands, brands and brands first. And, thanks to our focus on return on capital employed, we do have the resources to deliver the growth and profitability we expect."