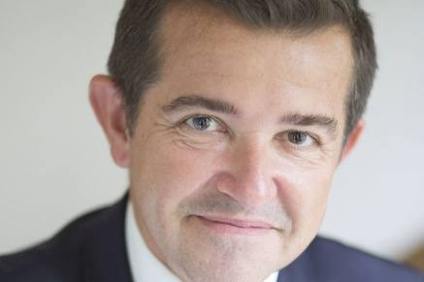 In early 2012, Bonduelle struck three deals in eight weeks, acquiring businesses in Russia, Hungary and the US. Aside from snapping up a plant in Canada from local retailer Sobeys in 2014, the French vegetables giant has kept its powder dry, instead integrating the trio of assets it bought three years ago. In part two of the just-food interview, CFO Gregory Sanson says Bonduelle is ready for more deals, reflects on missing out on Green Giant and explains where the group is looking to pounce.
On the day Bonduelle announced its 2014/15 financial results, CFO Gregory Sanson took to Twitter to highlight why he believed the French vegetables supplier is in a position to make acquisitions.
"Leverage ratio back to 2.7, leaving room for internal and external growth #BonFY14-15," Sanson wrote.
That Bonduelle – which has largely kept its chequebook in its pocket since securing three deals in two months in early 2012 – could be looking to add to its business through M&A was suggested in reports linking the group to General Mills' canned and frozen vegetables unit Green Giant.
However, as the speculation rumbled on, Bonduelle made no public comment on whether it was interested in buying Green Giant. Sanson's tweet in late September – with Bonduelle's annual results announced four weeks after it emerged US group B&G Foods had agreed a deal to buy Green Giant for US$765m – confirmed the Cassegrain and Arctic Gardens owner was on the look-out for deals.
Speaking to just-food in a wide-ranging interview (part one can be found here), Sanson confirms Bonduelle had been looking at the under-pressure Green Giant, to which it supplies vegetables in Canada.
"We clearly paid attention to the selling process of Green Giant, but we were not selected unfortunately," Sanson says. Was Bonduelle disappointed to have missed out? Sanson gives a qualified answer. "We do think that there was a possibility to create value through this acquisition but not at that level of price."
Once B&G closes the transaction, Sanson says Bonduelle expects to retain the deal it has to supply General Mills, insisting there is "no alternative" supplier in Canada and foreign exchange makes possible US suppliers uncompetitive. But after seeing Green Giant go elsewhere, Bonduelle is looking for possible targets.
"In 2012, we had three in a row – in Russia, Hungary and the US – and we said to the market we would focus on the acquisitions, make sure we would extract the expected synergies. That's what we did. Now those acquisitions are totally integrated, very successful and thanks to the fact we didn't have any additional acquisitions over the last three years, we have clearly deleveraged the company, so we have now both human and financial resources to consider a new opportunity."
Bonduelle did add a factory to its manufacturing network in Canada in 2014, buying a plant in the province of Alberta from local retailer Sobeys. And Sanson indicates over the border in the US is at or near the top of the list for the Bonduelle executives looking at the group's next move. "We first have a clear focus on US. I will not say that it's priority number one but it's clearly on the agenda, considering the success we have with the acquisition of Allens and once again the feedback we had from our customers in the US."
The Bonduelle finance chief says the company's customers in the US – where it is a private-label supplier to retailers and foodservice chains – are "very satisfied" with its work and would like to see the group expand west from its base on the east coast.
"For the time being, our production facilities are located on the eastern part, so logistics-wise, it's a bit difficult to supply the western parts of the country. We are actively looking to possible acquisitions in this area to supply the big names we already have as customers," Sanson says, underlines the targets are likely to be production facilities.
Sanson is careful not to disclose specific targets – "We do not say we will be there and there, otherwise you will see the valuation going up" – but he immediately indicates emerging markets are on Bonduelle's list.
The company's presence in emerging markets includes a business riding out tough conditions in Russia. Bonduelle has a two plants in the country, which have kept the group relatively protected from the impact of Moscow's restrictions on food imports. The company's Bonduelle and Globus brands account for 40% of sales of canned corn, peas and beans sales.
Bonduelle also does business in Brazil, though the market remains small and, in recent months, has become more challenging as the country's economic problems hit consumer confidence.
"We have learnt a lot from our Russian and Brazilian experience, which we can use to enter into new markets," Sanson says. "At this time some emerging markets might be attractive, especially because the currencies are very low in some of them."
He says Bonduelle could look to expand its business in Russia through acquisitions – "we are in canned but we are not in frozen" – and then names two other markets where the company is not yet present. "If we talk about Turkey, if we talk about Mexico, there are many areas in which you have an established market, which is not the case in every country. The most convenient segment to enter into a market is the canned business but through an acquisition that might be also frozen or fresh processed."
Sanson, however, indicates Bonduelle's moves in emerging markets are likely to be in the more developed of the emerging economies. He acknowledges markets and food habits are "moving fast" in Asia but with consumers still "more focused on raw vegetables" the region is "not priority number one on our agenda". Meanwhile, he says Bonduelle is "starting to think about" Africa but it is "probably a little bit early" to make a move onto that continent.
Two-thirds of Bonduelle's sales are generated in Europe (and by Europe, Bonduelle means western Europe markets including France, Germany, Italy and the Benelux) but revenues from the company's Non Europe division (which does include eastern Europe and Russia) are growing faster, while margins from this business unit are higher. Sanson sees Bonduelle's Europe division has a means of generating cash to invest in expanding the company's Non-Europe arm, which is underlined by the fact he names the US, Russia and emerging markets as the group's M&A priorities.
But could Bonduelle look to add to its business in Europe through M&A? Could the group look at categories adjacent to vegetables? Sanson says there could be some scope for acquisitions but is cautious. "No it's clearly only vegetables but in a broad sense. Our very first vegetable is not a vegetable, it's a cereal – corn – [but] we clearly focus on vegetables. In Europe, [M&A] would be limited. For instance, we are not very strong in Spain, because it's a country in which you have specialties like red pepper and so on, for which you are not a specialist. We might consider some opportunities also in Europe, but that should be limited considering the market share we already have."
What is clear is that, three years after a flurry of deals, Bonduelle is ready to move again and it is outside Europe where the company is most likely to pounce.