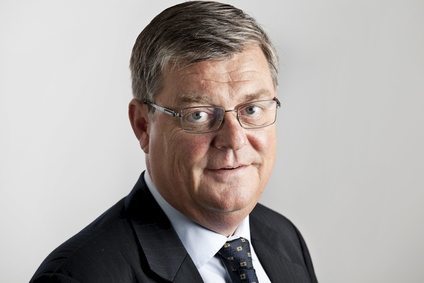 Arla Foods has invested significantly in overseas expansion, including in emerging markets, to look for avenues for future growth. The European dairy co-op's moves in developing markets have largely centred on Russia, China, the Middle East and Africa but it is also stepping up its activity in Latin America. Dean Best spoke to Arla executive vice president to find out more.
Latin America is becoming an area of increasing focus for Arla Foods, the European dairy co-op and one of the sector's top ten companies globally.
In recent years, with consumption in Europe stagnant, demand for dairy in emerging markets on the rise and the end of EU quotas on dairy production on the horizon, Arla has made a series of investments in a number of markets around the world.
The company has had a presence in Latin America for decades – it has, for example, been in the Dominican Republic for 50 years – but it is stepping up its investment in the region.
Last year, Arla opened a regional office in Mexico to support its business in that market. The co-op also took a stake in Vigor, one of Brazil's top five dairy processors.
Finn Hansen, an executive vice president at Arla, says Mexico is the co-op's "real prime target" in the region. "They have a country with a big dairy consumption – in fact, per capita, they are one of the highest in the world," Hansen tells just-food. "They have a large milk deficit. About 30% of their milk consumption has to be imported. We used to sell our speciality cheeses in the past but the more we get to know about the market, the potential there, we are spreading our our assortment quite dramatically. We have started to supply our full range – both cheese and Lurpak butter."
Arla focuses on three cities – the capital, Mexico City, plus Guadalajara and Monterrey – selling its imported products to a more affluent consumer. Mexico's economy has under-performed its Latin American peers in recent years. Last year, Mexico's GDP rose 2%, an improvement on the 1.1% increase seen in 2013 but still down on the 3.9% growth enjoyed in 2012.
Announcing its 2014 results in February, Grupo Lala, one of Mexico's largest dairy processors, said it had seen sales and profits rise but spoke about "a year of macro-economic volatility, with significant challenges for the consumer sector". Consumption, Lala said, had been "weak". The company's numbers for the first quarter of 2015 came out last month – again with increases in sales and profits – but CEO Scot Rank insisted the group's sales growth had been "below our expectations and potential", with its pricing strategy a key factor in the improvement. Rank also said "consumer demand" had been "slow to recover".
In a Mexican context, Arla, with its range of European cheeses including brie, gouda and feta, as well as Lurpak butter, is a far smaller business than Lala and focused on more niche categories and Hansen is positive about his business' prospects. "We do see an increased income in the middle class of consumers," Hansen says. "We do see consumption is increasing generally in the country, not only in retail but probably even more in foodservice. We do find the market attractive and we do find that for the foreseeable future it will continue to increase."
In the main, Arla's retail customers are the main modern chains, although Hansen says the company is "trying to go a little bit further in the retail universe" and is eyeing smaller stores. The company sells cheese to restaurant chains in Mexico – "You name them, we should be there," Hansen says – and it also sells Lurpak-branded butter to restaurants and hotels.
Hansen indicates Arla could look to its extend in range in the coming months. "It will probably also include milk powder starting relatively soon. That will be consumer products, fortified retail-packed milk powder. We see it as a food ingredient, we see it as liquid milk consumption as well. We expect it to be quite an interesting market. We are not participating in it but we like to think it has some potential."
The co-op's main task in Mexico is, Hansen says, to try to strengthen its sales and distribution "muscle" to cover the whole of the country.
Arla beefed up its presence in its other main market in Latin America – Brazil – last year through a transaction with Vigor. The company had had a venture in the country with Vigor but last autumn exchanged its stake in the Dan Vigor business for an 8% stake in the Brazilian group. The deal gave Arla better access to Vigor's distribution network in Brazil and, Hansen says, give the company exposure to any further consolidation of the country's dairy market, in which its partner has been active.
"Our interest in Brazil is primarily to sell and distribute via the Vigor system imported speciality cheese and butter. In the past we used to have a JV with Vigor. We converted these shares into shares in Vigor in order really to participate in the consolidation in the Brazilian dairy industry but also to have a focus on again imported products based on [our] owners' milk," Hansen says.
Like in Mexico, Arla wants to multiply its sales in Brazil by five in five years. "We see the segments of speciality, imported cheese in Brazil is increasing. The relatively wealthy Brazilian consumers are curious. They want to try different products and are keen to try imported dairy products, which they have not really been used to in the past," Hansen says.
He is sanguine about the competition Arla could see in these categories, pointing to the benefit of its partnership with Vigor. "They're [competitors] there already. All the big international dairy companies have some kind of a presence in Brazil. We like to think that within speciality cheese and not least Lurpak butter we are producing premium, top-quality dairy products and with the strength of our co-operation of Vigor and utilising their distribution power, we like to think we are in pretty good shape actually."
What is not in good shape is Brazil's economy. After years of solid growth – notwithstanding 2009 when the global downturn led to recession in Brazil – the country's economy has slowed sharply and it is expected to fall into recession in 2015. In the last 12 months, despite hikes in the country's interest rate, consumer prices increased by more than 8%. Inflation has been lower in the food and beverage sector but prices have been rising; between March and April, food and beverage prices rose by 1.04%.
After winning re-election in October, the second term of President Dilma Rousseff has seen the Brazilian government focus on improving the country's public finances. Economy Minister Joaquim Levy was instructed to implement a fiscal austerity programme. And there are signs Brazil's problems have had an impact on the dairy sector, which has flourished as the country's economy boomed.
Hansen says consumers have been trading down. "That has affected the whole imported situation, not only Arla but also all the other international players. That's quite natural," he says.
The volatility in Brazil's exchange rate is, Hansen says, an issue the company would like to ease. "The uncertainty is the volatility of the currency rate. We have seen that go both up and down in the past. Quite dramatic changes in a relatively short period of time. We would prefer a more stable exchange rate compared to the euro," he says.
Broadly speaking, however, Hansen is confident about Arla's prospects in Mexico and Brazil. Aside from the co-op's presence in some Central American markets – and the company is, Hansen says, "screening" other countries in that part of the region – Mexico and Brazil, with their milk deficits, Arla's priorities in the region. The group is not looking at entering in markets in South America.
As Arla builds its business in both markets, could it look at, say, acquisitions in Mexico? Or upping its stake in Brazil's Vigor?
"If we deliver as expected in Mexico, that could be something we could look at going forward but not short term," Hansen says. He is similarly cautious about looking to increase Arla's investment in Vigor. "Not in the short term. Well, long term, there is a question mark. We will have to see how our imported business will develop. How our sales and distribution usage of Vigor's facilities really can improve our position with imported brands. We take it one step at a time."