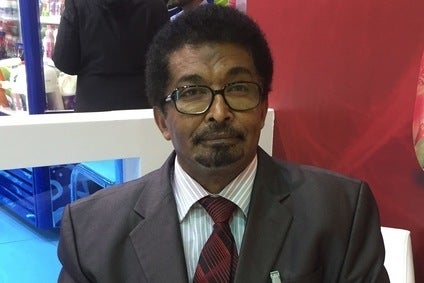 Statistics in the UAE show more than seven in ten of the country's 9.3m citizens are deficient in vitamin D. With a government keen to promote vitamin and mineral-rich diets, opportunities are opening up for food companies. Local dairy manufacturer Al Rawabi is one local firm looking to capitalise on through the launch of its "functional" dairy range. General manager Dr. Ahmed El Tigani tells Hannah Abdulla more.
"Over 78% of the UAE's population is Vitamin D deficient," Dr. Ahmed El Tigani, general manager of Dubai-based dairy firm Al Rawabi, asserts.
The statistic is fairly alarming, particularly given you get more than eight hours of average daily sunshine, even in the cooler months of November and December. However, scorching summer temperatures of in the high 30s to mid 40s celsius mean many of the Emirates' residents live pretty sheltered lives, protected in air-conditioned offices, homes, cars and even bus-stops. The UAE government is exploring options including the increased checking of blood sugar, pressure and vitamin D checks, as well as promoting diets rich in the ingredient.
Al Rawabi is hoping to capitalise with the launch of a new range of "functional dairy" products. The dairy firm started out in 1989 – a project backed by investors across the Middle East including the Gulf Investment Corporation, the Government of Dubai, and a UAE investment bank. Today, it generates an annual turnover of AED650m (US$177m), through a portfolio of milk, yoghurts and juices. Its products are available in Qatar and Oman outside of the UAE, and just last month it opened its first office in Kuwait.
"The UAE is our biggest market and we are currently number one here in terms of market share for dairy products and juices," says El Tigani.
The company made its debut in the "functional dairy" category in August last year after a tie-up with research teams in Japan and Finland. It has since launched two products including a vitamin D-based product – Super Milk – and a milk containing omega 3.
"The tempo of life has changed quite a lot," says El Tigani. "In the old days, people used to sit for a decent breakfast – eggs, cereal, jam, butter. Now when people wake in the morning they don't have time for breakfast. They just take two sips of coffee, get into the car and go to the office. By 2pm they're hungry again. So we worked with our research team to look into the requirements of the body for eight hours of fibre, energy, vitamins, minerals, protein, carbohydrates and fats and put it into a milk."
The range of functional milks is something El Tigani is sure will be embraced by the UAE government, particularly as vitamin D deficiencies "affect national production capabilities".
"People who are low in vitamin D, they feel tired, not in a good mood, have pain in their joints – they cannot be as productive as those who are not deficient. There is a concern in the Ministry of Health about the high percentage of people deficient in this."
The omega 3 milk uses a sea-plant extract for those with fish sensitivities. "It's good for your heart health, for your vision, brain. For those suffering from dementia it is good; for children preparing for exams it helps them to have a stronger memory; it is good for joints. It really is a revolutionary product," says El Tigani.
Al Rawabi has not launched the milks as specialist products. In fact, says El Tigani, the aim has been to make them as accessible as possible, given the volume of the population affected by conditions like vitamin D deficiency. The range is available alongside Al Rawabi's existing milk range in supermarkets across the UAE.
But El Tigani is not afraid to admit the new range is experiencing teething problems, particularly when it comes to convincing people they need the milk.
"I think there is more knowledge required. Let's say of ten people, at least eight are vitamin D deficient. But they don't even know that. He or she will see the Supermilk on the shelf – with vitamin D in it, and not know they need it. They will say they have back pain, or they are tired – all indicators of a vitamin D deficiency. Of the 7.2m that are vitamin D deficient, very few know they are."
The company is exploring several PR initiatives to try and educate consumers about the product range.
"My aim by this August, if we succeed to teach people, I think we can sell 100 tonnes," he says.
El Tigani is hoping as consumers become more aware of the condition the range will take off. Education continues to advance quickly, he believes, and people's understanding of what they are consuming does too.
"When we started, people only looked on the product for production and expiry dates. Nowadays they look at everything, ingredients, vitamins and minerals."
It's almost forced Al Rawabi to adapt, he adds. Of course, like the global dairy market, the sector in the Middle East faces its own pressures. Dairy prices to the consumer have broadly remained the same asserts El Tigani but commodity costs have increases.
"This will always put pressure on manufacturers to do a lot of re-engineering, cost control, improve the efficiency of management and so on. But it has come to a point you cannot do more than that."
That's where value-add comes in. The launch of a "functional dairy" range has somewhat allowed Al Rawabi to pass on the higher costs, while, he claims, still benefiting the population. The company is already working on plans to further expand within the category and is targeting obesity. With more than 66% of men and 60% of women in the UAE being overweight or obese (as well as 58% and 65% respectively across the wider Middle East and north Africa) there is a real opportunity, says El Tigani. The company is working with a research team in Japan, looking at ways to re-engineer its drinking yoghurt to act as a solution to counter obesity. It is also looking at another solution for hypertension.
While Al Rawabi is accelerating its expansion across the Middle East – it is in talks with a distribution company in Saudi Arabia with hopes to be present in the market by June – it is unlikely to expand much further afield, primarily due to supply chain complexities involved with fresh dairy.
But the new range, together with an increased focus on educating consumers on the health benefits of its dairy products, gives El Tigani confidence in the company's growth prospects. Over the next year, he is eyeing 20% growth in sales.
"If you want to be successful in food business you have to always align to the needs of your consumers. These needs are changing day to day – we have to be prepared for this."