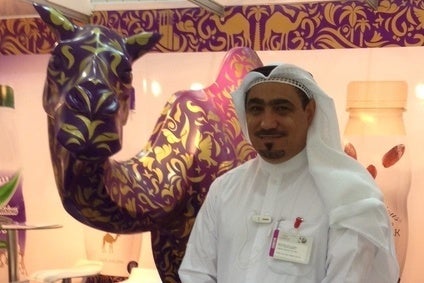 Camel milk – a staple food in the Middle East that dates back centuries – is gaining traction worldwide thanks to the touting of its many health properties. In an interview with Hannah Abdulla, deputy general manager of Dubai-based Emirates Industry of Camel Milk Products, Mutasher al Badry, speaks about the potential of the sector and his hopes of camel milk replacing other milk options.
It's not unusual to walk into a supermarket in today's United Arab Emirates to buy a pint of milk and find several shelves stacked with camel milk. Until the mid-20th century, bedouins across the region treated camel milk as a staple within their diets.
While not uncommon among Gulf nationals, it has in recent years started to enjoy rising popularity in international markets too. According to local publication Arabian Gazette, annual sales of camel milk are increasing at an average rate of 15-20% worldwide, stemming from a growing awareness of the additional health properties of camel milk such as it being lower in fat and richer in vitamin C.
The increase in demand has seen no shortage in Gulf camel milk producers trying to capitalise on the opportunity. One such company is Dubai-based Emirates Industry of Camel Milk and Products (EICMP) which has operated under the Camelicious brand for over 25 years. Today, the company's products can be found in a number of countries in Europe including the UK. It has also had a presence in Malaysia since 2013 and sells products in Australia.
"People globally are becoming more cautious about their health – the healthy trend is growing worldwide. There is a lot of research on camel milk and its benefits such as helping people who have Type 2 diabetes and those that suffer from lactose intolerance. Camel milk is also found to have anti-ageing properties," EICMP deputy general manager Mutasher al Badry tells just-food, pointing to the reasons that have contributed to the growth of the segment.
Camelicious was developed at the Central Veterinary Research Lab in the Dubai government 25 years ago in a bid to commercialise camel milk. "All the local people, they know the value of camel milk and how healthy it is. Then Dubai thought to emphasise the value. It was the vision of HRH Sheikh Mohammed Rashid Al Maktoum, to make this available to everyone, whether in the UAE or the world. Before it was only available to people that had camels, their relatives and friends but now it is available for everyone living in the UAE.
"There was also a plan to create a base for the industry. Before there was no industry base for camel milk – now it is regulated, organised and commercialised in a modern way with state-of-the-art technology."
Starting out with pure camel milk as a commercial product in 2006, EICMP now has a portfolio that includes laban (yoghurt drink), labneh (strained yoghurt), ghee (clarified butter), camel milk powder, and camel whey powder. This year, it launched camel milk ice cream into UAE supermarkets. Camelicious itself boasts a 15-20% growth in annual sales, al Badry says but he refuses to disclose specific figures out of concern there might be "competitors following us".
Despite knowing peers will be watching out for the firm's next move, al Badry does not see competition as the company's largest threat. Instead, he believes one of the biggest issues the company – and the industry – faces is its ability to meet rapidly growing demand.
"Competition – we are ahead of it," asserts al Badry. "Firstly we are pioneers in this industry. Second, the demand in the market is more than our capacity and more than that of our competitors. The main challenge is to find high-yield milking camels. How to resource this is the main challenge for us because there is big demand and to meet this demand we need more camels. Camel sourcing is a big challenge for us."
The company has employed two methods to try and counter the problem. The first is the good old fashioned way of searching among the local herders, creating incentives for locals to sell their camels. And more recently, it outlined plans to develop its own breeding system to create high-yield camels. The plan is to be able to create a complete breeding system to then sell on to other countries.
"We are hoping to franchise our concept. Now we have the systems, operations manual and data available – the breeding data, processing data, camel breed data – we are putting all this together in a franchise concept. Then any country, Saudi Arabia, Oman, Tunisia, Kazakhstan, those that have the camels but don't have the technology or the system of how to commercialise it, we can franchise the Camelicious brand in those countries and help investors to make good industry there."
At present, Camelicious owns 4,200 camels which are being fully utilised – up from 600 when it first started out. The plan is to grow to a base of 10,000 camels in two years – a challenge given the lack of availability of "good camels". But al Badry says he hopes this can be achieved in a maximum of five years.
While the firm hopes to grow its international presence over the next year, there is the additional challenge of continuing to educate consumers outside the Middle East about camel milk. Within the Gulf, where many have grown up with the product, understanding of what it is and does is almost a given. How easy is it to get to that point in countries where camel milk is only just hitting the market?
"Everybody that tries it likes it," assures al Badry, reiterating that growing awareness of its heath benefits is further boosting sales. "We're also working with distributors in the countries we are present in to assist with marketing the products. And we're exploring B2B options."
He says the industry is "a niche" and this also helps boost demand. "Where we go [internationally] we will educate people, using different marketing techniques like the website, ads and social media."
The company unveiled a corporate rebranding of Camelicious at this year's Gulfood trade show in Dubai, in the hope to achieve consistency across its range as it embarks on its global expansion journey. The new branding features elements that strongly resonate with the UAE including images of palm trees, falcons, Arabic calligraphy and the dhow boat.
"People will look at it and know the products are from the UAE," says al Badry.
There is also the hope that as its product range expands, so too will the awareness of the industry. In Australia, the Netherlands and the UK, chocolate products are made using camel milk powder supplied by Camelicious. The company is now moving into the production of mainstream ice cream and is launching a production plant alongside its existing facility in Dubai.
"Currently we have ice cream in restaurants and hotels but in summer we will launch the commercial bags in the supermarkets."
The ice cream product will initially be sold in the UAE with plans to follow for worldwide distribution. Alongside this, work is being carried out on the launch of camel-milk based shampoo and personal care products.
"We've already signed the agreement for the machinery and manufacturing plant and we have hired R&D people to make the formulas. So I hope by summer we will launch the personal care products with shampoo using camel milk," says al Badry.
Such moves, he hopes, will catapult camel milk further into the public eye.
"Five years from now, I hope to see camel milk everywhere in the world. I consider it very essential to everybody. Yes you might pay more for it, but you consume less of it for greater benefits.
"We want to change the culture of the people – want them to shift from cows milk to camel milk. Our aim is to see everybody enjoying the benefits of camel milk."