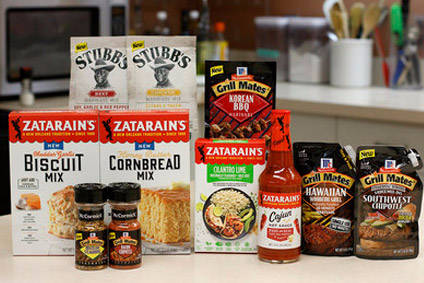 US flavourings firm McCormick puts supply chain goals front and centre in its new sustainability strategy. Michael Okoroafor, the company's vice president of global sustainability and packaging innovation, told Ben Cooper why.
A new sustainability strategy with an increased focus on agricultural supply chains is not unusual in the food industry today, but one that identifies vanilla, red pepper, black pepper, oregano and cinnamon as its priority raw materials might stand out from the crowd.
These are what US-based flavourings specialist McCormick, which produces sauces, mustards and seasonings, calls its "iconic" herbs and spices, and its new Purpose-led Performance (PLP) strategy, which features a raft of goals for 2025, underlines just how important the company considers them to be to the sustainability of its business.
Notably, McCormick – which owns the Schwartz and Stubb's brands – has committed to source 100% of its "branded iconic ingredients" sustainably by 2025. It has also set a target to "increase resilience" of 90% of the smallholder farmers supplying the five iconic herbs and spices by 2025, measuring resilience in terms of improving skills and boosting capacity, increasing incomes, improving access to financial services and raising standards in education, nutrition and health.
McCormick is also one of the growing number of companies to align its sustainability objectives with the UN Sustainable Development Goals (SDGs) and the two facets of the new strategy are clearly closely linked.
"Our focus on supply chain represents a substantial portion of our sustainability activities," Michael Okoroafor, McCormick's vice president of global sustainability and packaging innovation, tells just-food.
"Building upon our past successes and fully embedding sustainability across our global supply chain will help us realise our 2025 PLP commitments and positively contribute to many of the UN SDGs."
In addition to building supply chain endurance, Okoroafor emphasises how investing in agricultural sustainability helps generates goodwill with farming communities. At a time when global corporations are generally viewed as holding all the cards in their relationships with the farmers that supply them, hearing this being emphasised as a benefit of sustainability investment is striking.
"For us, improving the lives and livelihoods of farming communities across our supply chain creates a 'social licence' to operate," Okoroafor says.
"We generate goodwill among the farming communities where we source by providing training, resources and expertise to farmers with the goal of increasing their farming success by improving the quality and sustainability of their crop yields and, in turn, improving their economic livelihoods and the strength of their communities."
A case in point is a training programme McCormick has set up among farming communities in Vietnam supplying the company with black pepper. Having exceeded its target to train 1,500 farmers by 2016, McCormick has to date brought 2,340 farmers into this programme and says it is on track to exceed a goal of training 3,000 farmers by the end of 2017.
Okoroafor describes McCormick's 2025 goals as "audacious and quantifiable". There are certainly plenty of numeric targets among the 2025 goals, but ideas about what constitutes sustainable sourcing vary considerably, while campaigners also look for external verification of a company's sustainable sourcing claims.
In its 2017 Purpose-led Performance Report, McCormick says it is proactively encouraging farming communities to adopt best practices meeting its own standards or those of external certifying bodies such as USDA Organics or the Rainforest Alliance.
When asked how it will define "sustainably sourced" to show progress towards the 100% sustainable sourcing goal for its five top ingredients, Okoroafor says the company "will use definitions for 'sustainably sourced' that account for Rainforest Alliance and USDA information, as well as McCormick's strict internal standards for sustainable sourcing".
The new PLP strategy also includes 2025 goals for water use and greenhouse gas (GHG) emissions though here, it has to be said, McCormick's agenda looks rather less ambitious and eye-catching.
The company is aiming for a 20% reduction in GHG emissions and a 20% reduction in water use in company-owned facilities by 2025, but these are targets for aggregate reductions rather than consumption and emissions per unit of production. "We do have unit targets for plant locations that are being finalised," Okoroafor says. The company has also set a goal of a 25% reduction in carbon footprint from packaging by 2025.
As it stands, McCormick's emissions goals are limited to Scope 1 and Scope 2, defined as originating from sources under the direct control of an organisation, rather than the more challenging Scope 3 category which would cover indirect impacts throughout the value chain, upstream and downstream.
McCormick estimates its agricultural supply chain accounts for around 80% of its carbon footprint. Once again, Okoroafor says more demanding targets are in the pipeline. "Right now, our current emissions targets are for our own facilities, but we are planning to launch Scope 3 emission reduction programmes with our partners."
McCormick has also set numeric targets relating to gender and inclusivity, pledging to increase the proportion of leadership positions held by women throughout its operations to 50% by 2025, and by people of colour in the US to 30%.
Among the 2019 goals McCormick published two years ago was a commitment to promote workforce diversity and increase these two critical indicators, which by 2016 had reached 48% and 22% respectively. Asked whether, in view of that progress, McCormick might be looking to achieve these important milestones sooner than 2025, Okoroafor reiterates the company's 2025 commitments but goes no further than to say "we are confident that we will achieve those goals in that time frame".
The company's work on gender equality also extends into its agricultural supply chains. McCormick says responsible sourcing includes "fully recognising the fundamental, though often hidden, role women play on farms across our global supply chain".
As part of a commitment to empower women throughout its supply chain, the company has committed to map the contributions of women working on farms in all the communities sourcing its five iconic ingredients.
Companies involved in buying and selling spices can claim to be part of a living history dating back not centuries but millennia.
Business models may have changed somewhat since the Neolithic era but one inescapable truth remains. Just as it was for spice traders in ancient Egypt or medieval Venice, ensuring a viable future is dependent on retaining a consistent supply of unique and irreplaceable commodities, something McCormick's focus on agriculture serves to underline.