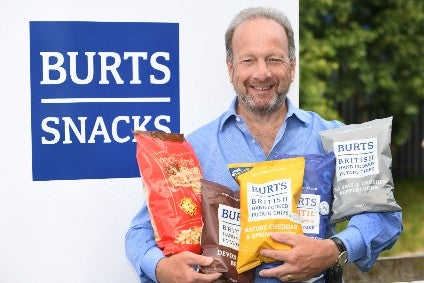 Burts Snacks recently rebranded to better reflect the nature of its portfolio after the independent UK crisp maker expanded into popcorn through M&A. Simon Harvey speaks with chairman and managing director David Nairn as the business seeks to double revenues in the next few years.
As many European crisp brands succumb to takeovers, Burts Snacks has no such plans as what was until recently Burts Chips enters new markets in Asia.
When chairman and managing director David Nairn joined UK-based Burts Chips in the early Noughties, the business was generating revenues of around GBP1m (US$1.2m). And now, following the company's first and only acquisition, along with investment in plants, manufacturing and people, the newly-named Burts Snacks is aiming to reach around GBP56m in sales this year, and GBP100m by 2022.
Retaining the name of founder Richard Burt, the business has moved into foodservice, private label and co-packing since its formation in 1995, while still holding on to its branded identity. However, other UK crisp brands like Pipers and Tyrrells have come under new ownership, in those cases US food and beverages giant PepsiCo and Germany's leading snack maker Intersnack.
Meanwhile, Germany has become the second-largest European market for Burts after the UK. It is also present in the US, and has just landed in Australia this week to have that market join Singapore, China and South Korea in the company's international roster, Nairn tells just-food. Burts was in Canada, too, until pulling out around 18 months ago due to jurisdictional issues.
And Burts has the financial firepower to ward off any advances from competitors or institutional investors. London-based Empire Food Brokers, which supplies its own snacks to the likes of Tesco, Aldi and Selfridges, is now the controlling shareholder having bought out former directors Nick Hurst and Jonty White in 2014.
It was partly that backing that enabled Burts to acquire popcorn manufacturer Savoury & Sweet around 18 months ago, giving it a second plant located in the Midlands county of Leicestershire. The company has since invested about GBP10m across that site and its other in Plymouth, Devon, on the south-west coast of England, to increase capacity.
"It's given us the opportunity to break out under the snacks banner," Nairn says with respect to Savoury & Sweet. "By investing in capacity we have been able to outgrow the market."
So what is Burts' unique proposition that sets it apart? "I think it's all about premiumisation," Nairn tells just-food. "We do things to the highest standard. Our factories are built to be the cleanest and most efficient in the country. We are inspected four or six times a year by independent, unannounced audits and that's where we believe we get it right."
Burts' branded product line-up includes Burts Potato Chips and its better-for-you offering Burts Lentil Waves, with Popcorn & Me inherited from Savoury & Sweet. The company has also entered licensing partnerships with beverage brands Guinness and Jim Beam, and chilli sauce maker Levi Roots, which Nairn says are gaining popularity in Europe, particularly in Germany, "so that tends to help us differentiate ourselves in Europe, and that's continuing to grow".
Burts has installed a new potato frying line in Leicester, which the company says will increase capacity three-fold when it comes on stream in August. It has also invested in flash frying in Plymouth – a production technique that Nairn sees as an opportunity to deliver additional growth over the next 12 to 18 months – to give the company 200% extra capacity. And it's also hiring 65 more workers to boot.
The company's private-label business includes two "big players" in the UK, while it co-packs for four "branded" manufacturers, Nairn confirms. Its branded products account for 20% of total sales, supplied to 171 direct customers encompassing wholesalers and a "selection of strategically targeted regional outlets" in the south-west of England.
"Burts maintains a number of strong listings throughout the south west, as well as nationwide listings of its better-for-you product Lentil Waves in Waitrose," Nairn says. "We have a strong presence in foodservice in branded, and that's where we are seeing our branded growth, in the UK specifically, and we are starting to see growth in branded in export as well."
He continues: "The background to the business was very much around premium crisps. And then we diversified and launched lentil products, kale and quinoa, and it's really in the better-for-you space that the market has grown. We recognised that when we decided we were going to acquire the popcorn business. We manufacture for a recognised brand there and it's a market leader that's seen exponential growth. It's breaking out into additional snacks and we have the capabilities and the technologies to support that growth."
Nairn adds the additional capacity should help Burts achieve 25% growth in better-for-you this year as the "run rate" increases to around GBP60m by year-end. We are "currently sitting on projects" potentially worth another GBP15-20m with respect to new opportunities "with some major branded and own-label customers" that could be signed off between now and the first quarter.
"They are fairly sizeable," he says. "For popcorn in Leicester, we have just signed a new contract and we will be making that branded product for the next two years and that will see our popcorn business almost double in the next 12 months."
Burts introduced lentil snacks six years ago as part of its push into better-for-you products and Nairn says the take-up has been "very good", although it has faced difficulties in sourcing the pellets used in production. He explains the lentils are first milled into a pasta-like base to create the pellets, which are then flash fried during the manufacturing process to produce the end product.
"There's a lack of capacity in the UK market" for pellets, he says, adding that there's only one major producer in the UK and a "couple of European players".
So does that hold implications for Burts with respect to Brexit given the risk of potential import tariffs? And has the delay from March – when the UK was originally set to leave the EU – affected the business?
Burts says its exposure to Brexit is limited given 80% of the lentil pellets are sourced from the UK, with only 20% coming from Europe, namely Italy. However, stockpiling by major retailers has provided both positive and negative outcomes.
"Brexit isn't a huge issue for us," Nairn says. "I mean, probably the major issue that we have experienced with the false start was that the major grocers bought in ahead of Brexit and that made our numbers look extremely good in quarter one. But then the aftermath was they were over-stocked and we had to sit on our hands for six weeks whilst the stock moved through.
"In terms of what we bring in from Europe, no it's not [a concern]. As a percentage of our total business, our European business is a couple of million [pounds]. I think the bigger issue will be as we go into October. If the grocers want to buy in again as they did in March, where's the space? There's very little storage space at the moment in the UK." That issue will be exacerbated when manufacturers start buying in for Christmas around September, Nairn adds.
Outside of Europe, Burts is "fast growing into China" after developing specific packaging for that market, while the company is also "dominant" in Singapore, Nairn says, adding its overseas business is purely branded, and for the time being only encompasses crisps. In the US, Burts is "working on another large development with branded".
"The big growth story at the moment is Singapore, China, South Korea and Australia," Nairn says, although exports only account for 25% of the business.
Burts also faces shelf-life issues with respect to exporting to those countries, particularly with popcorn. For crisps, Burts removes the air from the bags before sealing, a process which "enhances the shelf life to potentially nine months, although in the UK we only put six months on the pack", Nairn explains.
"We are still mainline Europe," Nairn adds. "We literally have our first shipment arriving in Australia now. That's a big win for us – it's a long way to ship snacks but at the moment we only have the premium crisp offering in those countries and we are looking at what else will travel. Popcorn is a little more difficult to get the shelf life that warrants pushing that out to the Far East, so we'll be looking at some of the other products we make – we have a compression popping capability which will travel and it's a matter of getting the ground established and then start to expand with other snacks we can develop."
So would having an overseas manufacturing presence help solve the issue? "No, definitely not," Nairn replies, especially given last year's GBP6-7m investment funnelled into the Leicestershire site, where the added capacity has also opened up new opportunities as a co-packer. And while the MD doesn't rule out further acquisitions, the option is generally off the cards for now.
"I think if something came along and it was attractive then we would look at it, but I think we've now invested in the capacity and the things to fill the factory," Nairn says. "The manufacture of snacks is very strong, especially in Leicester, where we have obviously moved in to compete in that area for labour with some of the big boys in the marketplace."
And Burts is looking into new snacking concepts to help expand sales and meet targets. For now, the better-for-you category is top of shelf, although Nairn concedes new trends will no doubt emerge in areas "we've not even considered yet". With the 200% investment in our flash-frying capability in Plymouth, we "will add GBP20m to GBP25m additional sales to our business", he says.
"We have a couple of new ideas in NPD – it's a bit like when we first went into lentil products. We strategised around whether we would ever put the word lentil on front of pack and we did. There are new pulses out there that you think, 'Will the consumer recognise that that's a healthy option?' We are looking at those at the moment. They will probably be things that will be coming out very early in 2020."
Nairn is confident about achieving Burts' GBP100m sales target with new capacity in hand, new products in the pipeline, new export markets – although they will still take time to fully develop – and a growing customer base in private-label and branded products.
"We have the capability now," he says. "We have the space, we've invested in technology. We don't need to do another acquisition, and yeah, I think, subject to us delivering on the new products we are looking at, then I think there's a great opportunity for us to hit that goal."