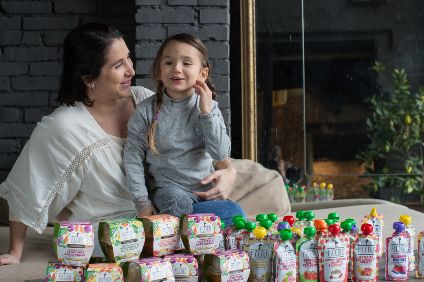 Two years into its existence, UK-based organic baby food business Piccolo has listings at large, domestic retailers like Tesco and Asda, the backing of well-known names in the food sector and opportunities to expand overseas. Andy Coyne talks to founder Cat Gazzoli about the company's development.
Name – Piccolo
Location – London, UK
Products – 40 baby nutrition items. based on a Mediterranean diet
Annual turnover – (projected) GBP5m (US$6.9m)
Founded – 2016
just-food: The story goes that when you were on maternity leave you couldn't find tasty and nutritious food for your daughter so started making your own. Is that the origin of Piccolo?
Cat Gazzoli: Yes, but also my background is in not-for-profit food agencies at the United Nations and the Slow Food organisation, where I was UK CEO. I worked in the food education programme at the UN. My focus was on a programme for children and sourcing food. In these jobs I spent years getting to know producers, whether it was cheese from Somerset or Einkorn flour from Orkney. I met people who are really interested in cultural heritage and I feel very strongly about that. That is a big part of why I set up Piccolo.
just-food: Was there nothing on the market at the time that came up to your expectations?
Cat Gazzoli: There are quite a lot of products on the market now but there wasn't so much happening in 2016. There was not that focus back then. Piccolo's focus was on lowering the content of natural sugars. when proposing fruit, and introducing more legumes and savoury options. We are always looking at the products and how to not make a product sweeter than they need to be. Current multi-packs tend to be modelled solely on fruit and parents buy multi-packs because its easy to stock up. Our just launched multi-packs products are not 100% fruit but a mix, based around a rainbow of diverse fruit, vegetables and herbs and spices. It might be pear, spinach and peas. We are always looking to put in a twist from a savoury perspective. And we are pushing the envelope in terms of innovation, such as launching Fairtrade products. It is also important to think about developmental milestones that babies are achieving.
just-food: Your background is Italian. How important is this in your food philosophy? After all, shop-bought baby food is not synonymous with Italian cuisine.
Cat Gazzoli: It was very important weaving in what I wanted to bring from my belief in the Mediterranean approach. It was difficult to bring it to the sector. We source most of our products from southern Europe. We make our own pasta in my grandfather's village in Italy.
just-food: Does this make you vulnerable to Brexit and the possibility of import tariffs between the UK and the EU?
Cat Gazzoli: In general the UK imports a lot of fruit and veg and at the end of the day Brexit is affecting everybody. Baby food is unique. You can't just add salt. The right raw materials are half of it at least and there is nowhere to go if the product is not available. What we're doing is not the cheapest thing to do but it is the right thing to do.
just-food: You have had backing from high-profile food industry figures such as restaurateur, cook and television presenter Prue Leith and Green & Black's co-founder Craig Sams. How important has this been?
Cat Gazzoli: Having Prue Leith and Craig Sams as mentors has been pivotal in giving me the courage to move forward – especially because I didn't come from the commercial world. I have a core investor circle and I choose my investors very carefully. They have supported me in getting the right team around me [such as nutrition expert Alice Fotheringham and branding specialist Kane O'Flaherty]. I had a lot of experience in Slow Food and working with Fairtrade and I'm an organised type, especially when it comes to my ingredients – but I needed people who knew about all the other stuff.
just-food: Soon after launch you had six products on the shelves of upmarket British retailer Waitrose. Were you worried this would give you a reputation of targeting middle-class mums?
Cat Gazzoli: My whole plan was centred on Waitrose. Waitrose was the right retailer for us even though Piccolo had had a lot of interest from elsewhere. We started off with six products because we didn't want any product hiccups. But then we needed to offer it to more mums. People were telling us that they wanted to try the products but there was no Waitrose near where they lived. It was important for us to make our products accessible to mums.
just-food: Thus six months later your baby food was in 400 Asda stores and now your new product range has achieved a listing with Tesco. Have you had any problems scaling up?
Cat Gazzoli: We needed to get to the level where we could be an excellent supplier. I'm quite into operations and we had to make sure we had the ability to make enough and on time and an ability to pivot and scale up a product. With notice our suppliers are able to go up in scale. My grandfather had a trucking business so I'm on it when it comes to being on time and logistics. I have called a few en-route truckers if I am worried about a delivery to a retailer, for example – like when Storm Emma hit the UK. It is important to have a close relationship with producers but there also has to be trust from the retailers when you are a little guy. Retailers are taking a punt with you. It is a risk. Buyers would have to explain if there were empty shelves. We are putting everything back into the business. You have to be ready for business ebbs and flows – like freak weather, as well as Brexit.
just-food: And although it is early days you have already had some export success in Ireland and may be targeting Asia using the auspices of your investor DSG Consumer Partners, which invested in Piccolo in November.
Cat Gazzoli: Yes, our products are now stocked by four retailers in Ireland. DSG's Indian founder [Deepak Shahdadpuri] is based in Singapore and there has been a lot of interest in baby food from Asia. There are lot of Australian baby foods and brands in China and it is very helpful if your core investors know these markets. There are a lot of opportunities but it is about looking to see whether they are right. I would rather we did one market well.
just-food: What's the thinking behind the new product – a range of split pot, Mediterranean-inspired meals, based around textured grains with a vegetable sauce?
Cat Gazzoli: It has long been our ambition to help parents moving on from baby purees to the next step in weaning, and we have worked very hard to develop our new range of Piccolo Pots. By using the innovative split pot packaging, we have ensured our meals retain maximum nutrition and texture. The new product at Tesco is flying and it has only been out for a week.