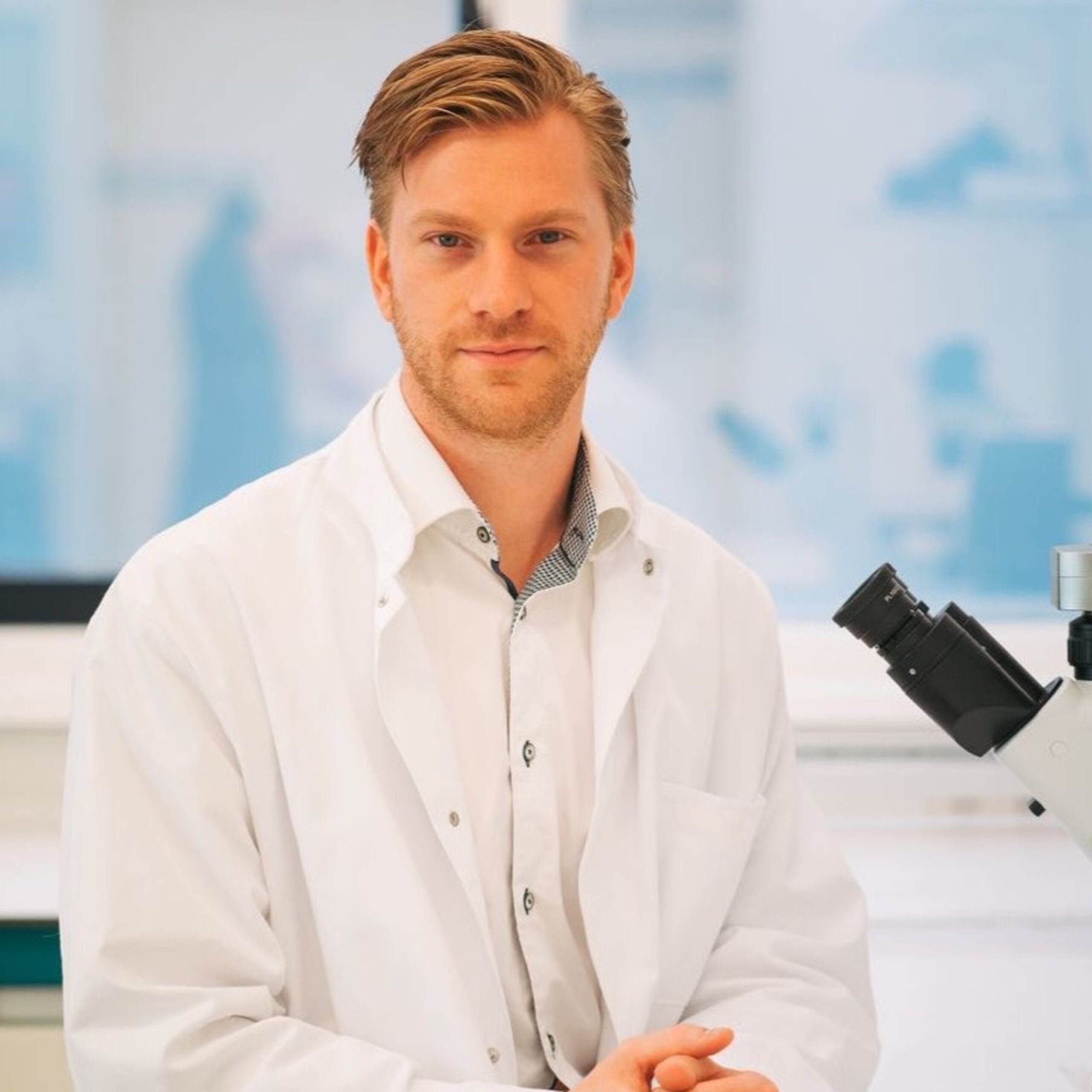 Andy Coyne speaks to Meatable co-founder Daan Luining about the cell-based meat company's progress towards creating a market-ready product.
The race is on to produce the first scaleable, cell-based meat product that can be sold by mass retailers at a reasonable price.
Competing in that race is Netherlands-based Meatable. Established in 2018 by Daan Luining, its chief technology officer, CEO Krijn de Nood and Dr. Mark Kotter (principal inventor of Opti-Ox technology), the Delft-based business recently closed a US$47m Series A funding round – bringing the company's total funding to $60m – and has successfully created a pork sausage from cells in its lab. It has also further developed its proprietary platform technology which, it says, enables a more cost-effective and scaleable production process for cell-based meat without the use of a growth serum.
As with its peers at home and overseas, the next – big – hurdle is scaling up from a prototype and creating a product it can take to market. Meatable has talked about having products ready for 2023.
Just Food: Daan, all the cell-based meat companies are working hard in their labs to create something that can be scaled up and then taken to market. To what degree has Covid-19 slowed you down over the last year and pushed your plans back?
Luining: As far as Covid impact goes, we are on the lucky side. It has propelled us. It has put a spotlight on the animal industry and the potential hazards we are putting ourselves through and the way we are consuming protein. We have been based in our incubator and have not needed to slow down. It was not as bad as we expected but with pandemics there is no rule to say we will only have one every few years.
Just Food: Do you think people's attitude to meat has changed because of Covid? We've seen a big rise in plant-based food sales, for example.
Luining: The amount of meat eaten globally has increased over the last decade. People are now diversifying their diet and we can't deny people from doing that. We can see that trend in Asia and elsewhere. Very few people adhere to the vegan ideology. Meat by itself is not something to be wary of. It is very nutritionally dense. People realise that if you are healthy and eat well it can help to fight the pandemic. And what we are doing now [in societal terms] in terms of meat [production] is having a stark impact on the environment.
Just Food: Meatable was established in 2018 but you have been involved in the cultured meat area for longer than that haven't you?
Luining: Yes. I have been working in this field since 2013. I was one of the first researchers working on a lab-grown hamburger. In 2018 there were just a few people in this field and it was seen as a bit avant garde but now there is an immense appetite for alternative proteins.
Just Food: You have been backed by investors to the tune of $60m, with the most recent round involving the likes of DSM Venturing, venture-capital fund Section 32 and BlueYard Capital. What has the investment money allowed you to do?
Luining: We use unique technology developed in Cambridge [in the UK]. We wanted to see if we could create a prototype. We made a 100% cultivated pork sausage late last year.
Just Food: I understand the technology you use means you don't have to use growth media such as fetal bovine serum (FBS) [a by-product of the dairy industry, involving the harvesting of blood from the bovine foetus after it is removed from a slaughtered cow].
Luining: Yes. It is proprietary platform technology. It is more cost-effective and means no growth serum is used. There is no company in this field that is expected to use FBS in the future so it is great for us to use this as our starting point.
Just Food: Is this technology available to others?
Luining: No, we have an exclusive licence and that's what sets us apart. You have to have something unique in this field.
Just Food: How does it work?
Luining: Other cultivated meat companies use 'adult' muscle and fat cells as these have the texture they require but, as they are already fully grown, they are slow to grow so need the help of expensive growth serums. Meatable is able to use younger, fast growth cells and its proprietary platform technology turns these into muscle and fat without the need for a serum. Our cells are in the growth phase already. For our competitors, by using the [growth] medium they have to go through an extra step and the drawback of using that system is it difficult to see it working on a large scale.
Just Food: How long does it take for you to produce a piece of meat in the lab?
Luining: Around three to four weeks but it will be a continuous process so there will be no time lag. Shelf-life is a big thing we are looking at because these are fresh products.
Just Food: Investors are obviously keen to push things along from concept to reality as quickly as possible. Have your backers pressed you to get a move on?
Luining: No. Our investors are amazing. We are very happy with them. They are very trusting and hands-off when it comes to the science.
Just Food: Now that you've got the prototype pork sausage and know that the technology works, what's the ultimate goal for Meatable?
Luining: We are keen to go to market and have people try the products and that immediately takes us out of the lab and into facilities like any other food producing company in a large-scale production environment.
Just Food: Are you looking at creating branded products for retail or is foodservice a more likely route for you?
Luining: We are having an on-going conversation around this and the best way to proceed. We are also having conversations with customers.
Just Food: What has the reaction been to what you are doing from the regulators in The Netherlands?
Luining: In The Netherlands we have made immense progress. We have been in conversations with the Dutch government about regulations. We are on their radar and we have had good conversations so far. They are interested in what we are doing and the minister of agriculture has visited us. We are a big meat-producing country and this takes up a lot of land. The Netherlands has a long history of dealing with space constraints.
Just Food: With everyone racing to be first to market do you think there will be a first-mover advantage?
Luining: I don't think so. We are all in this together to make this a reality and then we will see how it goes in terms of taste of the products etc.
Just Food: Are you worried about the competition?
Luining: We are always interested in what other people are up to but the field is so big so we welcome other players and competitors.
Just Food: There is a general feeling that when products finally emerge they will be at a premium price. Do you think this is a fair assumption?
Luining: This happens with all new types of products when they are not produced at scale. Look at computers. But when it grows everyone can afford it.
Just Food: When products finally emerge, can you see big food companies looking to acquire start-ups such as Meatable?
Luining: You can already see participation with a lot of players in the field such as Memphis Meat. I'm not sure but obviously they [larger food companies] have know-how and infrastructure when it comes to things like storage, branding and distribution.
Just Food: What can we expect from Meatable this year?
Luining: Keep an eye on us. We are working really hard to make this happen. Meatable will be looking to scale up its product development this year and to carry out market research with potential customers. There will definitely be more news from us this year.