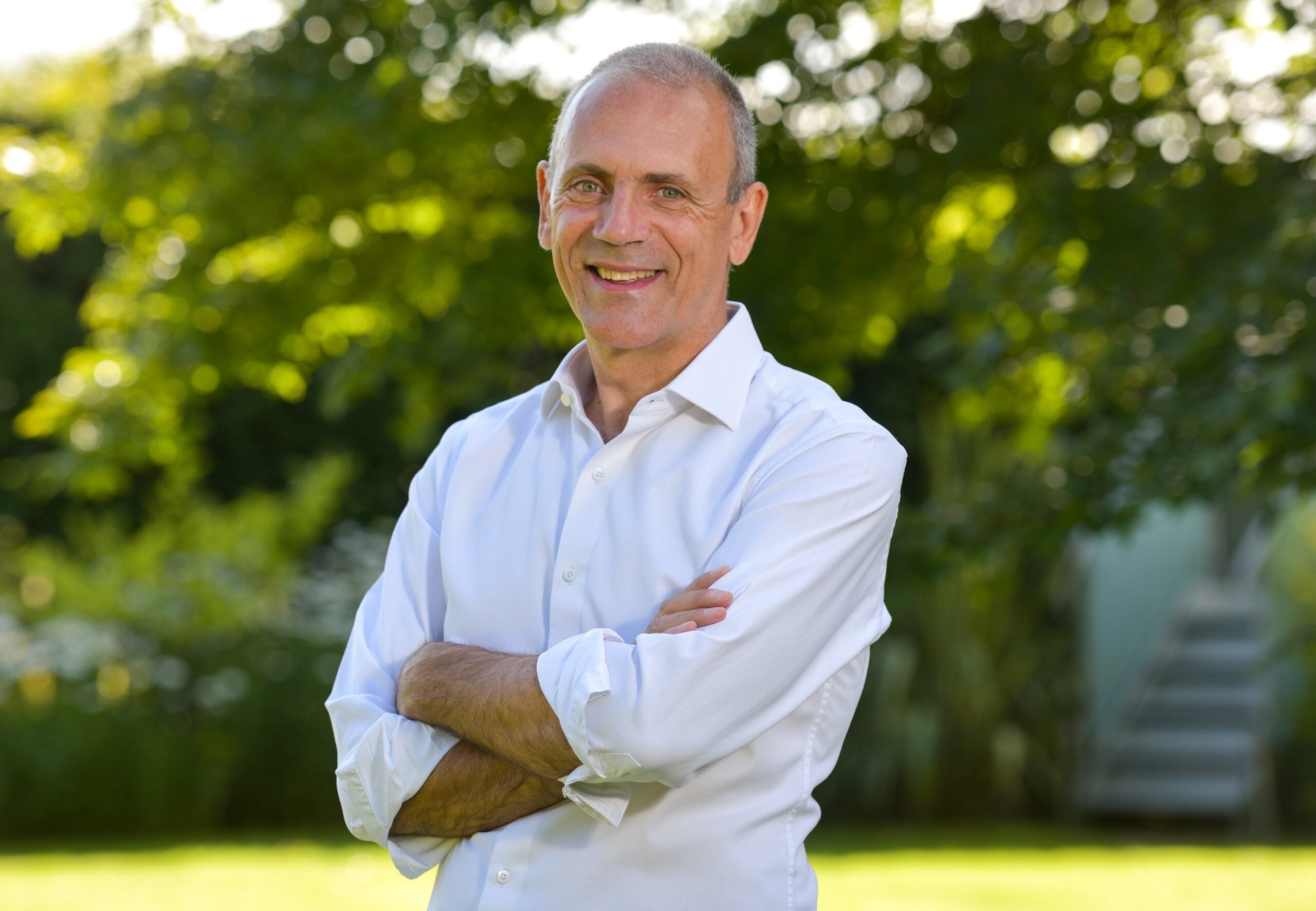 "The team before me has done a fantastic job to take it up to here [but] it is always an interesting question: how do you take it to the next level in a different environment now?"
Marco Bertacca is talking to Just Food on a video call as he approaches a year-and-a-half in charge of Quorn Foods, the UK-based meat-free business. Bertacca – an experienced food-industry executive, with stints at companies including Unilever, CSM and FrieslandCampina on his CV – joined Quorn in January 2020, succeeding long-standing chief executive Kevin Brennan.
Under Brennan, Quorn Foods was transformed from a struggling part of UK manufacturer Premier Foods to a business that, with private-equity backing and then under the ownership of current parent company Monde Nissin, has become one of the largest brands in meat-free in its domestic market.
The first 18 months of Bertacca's tenure have been eventful, to say the least. Quorn Foods has not only had to deal with trading during a pandemic like everyone else but, for much of 2020, continued to grapple with manufacturing issues that hampered its ability to supply customers – at a time when the UK meat-free market is becoming all the more competitive and Monde Nissin has been preparing for an IPO.
Marlow Foods Ltd, which trades as Quorn Foods, did manage to see its turnover rise year-on-year in 2020 (from the GBP229.6m (US$318.4m) booked in 2019), although full financial figures have yet to be published with the UK's Companies House. "It was a very challenging year," Bertacca says. "We had a tough start to the year with the service [to customers] that we were not able to fulfil but we grew in the second half."
Monde Nissin, the Philippines-based food and beverage group that's owned Quorn Foods since 2015, got its IPO away at the start of June. The company, which also owns brands such as Lucky Me noodles, said the listing would be used to pay down debts but also to invest in capital expenditure. Bertacca said the IPO was "an important step" for Quorn Foods.
"It's a big category, a growing category. There's a lot of newcomers, a lot of new players, from many different perspectives. We have a new strategy, a new purpose, a new vision for the future. We want to have the financial means to be able to do it," he says.
"For us, it's really just supporting our growth and, in particular, I would say it's investment in some capability. We want to scale up our R&D … so some capabilities in R&D in particular, in new products, and then in capacity. We know we need to expand capacity, both in Europe and, for the future, in the US as well."
The expansion of capacity is set to be an important part of what Bertacca informally calls Quorn Foods' "phase two". Quorn Foods is commissioning its latest fermenter – where the company makes its mycoprotein – at its site in north-east England and plans to set another up in the US in the next three years or so, a move that would give the company its first production base in a market it's been trying to crack for a number of years.
However, investment in R&D appears to be just as critical. The business has led the way in developing meat-alternative products made from mycoprotein at scale but, as Bertacca acknowledges, rival investment in the area is growing.
"One of the biggest differentiating factors of Quorn is mycoprotein. We are the only ones currently in the world that are able to produce mycoprotein at scale," he explains. "And you must have seen that, in the last two, three years, the amount of investment that has gone into mycoprotein, in particular, has really escalated.
"So, what do we need to do? On one hand, we need to build more fermenters. And, at the same time, we are working to develop, if you want, the future technologies, because while others will try to catch up, we need to keep the distance in terms of the technology."
Another significant part of Quorn Foods' "phase two" is investment in alternatives to chicken. The company had been stepping up its presence in this product segment, securing, for example, a notable contract with KFC. Bertacca wants to build on that work and says Quorn Foods is looking to become "the kings of queens of the chicken world".
"We have something really, really special in the taste, the texture and the profile of chicken," Bertacca says. "While I do realise that there's a lot of different products out there and the market is becoming more, more sophisticated, we identified that chicken is our key driver for us. The ability to design more and more chicken-like products is going to be at the core of our effort in R&D and, by that, I really mean getting as close as possible to mimic the loved characteristic of chicken from the consumer perspective. You will see from us many, many more chicken-like type of products."
Capital investment in the UK and the US will see Quorn Foods spend on two of what Bertacca says are the company's "three areas of growth". The third is its business with quick-service restaurant chains and the company has been hiring in this area to support its growth plans. Bertacca says the group's focus on chicken will be important in this channel, too. "Our chicken products are better than anyone else, they're recognised by our customers and so that's why playing with the chicken type of product in QSR is a big one for us."
The QSR channel may also have a role to play for Quorn Foods' international business. The company has built a presence in a number of countries outside the UK, ranging from a US market Bertacca now holds up as one of its main prospects for growth to smaller footholds in places ranging from western Europe to Australia.
Upon stepping down from the helm, Brennan told Just Food last January how growing the company's international business was "tougher than we had anticipated" and, despite some "good results" in markets such as Australia and the Benelux, he believed Quorn Foods was "better off being strong and building the brand in select markets".
Brennan's belief in being selective is echoed by Bertacca and, here, the Italian says, Quorn Foods can benefit from relationships it builds with international foodservice customers to then "create an element of pull" and interest from potential retail clients.
"The way I believe we can grow faster than what we've done until now – and, of course, it's up to us to then demonstrate that – is to leverage our international customers to take our products around the world and then piggyback on the exposure of our brand there, with maybe a retail offering," he explains. "You will hear more about this. It's something that is happening as we speak. We're doing a number of trials of our product internationally with a couple of these customers."
Meanwhile, Bertacca and Quorn Foods will be well aware of the competition at home. The dust appears to be settling on what has been a tough period for the company in the UK. Trading through Covid-19 has, as it has for the rest of the industry, been challenging but, either side of the onset of the pandemic, Quorn Foods had manufacturing problems that weighed on its sales.
The company managed to grow its turnover in 2019 but, in the Companies House filing on its financial performance that year, spoke of "capacity constraints … which has limited its ability to meet demand and this was managed to limit the effect on service levels".
Bertacca says moves to then increase capacity did not immediately pay off. "The second half of '19, we had a project that didn't work according to plan. We were extending the capacity and, in doing so, it just didn't work," he says.
"The team invested money, they tried to innovate in a number of areas and it didn't work according to the plan. When that happened, unfortunately, you create a bit of an impossible negative spiral. The product is not available, then you say 'Okay, what can we do?' and, then in the meantime, the market shoots up [due to the stockpiling seen in the early months of the pandemic], and then we ended up having to cut some of our lines and focus on a smaller range. That was challenging during that time.
"Within seven months, we brought back the stocks to exactly where they should have been. We've invested GBP40m in doing so, upgraded some of the lines and, by June/July [2020], we were really back to where we should be."
Quorn Foods now faces what Bertacca says is a rapidly evolving domestic market and the company will, he admits, need to invest. "Kevin was really very open with me and said 'Marco, you're going to face a market that I don't know because it's changing so fast'," Bertacca says.
"What I realise is whatever we look at now is going to be different in six months, one year again. We have to spend money. We have to step up in a number of areas. We are doing so. You will have seen some of our more recent campaigns that had a much better impact and created a lot of positive noise. We are operating much more on social media. We are coming out with some new products that are really, really interesting.
He adds: "You asked me what should we do differently, right? I believe Quorn had a fantastic success story with vegans and vegetarians when there was no other market for those. The market is moving quickly. That group sticks at 6-7% of the total UK population. Then you got another 45% of people that are not even interested in trying something that is not meat. Then there is a big, big chunk of people, flexitarians or whatever you want to call it, which is just about reducing a little bit, trying something that actually fulfils you, that actually you really like.
"That's a big group. What if they eat once a week a product that is not meat? What impact does it have for them and for the rest? Why do we work with KFC? To some extent, I see our role is to bring that food, that element of the mycoprotein, to as many people as possible. We are not for the few. We will never sell a burger for GBP5. This is not who we are."
Bertacca declines to provide Quorn Foods' sales forecast for 2021 ("Unfortunately that's the implication of the IPO") but says the company does expect to grow this year. "I said to the investors 'Look, guys, the first half of this year is going to be tough because foodservice has been closed, there's a bit of a reopening of the world and people wanting to eat maybe a little bit more outside and less cooking from scratch, which we're very famous for, etc. I look at this year as a growth year but that's all I can say for the time being."