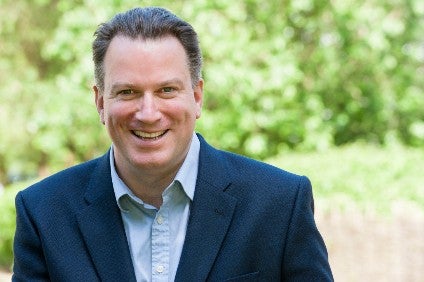 After a decade at Unilever, a stint in charge of UK baby-food firm Plum Baby and seven years leading Wessanen's UK division, Patrick Cairns has, since March last year, been chief executive of Charlie Bigham's, the London-based manufacturer of upmarket ready meals. Dean Best met Cairns to discuss his plans for the business.
In many ways, Charlie Bigham's is a company that goes against the grain of the sector in which it does business.
The UK manufacturer, set up by former management consultant Charlie Bigham in 1996, makes and sells dishes like beef bourgignon and potato dauphinoise, chicken and mushroom pies and macaroni cheese, carving out a foothold in a market dominated by own-label.
The business, still owned by Bigham, generates around 85% of its annual turnover (GBP51.1m (US$67.5m) in the 12 months to the end of August 2017) from sales through UK grocers Tesco, Sainsbury's, Waitrose – its three major customers – and regional retailers Booths and Budgens. The remainder of its business is in manufacturing own-label products for Waitrose and supplying the foodservice channel.
A look back through filings at Companies House shows a consistently-performing business growing steadily.
"It's a very, very solid business," Cairns tells just-food on a sunny June afternoon at the Charlie Bigham's headquarters in north-west London. "But it's moving. There's a huge amount of change."
The most significant change Cairns has overseen since he joined Charlie Bigham's has been the opening of a new production site 120 miles south west near the Somerset cathedral city of Wells.
The Charlie Bigham's facility in Harlesden in north-west London had hit production capacity and now 70% of the company's branded volumes are made at the new site.
"In the west, we're making 14 different lines and the rest of our 45 lines are here. It's twice the size of this site. We'll keep our sales, marketing and finance teams here and this is our innovation centre because obviously everything when we launch is smaller," Cairns explains.
The investment in the new production facility means Charlie Bigham's has "radically changed our cost base" and its profitability will "take a hit" in the company's current financial year, which runs until the end of August, Cairns says. The business, however, is set to report another year of improved turnover. "We're certainly going to see another year of quite strong top-line growth. We're looking this year at about 20% growth," he reveals. "We've grown through more distribution but also through that organic growth of people trying it, liking it and buying it some more."
In the company's last five financial years, its revenue has grown from GBP26.6m (in the 12 months to 31 August 2013) to the GBP51.1m booked in its most-recently completed fiscal year. Over the same period, the firm's net profit has risen from GBP1.5m to GBP3.3m.
Describing the kind of company he found when he arrived last March, Cairns describes as Charlie Bigham's as "a fantastically successful business".
"It's had a very consistent track record of growth over the last seven, eight years, nine years of between 10% and 15% CAGR growth, compounded. It's amazing and doing something very different in the marketplace," Cairns says. "It's a brand which is in a category that is traditionally not branded, which is quite unusual, with a product which seems very different to anybody else's, with quite a low level of penetration, so not that many people have tried the product but it has a very high level of loyalty. That gives you huge potential."
Nevertheless, there are four areas on which Cairns has been looking for improvements – the company's staff, its operations, its brand and working with its customers.
"The type of people, structure, training and sort of empowerment that you need to put in place is very different to a start-up and we're going through those growing pains," Cairns says. "There's been a lot of new people come into the business in the last 18 months. I'm not sure it would be fair to call out any one person or people individually but I think we're seeing both great people join the business but also we're saying people who are still within the business really stepping up."
At the centre of Cairns' bid to see operational gains at the business has been the opening of the new production site, especially amid a 25% jump in volumes. "That's a very different type of challenge," he reflects.
However, Cairns joined a business already well-versed at looking for efficiency gains. He points to the "complexity" in making products at Charlie Bigham's, which is more manual than at others in the sector. "I've never been in the business that has spent more time looking at what it does already. We spend a lot of time going through our existing product portfolio and critiquing it and looking for ways of improving it," Cairns says.
Does he find that valuable or would he prefer to spend more time looking at new projects? "We do go for the next too, but I think sometimes brands have this sort of new toy syndrome, of getting interested in the shiny new stuff. We're focusing on how do we make stuff better."
"A lot of people know the product but don't necessarily know the brand"
Charlie Bigham's is also focusing on improving consumers' awareness of its brand and is lining up increased investment. "A lot of people know the product but don't necessarily know the brand," Cairns says. "We're starting to put a lot of effort into looking at the packaging, looking at the advertising, looking at ways of engaging with consumers and really creating a brand that can act as a real accelerator to trial. That's a big push for us.
"I don't think there's been a really consistent level of investment. There have been pockets of activity and most of it's been quite shopper-based; before the last 18 months, quite a heavy level of investment in coupons. There has been a TV test. Our strategy has more shifted towards press and poster as the main medium. We think that works for premium food brands quite well."
The company is looking to innovation to also be a factor in its growth, this spring launching a range of grains-based meals of two, a line that includes chicken katsu curry and vegetarian options like a cauliflower and paneer curry.
However, although the business is eyeing trends like the rise in demand for vegetarian foods, its innovation pipeline appears focused on providing dishes for meals. "A lot of our focus will be about growing our core portfolio products, dishes. We're pretty keen to stick to our knitting and we know what we do well and we're keen do more of it. We'll look at other opportunities as they come up," Cairns says.
While, overall, the growth strategy at Charlie Bigham's is centred on growing its distribution with its existing customer base and its innovation plans is focused on its current portfolio, the UK-centric company is eyeing up whether to take the plunge in one area – internationally.
Cairns is keen to emphasise any move would not be made during the next few years but some initial discussions have taken place.
"We have a challenge because we are fresh. Everything is made from fresh, normally delivered into the retailer with seven or eight days life. And the UK has got a pretty well-developed chilled supply chain. As soon as you get into Continental Europe, then you have to go further to deliver and there are quite often issues with the supply chain there," Cairns says.
"We are looking at various international opportunities and there is some interest"
"We are looking at various opportunities and there is some interest. It's at a sketchy stage where we're having initial conversations. It could be potentially a big growth plank for the next horizon of growth. It is something that we're having active discussions with but it's not a big part of next year's growth plan."
Reflecting on the idea of an international strategy taking in Europe sees the conversation turn, somewhat inevitably, to Brexit.
A little surprisingly, Cairns says Charlie Bigham's has not got to the stage where it has started planning for different scenarios on issues like labour or tariffs – "it's too unknown at the moment" – but, with Brexit set for 29 March next year – the company, along with all those operating in the UK, is thinking about how business could be affected.
"Nobody knows really what it's going to look like and so it's difficult to know how to plan because until you know a little bit more of a know what's going to happen, how do you know how to react?" Cairns says. "There are different areas of impact for us. One – and probably the biggest one – is labour and instability of labour. We're employing 400-odd people and quite a proportion of those are non-UK nationals. We're conscious of that and, in southern England, we're pretty much at full employment and any tightening on labour supply has got a big impact for us.
"Currency has a big impact – and it has an impact not just on things you import but most markets are global so you get food inflation even if you're sourcing from the UK. On top of your regular price inflation, that's pretty unwelcome, especially in a market where retailers are very sensitive on price and there isn't a lot of cost inflation being rolled over through to consumers.
"I think the bit that feels further away is tariffs, which feels like it should be one we can avoid."
In the meantime, it is clear Cairns and Charlie Bigham's have plans in place to try to keep the business continuing to grow
"There's a lot of integrity in the business in the sense that we know what we're doing and we do it well and that's important to us. There is a kind of relentless focus on quality and improvement on what we know we do well. We don't proliferate and there's also quite a long term perspective on things, so it's not about getting the numbers up for a certain quarter. It's actually about managing for the long term."