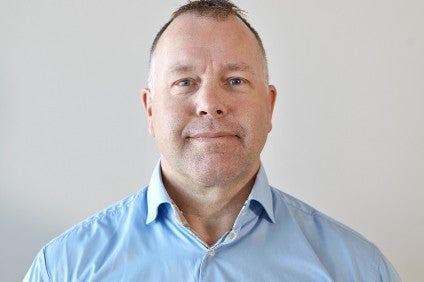 During almost 30 years at Cranswick – and seven at the helm of a UK food group that's one of the country's largest meat processors – Adam Couch says the company and wider industry have been buffeted by "many crises", from BSE, to foot-and-mouth and to what became known as 'horsegate'.
And, in the last year, another macro event has developed thousands of miles away from Cranswick's headquarters in northern England that Couch believes will shape trade in the meat industry for the next decade – and one from which the company could benefit.
"I think African swine fever is the biggest single event that will affect global protein supply and demand for the best part of the next five to ten years potentially," Couch says.
African swine fever, or ASF, is a devastating infectious disease of pigs, usually deadly. No vaccine exists to combat the virus. China, the world's largest producer of pork, has been severely affected. The outbreak has spread through parts of Asia and has been found in Europe.
Cranswick, which processes one third of all pigs in the UK, accounts for more than half of the country's exports of pig meat, with China a key market for the company's international business. The group, based in the English city of Kingston upon Hull, has an office in Shanghai to support its exports to China.
"We're pretty knowledgeable about what goes on on the ground within most regions within China. And the effect of [ASF] we understand is – if you listen to a Rabobank report, which I wouldn't dismiss – about 50% of their herd could be culled," Couch says.
"Now, that's significant because they're home to 50% of the world's pig population, so, in effect, a quarter of the world pigs could well have disappeared over the course of this last 12 to 18 months – and it's still not finished yet. It can remain in the ground and in the herds for a significant period of time. There's certainly no recovery in sight yet."
The slump in China's pork production does, of course, offer openings to international businesses to serve the country's sizeable appetite for pork products.
"We've seen a stronger demand as I've ever seen into the Far East for what we would call fifth-quarter material – front feet, back feet, tails, heads, bones, rinds, stomachs, all those items," Couch explains. "More recently, there's been an increased interest in whole carcasses and cuts that wouldn't have traditionally been exported in order to fill the gap."
Couch emphasises Cranswick and other UK pig processors have not been the only beneficiaries of the demand – "we're small players in the global scale" – and says particularly processors in mainland Europe have been able to take advantage of ASF decimating China's herd.
That's not to say UK or European processors are rubbing their hands with glee at the prospect of selling more pork to the Chinese, with ASF having been detected in parts of mainland Europe.
"It's in Serbia, it's been found in the wild boar population in Poland and even Belgium, so there's always a risk there," Couch says. "My key watch out is to make sure biosecurity in the UK remains absolutely as tight as it should be. We're not brilliant at it in the UK but we're not bad either."
Couch acknowledges Cranswick could see some effect on pig prices but points to downward pressure elsewhere on the company's commodity bill.
"There's always a risk of input prices, of course, rising as well. We're seeing those slowly, inexorably, rise on input prices. That said, feed prices have dropped in recent months, so that mitigates that to a point," Couch says. "Clearly it's going to drive up prices on pig meat in the UK but of course, we're a big supplier to ourselves anyway, in any event."
Asked if, overall, Couch sees Cranswick as being a beneficiary from the African swine fever outbreak, he chooses his words carefully.
"I couldn't give you sensitive information obviously as we're in a closed period. In the round, we are very joined-up with demand in the Far East but still very cognisant of our business on the home market. The efforts we've done in the business over the last 20 years to gain those export approvals give us a huge opportunity to join in as and when those opportunities arise.
"We will take advantage of the marketplace if we see it's beneficial to us"
"You will never see us dancing around and jumping for joy. I'm never one for blowing our trumpet to a great a degree because there's always problems round the corner. You can rest assured we will take advantage of the marketplace if we see it's beneficial to us."
Another, smaller – but growing – part of Cranswick's portfolio could also stand to benefit from the ASF crisis: poultry.
Cranswick remains predominantly a pork business but it has growing operations in poultry and in what the company calls "continental foods", such as olives, antipasti, pâté and cheeses. After recent years of organic growth and a series of acquisitions of UK businesses, poultry now accounts for 20% of Cranswick's annual sales.
The UK poultry industry has yet to build the same export presence as in pig meat (though Couch does want that to improve) but the Cranswick boss does envisage a domestic boost from the ASF crisis as pork prices rise.
"Poultry will be the natural beneficiary from the lack of pig meat supply on a global basis," Couch asserts. "You're already seeing significant demand being drawn out of Thailand into China for poultry meat and I think we will see a natural switch over to poultry in this country."
Last month, The Netherlands-based financial services group Rabobank said ASF could benefit poultry markets due to "demand substitution" as some customers move away from pork, although it underlined how its "key concerns" for the global poultry market remained "ongoing oversupply in many global markets".
Couch says: "It's been a distressed market for the best part of two years and [ASF] may offer an opportunity for that to come out of the shadows of other proteins and have an increased and improved demand for it."
Cranswick's expansion in poultry in recent years falls into what Couch calls the company's "three-pronged strategy" of "consolidation, diversification and international". Acquisitions of UK businesses such as Crown Chicken in 2016 and Benson Park in 2014 have, combined with organic growth, built poultry into a sizeable chunk of the Cranswick business.
But Couch wants more. "We can be very meaningful when it comes to the poultry sector," he says. Part of Cranswick's strategy in poultry has involved capital investment. The company is set to open a new facility in Eye in eastern England early next year, a plant Couch describes as "the most technologically advanced and automated facility in western Europe by quite some distance", adding: "It will be second to none and will offer efficiencies that I think would make most businesses envious."
The UK poultry sector – and pig-meat industry – have been "woefully under-invested", Couch argues. "It's the first large-scale poultry facility to be built in the UK for the best part of 30 years. It's a 300,000 square-foot facility, sat within 40 acres, with all the livestock within an hour's drive of the site itself. Operating at the levels we intend to do, we should be one of the most efficient plants in the world but that will take time of course."
"It would be nice to see poultry grow to being close to the size of our pig-meat operation"
Looking further ahead, Couch has an interesting perspective on what size Cranswick's poultry business could become. "We're in it for the long haul," he says. "Do I think it could be as large as the pig meat side of our business? Absolutely but that will be a much longer-term play. I probably have a five- to ten-year vision where it would be nice to see that element grow to being close to the size we have as our pig-meat operation."
The poultry plant in Eye will supply Morrisons, with the UK's fourth-largest grocer "taking the majority of product" from the facility, Couch explains, though Cranswick can look to do business in "further value-add in other arenas, as well as export".
However, the UK poultry industry has yet to make the inroads internationally that have been made by the country's pork sector. "The UK poultry industry to date doesn't have a great record in export, other than dark meat into Europe. It certainly doesn't participate into China and those kind of areas to the extent that we would have expected if we'd have been involved," Couch insists.
"One area that's a key focus for us is to get the export approvals and accreditations and be able to build up a reputation and an infrastructure to allow us to participate in exports, while still remaining true to the UK retail arena."
Could further acquisitions in poultry be part of Cranswick's overall drive to grow that side of its business to get close to equal in size as pork?
"It most definitely could – as to what extent and at what level I wouldn't like to say but certainly I'm not entirely sure that the infrastructure of the industry is necessarily fit for future and I do think there's been a lack of investment in that area as well," Couch says. "I think it's important that we deliver the new facility well and that will take some time clearly to bed in."
Thinking back to the three "prongs" of Cranswick's strategy, the company's international strategy, so far, has been predicated on exports from the UK and setting up offices to support its overseas business. Couch reveals he and his management team have been looking at targets to acquire internationally.
"We've yet to acquire any operations abroad. It's not for the lack of looking, trying to see what is on offer out there but we've been pretty busy on the home front in fairness, both growing organically and through strategic acquisitions," Couch says.
"We've highlighted a number of opportunities in the past but it's fair to say that the opportunities closer to home for organic growth, as well as expansion on the home market – which is a market, at the end of the day, we know extremely well – have really taken priority.
"We've got to be careful we don't stretch the management too thin. We have a pretty flat, very empowered management structure that is best in class and you don't want to stretch it too far.
"But we have looked before now in certain key value-add opportunities. If we were to look anyway, it would be more near Europe, where some of the eating habits are very similar to where we are now, than further away from Europe. We do already export into the European market, of course, in any event. We're pretty familiar with eating habits and what we could add to that market."
Click here for the second part of our interview with Couch, in which he talks M&A in the UK, the company's work on sustainability and the rise of the market for alternatives to meat.