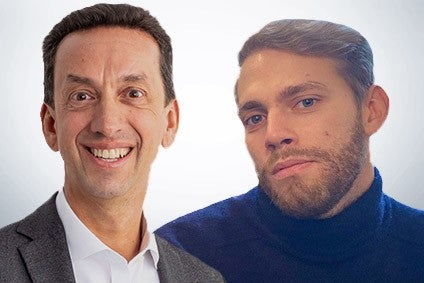 It can be difficult for an established food business to set up a direct-to-consumer platform, so Mars chose to add to its existing capabilities through M&A, snapping up the majority of Germany's Foodspring last summer. A year on, Simon Harvey hears from Mars' Jean-Christophe Flatin and the co-founder of Foodspring, Marc Hermann, to discuss how their work together so far and the impact Covid-19 has had on interest in D2C.
Relative to the recent flurry of activity in setting up direct-to-consumer services, Mars was ahead of the curve somewhat last year when the owner of the M&M's confectionery brand acquired a majority stake in Germany's Foodspring, a manufacturer of sports nutrition and health-and-wellness products.
The acquisition was conducted through Mars Edge – a division set up in 2017 to explore opportunities in "targeted personalised nutrition", both organically and non-organically. It was a matter of months after that Mars made its investment in Foodspring, a Berlin-based business set up in 2013.
Direct-to-consumer (D2C) has gained in prominence during the Covid-19 pandemic, with noticeable interest among a raft of packaged food manufacturers.
Some major food companies – think Nestle, Unilever and Arla Foods – already had direct-to-consumer services but, before the virus hit, the nascent channel was mostly being used in only selected categories and, more broadly in FMCG, for non-food products. However, more packaged-food companies have recognised the importance of engaging with the consumer directly, particularly as more shoppers have embraced digital services amid empty shelves in supermarkets in the early days of the crisis, difficulties in securing deliveries from major supermarkets and reticence of visiting stores.
D2C has become a channel a growing number of senior executives in the food industry expect to stay relevant beyond the pandemic, including Jean-Christophe Flatin, who, as well as being president of innovation, science and technology at Mars, heads up the Mars Edge unit.
Flatin says Mars' move to invest in Foodspring rests in the US giant's "omni-channel approach", with an aim to "build consumer engagement in a very close manner to the consumer needs".
"I think the combination of being in this one-to-one direct dialogue is very virtuous for your innovation, it is also quite virtuous for listening and catching as early as possible the new consumer trends that are emerging," Flatin explains. "D2C is only one part of omni-channel and it should serve the opportunity to serve unique consumer problems that cannot be solved in another manner."
Flatin is speaking to just-food alongside, Marc Hermann, a co-founder of Foodspring and its marketing director. The business manufactures a range of nutrition snacks and bars, protein shakes and cereals, and supplements.
But why did Foodspring choose D2C instead of a more traditional approach of producing products to be sold directly through retailers?
"The beauty of D2C is the direct connection with the consumer," Hermann says. "So hearing the feedback, understanding the needs of the customer, we said well, we can actually recreate this category and we can do that through D2C in educating our consumers on how these products are beneficial for their lifestyle."
He continues: "We saw a shift in user behaviour in our category, so when we had a look at the landscape for sports nutritional supplements – that was really the area that we got started in: protein powders, amino acids, supplements – we just broadened our portfolio along the way," Hermann says. "But what we noticed was, this industry was very much driven by a niche target audience – which was body builders back in the days – and when we had a closer look we saw that actually there's a need for the more mass-market user.
Foodspring works with partners on manufacturing and logistics but research and development, marketing and customer service are in-house.
"Our approach at Foodspring was always to outsource everything which is non-mission critical and in-source everything which is mission critical," Hermann says. "The partnership works so well from both sides because Mars has a certain skill and capability set which they built over centuries – food safety, regulation and innovation are definitely things where we have continuous dialogue with Mars."
Foodspring is primarily focused on the European market, more specifically the DACH countries [Germany, Austria and Switzerland], France, Italy, Spain, the Netherlands and Belgium and has just instigated a "soft launch" in the UK. While Foodspring plans to expand geographically, Hermann was guarded in revealing a time frame and specific locations.
Common in Mars strategy are three levers of building, buying and partnering, Flatin says, with Foodspring generally falling into the latter bracket. However, he acknowledges Mars had a lot to learn in terms of e-commerce and D2C, which is where Foodspring came in.
"We are convinced that Foodspring brings to us this unique set of capabilities of initiating, building and nurturing this one-to-one consumer relationship," Flatin explains. "However, we want to go faster, and therefore sometimes in combination with building, partnering is a great opportunity and a great solution to bring those capabilities closer to us, and that's what we did with Foodspring."
Early this summer, Mars launched an online store in India in partnership with delivery platform Swiggy, including the brands M&M's, Mars, Galaxy, Bounty, Doublemint and Orbit. Mars operates other D2C businesses, mainly in the US, including My M&M's (a service offering customised versions of the chocolate confectionery), Ethel M Chocolates (which sells premium boxed chocolates) and deliveries of CocoaVia (a cocoa flavanol based dietary supplement).
Further D2C initiatives are in the pipeline for Mars, too, although Flatin was reserved in offering any details.
"We have a lot of plans, some that I can share and some that I cannot. We see direct-to-consumer not as a goal in its self – D2C is one part of the equation to build a frictionless, painless consumer experience along the shopping, education and information journey for consumers. So in that respect, yes, we will continue to develop direct-to-consumer models, either as businesses themselves, or as an extension of existing businesses.
"But I want to be clear, that's not a goal in itself. When we build a D2C business on the back of an existing one, we always want to make sure that this is to serve a unique opportunity to solve the consumer problem or consumer pain point."
From Foodspring's perspective, Hermann says the company plans to develop new products that offer nutritional solutions but with a more personalised slant to cater to individual needs. But the business is also considering adapting its model.
"It's also about the online channel development of Foodspring. We started as a digital-only brand but we also need to bring Foodspring more into the offline world because the face-to-face interaction with consumers enables us to build even stronger ties," he says.
Hermann was coy about offering any details about turnover or profits but did provide an essence of the current operating environment in the midst of a pandemic, which he says "put us in front of a big challenge and required us to rapidly adapt to the new situation", mainly in how it communicates with the consumer and gets products to front doors.
But what lessons has Foodspring learnt during the crisis? "It's about being relevant, and that was definitely a topic beforehand," Hermann says. "I think this crisis really amplified how important it is to be close there and to also make drastic and radical changes."
Covid-19 has spurred food manufacturers into action, with Kraft Heinz and PepsiCo among the majors that have entered the D2C channel in recent months. Flatin believes for many companies it had already been on their shopping lists and the pandemic has brought their plans forward, particularly given the rapid change in consumer behaviour.
"The way I look at it, I think the pandemic has been an accelerator or an amplifier, not a revealer," he says. "The other impact is probably the emergence of new consumer groups and digital commerce that were not there before."
Flatin continues: "So there is this amplification in magnitude to this new consumer group, these new consumer practices, which is why for a company like Mars, when your sole reason for being is to always find the most frictionless, painless opportunity to connect with consumers, it was something that was already on our radar screen, too."
Direct interaction with the consumer also brings benefits for innovation, but as well as getting feedback from its own research team and Mars Edge, Foodspring has also been working with Fonterra, which supplies the company with whey protein, and which had been an early investor in the business before the deal with Mars.
"We formed this relationship, and then we developed solutions based on this raw material. Fonterra gives us ideas and we come to them with our ideas, and then develop a product that is unique for Foodspring," Hermann explains.
From the point of view of Mars, Hermann says the US group and Foodspring "complement each other very well".
Hermann adds: "Everything that has to do with the digital side of the business and direct-to- consumer, I think we bring a lot to the table. If we are looking into the bricks-and-mortar side of things – the food safety, regulatory and product innovation part, and also I would say more process building in the company – this is definitely something where Mars offers a lot of support for Foodspring and helps us to go beyond what we are today."
In the early days of setting up, Hermann says the biggest challenge for Foodspring was finding manufacturing and logistics partners because of the financial impediments and staffing levels for a new business. And convincing a co-manufacturer to partner with you was a difficulty in itself due to the minimum order requirements.
"This was very challenging in the early days because you would really need to find a partner who believes in that vision and believes you will grow the business continuously, and therefore make it an interesting business for them," he says. "From a logistical point of view, it's a similar topic."
So given your experiences, what advice would you give to anyone considering launching a direct-to-consumer business?
"The key is listen to the consumer and incorporate it in everything you do," was Hermann's response. "It's really about what the consumer wants and to deliver that to them. On top of that, it's about building a strong brand, and also to accept that it takes time to build a strong brand. Try to differentiate yourself from existing offerings – offer an advantage to the consumer."
Flatin says: "The ability, curiosity and omni-channel. So the ability – it's not because you have been around for a long time and that you know everything – be clear on what you know and what you don't know."