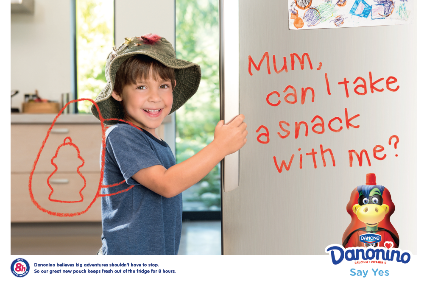 For French dairy group Danone, improving the performance of its global dairy business and transforming it to a growth platform is a priority. As part of this drive, the company has launched an international marketing campaign for its Danonino yoghurt brand. Patricia Oliva, the global marketing director for Danonino, spoke to just-food about how the brand hopes to strike a unique chord with consumers.
After a turbulent few years marked by pressure in areas such as European dairy, French group Danone appears on track to deliver "sustainable profitable" growth. Last month, Danone reported better-than-expected first-quarter organic sales when it booked growth of 3.5%. Gains were supported with an increased contribution from price and mix, which added 2.7 points to the top line, reflecting SKU rationalisation across its European dairy business.
However, volumes remained relatively subdued, up 0.8% on a group-wide basis but down at the fresh dairy unit Danone has been struggling to turn around.
How does Danone plan to move from its current "sustainable, profitable" growth to the "strong, sustainable, profitable" growth it has targeted? The answer, it would appear, is investment behind its global brands. Indeed, speaking shortly after the group's first-quarter results release, CFO Cécile Cabanis declared "2016 will be a year of investment behind our global brands".
As Danone works to grow its share in fresh dairy and lift its growth profile, the company has launched its first global campaign for children's yoghurt brand Danonino.
Danonino, which began life in France in 1967, is present in 38 countries around the world. The marketing push, dubbed "say yes", went live in the big European markets of France, Germany and Spain late last month. Danone then said it plans to extend execution to further "key" markets in Europe, South America and North America.
Speaking to just-food, Patricia Oliva, global marketing director for Danonino, is hesitant to discuss the pressures that have led Danone to embark on an expansive global push behind the brand. She insists she is "unable to provide comment on financial and volume results" for the brand.
Nevertheless, she reveals the early signs are positive for Danonino's sales trajectory. "Danonino was relaunched in France last January with very good results," she suggests.
Key to the thinking behind Danonino's relaunch is the ambition to build a more intimate relationship with the brand's consumers, positioning it not only as a healthy kids snack – but also as something of a lifestyle brand.
"The new Danonino campaign brings a more emotional tone to the brand and launches the new brand position: nurturing kids autonomy for a happy tomorrow," Oliva says. "It is a moment of renovation of the brand, and the new territory is opening many opportunities to further interact with consumers as parents from all over the world who are more and more concerned with finding a great balance on the way to raise well rounded and confident children. At Danonino we believe the best way to do it is by giving children a voice, giving them more autonomy. "
Danone is targeting parents with children from three- to six-years-old with this message. The company is utilising TV, print and social media, Oliva says. "Danonino is already the most active digital brand in Danone's dairy portfolio," she notes.
Alongside the new campaign, the brand is also launching "new assets" such as a "hub" that boasts "shared activities, articles and expert tips", as well as an adventures app offering "a full world where children can learn while playing", the marketing executive notes. The company is also promoting the brand through local Facebook pages, Oliva continues.
In addition to its marketing drive, Danone is investing in innovation behind Danonino, Oliva reveals. These efforts include the addition of a new on-the-go format, recently launched in Europe. "The pouch can stay eight hours out of the fridge and allows children to have their snack anywhere," she says.
According to Oliva, in some ways the rejuvenation of Danonino is about reconnecting with consumers and delivering a new, more relevant, brand message. "At this moment the focus is to build the new brand idea, and reconnect with consumers by establishing socially relevant conversations with parents," she explains.
However, Danone has ambitions to step up growth of Danonino in the coming years by expanding distribution in new markets. Oliva continues: "For 2017 the brand has concrete plans to expand to new territories."