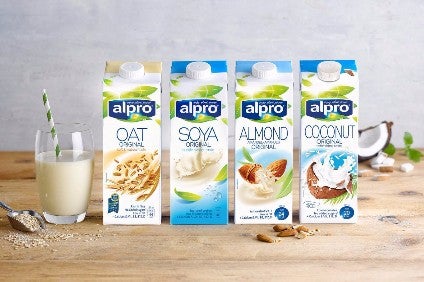 Danone's blockbuster move for US-based WhiteWave Foods has been one of the most significant food-industry acquisitions of the last 18 months. Struck in July 2016, the US$12.5bn deal was sealed this April and transformed Danone's business in the US – but it also gave the French giant the European dairy-alternative brand Alpro. Dean Best caught up with Alain De Bruyn, commercial director for Alpro's business in a swathe of countries from Slovakia to South Africa, to find out more about the plans for the brand in some of the unit's more early-stage markets.
When, in July 2016, Danone swooped to buy US-based organic foods and dairy-alternative business WhiteWave Foods, industry watchers – and indeed the French group itself – made much of how the deal would transform the Activia maker's operations in North America.
One of five bullet points Danone used to emphasise why it wanted to buy WhiteWave was the transaction doubled the size of its US business and, even if the company subsequently had to offload its local Stonyfield business to assuage local competition concerns, there is no question the acquisition has significantly bolstered its operations across the Atlantic.
However, Danone's move for WhiteWave also gave it ownership of assets in Europe, the most significant of which is the Belgium-based dairy-alternative business Alpro. Formed in 1980, Alpro has – under different owners – become one of the largest dairy-free brands in Europe, with a growing presence in regions such as the Middle East and Africa. The company has grown rapidly. In 2001, Alpro's annual sales were around EUR80m; in 2016, its turnover was EUR555m. Citing Nielsen data, it claims to account for 43% of Europe's plant-based dairy-alternative category.
Belgium-headquartered Alpro has three production sites – located in its domestic market, in France and in the UK – while the company, which sells its products are sold in more than 50 countries, also uses co-packers. Its largest markets include Belgium, the Netherlands, the UK, France and Germany. And, while the business believes there is still room to grow in its biggest markets amid rising consumer interest in reducing dairy consumption, it is, at the same time, busy building its presence in countries further east in Europe, in the Middle East and, to a lesser degree, Africa.
"If you look at the whole of Europe, you will see that this category is developing," Alain De Bruyn, the commercial director for Alpro's business in central and eastern Europe, in the Middle East and in Africa, tells just-food.
Looking at De Bruyn's patch, Alpro sells its namesake products in central and eastern European countries including Poland (the business' largest of De Bruyn's markets), the Czech Republic, Hungary, across the Balkans and the Baltic states, as well as into Russia. The company has a second brand – Provamel – which is sold in selected markets, mainly in health-food chains, De Bruyn points out.
In the Middle East, Alpro does business in the six Gulf Cooperation Council countries, plus Lebanon and Israel. Further west and south in Africa, Alpro "mainly" operates in South Africa, Kenya, Nigeria and Ghana, he notes.
"I cover the whole of southern and Eastern Europe, including Greece, and then the Middle East and Africa – and you could rank it in that order of importance," De Bruyn tells just-food at the Anuga trade expo in Cologne, Germany. "Every market has its challenges but, in every market, there is a lot of opportunities for growth. We have high double-digit growth in all of these markets.
De Bruyn says his beat accounts for around "10-12%" of Alpro's annual sales. "We want to grow double-digits in the next coming years, for sure," he ventures.
The Alpro executive, who has been at the business for almost two decades and in his current role for 11 years, describes the company as the "leader" in a category that, when compared to countries further north and west in Europe, is at an earlier stage of development the further east you go on the Continent and the more you move into the Middle East and Africa.
De Bruyn says the regions he covers are "strategic" to the company's ambitions. "It's important for the future because we are one of the fastest-growing regions."
However, despite the growth these more fledgling markets are seeing, he says it is up to Alpro, as market leader, to drive the growth of the plant-based, dairy-alternative category. "We are leading the category [but] that also means we are the ones that have to grow the category. When a brand is investing in the category, you see growth. And definitely this is a category that needs explanation, education and activation."
Away from its western European core, Alpro prefers to work with local distributors to try to build its business in these smaller markets. Has Alpro already felt the benefit of having Danone as its owner? De Bruyn says it is "too soon to say that" but acknowledges Danone will help with sales and marketing efforts – and highlights a particular product area where the new parent's experience could be of particular note.
"For sure they're going to help us to invest where we can really grow the category," De Bruyn says. "Secondly, I think on the yogurt side. They are the experts in fermentation. They can definitely help us also there on the innovation part. Yogurt is a very important category to us because it helps to get new consumers into the category."
Despite Poland being the bigger market for Alpro on De Bruyn's patch, market data suggests there are other countries in that group where the sales of milk-alternative products are stronger, notably the UAE.
For example, De Bruyn has his eyes on building Alpro's presence in the Middle East further. He says the business has a presence in the "key retailers" in the region, including Carrefour, Choithrams and Spinneys but argues there is still "big, big potential" for growth as, one, the category is under-developed and, two, the creeping level of obesity will spark interest in products deemed to be healthier.
"Leaving Israel to one side, the Middle East is interesting because of a high level of obesity due to bad eating habits, so the focus on healthy eating will increase. Nobody has really been actively building awareness in the category and communicating the benefits [of the products]. In countries like the United Arab Emirates and Saudi Arabia, we're going to further invest in awareness. In the UAE, there is a high level of ex-pats looking for their favourite brand; in Saudi Arabia, the category is still small and needs to be developed; Alpro has all the knowledge to build the category," De Bruyn explains.
While Alpro positions itself as a healthier alternative to some dairy products and its products can contain lower sugar than their conventional dairy counterparts, it has had to look again, for example, at the levels of the ingredient it uses in its products. De Bruyn says Alpro's reformulation work has taken in all its markets, while it has also expanded its unsweetened range.
"Sugar is definitely one of the major food trends that we see. In the products that contain sugar, we have lowered it. On top of that, we also increased our unsweetened range, so there's no sugar added. We do offer choice to the consumer. The sweetened product as we call it, if you compare it with milk, it's half of the sugar level."
The third region on De Bruyn's beat, Africa, remains the set of markets where the dairy-alternative category is at its most nascent stage. "To be honest we haven't yet figured out very well how to deal with Africa," De Bruyn reflects. "It's always in a kind of unstable political environment with very specific cultural needs and way of doing business, which require a lot of local presence. On the other hand, I think Africa is really a market where, with the products that we have – highly nutritious, high in protein, easy to digest – we have a mission there to do something."
A series of recent investments from Danone indicate the importance Alpro's new owner is putting on the continent and that it could provide its new European dairy-free asset with support for its own ambitions. "That's something that we are looking at," De Bruyn offers.
Alpro appears to see a number of avenues for growth and, even when De Bruyn is asked if he believes any of his markets will present a challenge in 2018, he replies "not particularly" before adding: "Maybe Turkey. Within the EU, it's pretty much under control. Once you get out of the borders it's a bit more difficult."
However, that is not to suggest Alpro is not optimistic about its prospects in some of its more emerging markets and about their ability to provide the business – and its new owner – a platform for growth.
"Hopefully we can further double our [part of the Alpro] business in the next three to five years," De Bruyn says.