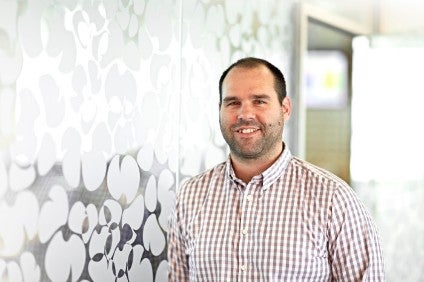 How can food manufacturers tap into the growth of the online channel? It is a question on the minds of many a boardroom, even in markets like the UK where the channel is relatively developed. Moreover, in such a fast-growing part of the market, how will shopper behaviour develop? How will technology evolve? Doing business online is a challenging mix of adapting to the present and being ready for the future. Dean Best met Steve Millard, the head of Arla Foods' e-commerce and digital unit in the UK, to find out more about how the dairy co-op is faring online.
At first glance, dairy is not a category that sits easily with the rise of the online grocery channel.
But Denmark-based Arla Foods, one of the world's largest dairy companies, has long been one of the more progressive entities in the dairy sector, putting, for example, greater emphasis in recent years behind its brands as it battles what is one of the more volatile parts of the food business.
Arla is trying to reshape its business to tap into the way consumer habits are changing, from the products it develops and takes to market to the shifts in the channels into which it sells.
While doing business in the UK's core supermarket channel has been a tough place to do business for much of the last decade, the country's grocery market has seen spurts of growth, with online one of the more buoyant parts of the industry. Industry researchers The IGD values the UK's online grocery market at around GBP10.4bn (US$14.6bn) (of a total of GBP184.5bn in sales) and has forecast the channel will expand to GBP16bn by 2022 – growth of more than 53%.
However, it is one thing witnessing the expansion in the market and accepting it stands to grow further. It is quite another to be able to harness that change and prosper.
Last autumn, Arla made a notable move within the UK, one of its key markets. It created a new, combined e-commerce and digital function and hired former Tesco, Jacobs Douwe Egberts and Burton's Biscuit Co. executive Steve Millard to head the unit.
Speaking to just-food at the latest Millennial 20/20 conference and exhibition, an event focusing on the online channel, in London earlier this month, Millard says Arla decided "about a year-and-a-half ago that they were going to really focus on e-commerce and digital", in some ways a bold move given the nature of selling dairy products.
"Inherently, dairy as an industry has always lagged behind when it comes to e-commerce," Millard says. "The major challenge being it's very simple to deliver household or ambient products to the customer because shelf-life isn't really a challenge. If you think about milk, typically shelf-life is seven days, cheese a bit more; they are difficult to transport. All the cards are stacked against dairy."
However, Millard says the Lurpak and Castello owner, spying the way the market in the UK was developing, decided to act. "The focus has been on shifting significant volume through our bigger retailers. That's not to say it's the wrong thing to do as a business but actually, when we look at what's coming our way, in terms of the new breed of consumer – the millennials and Gen Z – it's impossible to now ignore."
When attending the growing number of industry conferences on online grocery, a challenge regularly aired by e-commerce executives is trying to get the wider, corporate organisation to pay the channel sufficient attention and devote to it the right level of resources.
Millard insists Arla's senior team in the UK, as well as members of its global management board, including group CEO Peder Tuborgh, are "at the forefront of driving the digital agenda". However, thinking about FMCG companies more broadly, he adds: "Where it typically falls down within an organisation is when it gets to the soldiers on the front line. They're the ones who have to have day-to-day engagement with the bigger retailers, they have to churn out their laydowns from a media perspective.
"Digital and e-commerce can be quite confusing – and typical behaviour with most things is people, when they see something that's confusing, they can potentially be a little bit fearful of it. Arla as an organisation is really leaning into it massively now. There's a huge passion around the business to really get to grips with it and to understand more of what's going on in the space and we're starting to really see the results now come through."
The proportion of Arla's sales in the UK generated online is in the "high single-digits", Millard reveals. By 2020, the business wants to take that chunk to 15% and then on to 20% by 2025.
Millard says Arla has divided its digital and e-commerce strategy into "three big, key areas" – infrastructure and content (which he says are "very much inherently linked to digital marketing") and then e-commerce. That part of the strategy takes in "typical pillars", Millard explains, listing "fixing the basics, trading in the channel, accelerating into new channels, optimising fundamentals".
However, he adds: "The main enablers for us are embedding our ways of working within the entire organisation. Rather than keeping e-commerce within the e-commerce section or within our team, to make sure the sales organisation is skilled in the basis of e-commerce when it comes to their accounts, the marketing enterprise is also upskilled."
Millard insists he has "no doubts" Arla can hit its 2020 sales target for UK e-commerce sales and sets out how he believes the co-op can achieve that goal, first pointing to the importance of "forming long-term strategic partnerships" with the country's Big Four multiples – Tesco, Sainsbury's, Asda and Morrisons.
However, suppliers operating in the UK will likely need to differ their approach in working with the four grocers. They vary in their presence online and, to different degrees, have perhaps been more focused wrestling with the impact the rise of Aldi and Lidl locally have had on their core business. Millard points to his former employer, Tesco, which he suggests has been busy on battling the bricks-and-mortar-focused German discounters.
"Tesco have made a conscious and very bright business decision. The costs are significantly more to have the shopper online than to have that same shopper in the in-store environment. That's a consequence of that last mile of delivery," he says. "They've taken their foot off their accelerator [online]."
However, he adds: "One thing we won't be privy to is what they're doing in the background. Tesco being Tesco would not lie down and let someone tickle their belly. I'd imagine they're coming up with a plan as to how they will accelerate it because they are the dominant force.
"All of them are very mindful of the opportunity that sits there when it comes to e-commerce. The challenge is how do they reduce that cost to fulfill."
Millard, meanwhile, says it is "imperative" for Arla to "accelerate with our pure-play partners, the likes of Ocado and Amazon".
Gaming the impact the US e-commerce titan could have on the grocery industry is taxing the minds of food manufacturers the world over. In the UK, Amazon offers services like Amazon Fresh and Amazon Prime Now in select parts of the country, included in which is a tie-up with Morrisons, the country's fourth-largest grocer.
Another issue food manufacturers are scrutinising is whether and how they should set up a direct-to-consumer service. Arla is looking closely at the concept and Millard suggests working with Amazon could be a way the co-op dips its toe in what remains a nascent sub-channel.
"I think direct-to-consumer and leveraging the strength of [Amazon] Marketplace is something we have to absolutely focus on," Millard says. He is coy about Arla's direct-to-consumer strategy – indicating the company could be willing to talk more "in two months" – but says the business is looking at how to play in that part of the e-commerce market.
"[It's] not with a product range which you're aware of or that we can talk about at this point in time," Millard offers. "If you look at any business that plays in the food and drink industry, the margins of selling something yourself, providing you can pass the cost of delivery on, is obviously going to be significantly better than if you trade with a retailer. The challenge with selling something like milk is I don't think you are going to find many consumers that would opt to go online just to buy a few pints of milk at a time. It would be part of a wider selection."
One potential problem with developing a direct-to-consumer service is if it causes friction with a supplier's core retail customers, an issue of which Arla is aware.
"[Our plans] are not something that would impact them. Our relationships with our retail partners are very important and we don't want to take a product and undercut them. It's to have a variation."
Looking at Amazon's other platforms in the UK, Millard says Arla already sells products on Fresh and on Prime Now. "We're doing a reasonable job but we could do significantly better – extend our range for one thing [and] extend the formats in which we play. We really want to be in Business, we really want to be in the core platform and the Pantry platform as we do have some ambient products which we're currently not doing," he explains.
"Then the big unquantifiable at this point, which is really exciting for myself is that Go store. Amazon has announced they are going to be launching another six in the States this year. That in the UK could be something which shakes the game up a little bit, particularly if you think about an inner-city area, speed and convenience."
In all, Arla appears to be among the major players operating in the UK food industry that are serious in scaling their presence online. And Millard argues that, while the co-op may not have the resources of some of its larger peers, it is confident of fulfilling its own ambitions.
"Having a team where a digital marketeer sits together with their e-commerce guys and create 360-degree integrated plans, I strongly believe we are better placed than most other companies," Millard says. "We may not have the headcount of a Unilever or a P&G but I do believe we have a very savvy bunch of digital marketeers and e-commerce business people that will helps achieve our goals. Bearing in mind we're cooperatively-owned, bearing in mind we've always been fairly cautious about how many heads we have on a particular team, I'd back us versus any other organisation on for what will be achieved in the next three or four years."