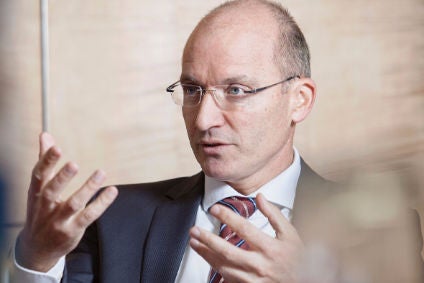 The market reacted positively to Emmi's first-half results and the Swiss dairy group's ongoing efforts to improve its profitability but the business does face challenges, not least on its top line. Facing challenges at home, the company is also looking to continue to expand internationally to further broaden its business, although growth has come under some pressure in some overseas markets, while the group has to weigh up the impact of Brexit. Dean Best spoke to Emmi CEO Urs Riedener to find out how the Onken owner sees its near-term prospects.
Emmi, the Swiss dairy group, enjoyed a bounce in its shares last week when it reported its first-half results and upped its forecasts for two profitability metrics. Analysts were also broadly positive about the company's work on its profitability – but, looking ahead, there are still a few clouds on the horizon for the business.
Central to Emmi's improved forecasts on operating profit and its net profit margin for 2016 has been the improved earnings from its businesses abroad, as the company rolls out its "operational excellence" programme in markets outside Switzerland.
Click here for part one of our interview with Riedener in which he discusses Emmi's H1 results and push for improved profitability.
However, it was one of Emmi's two main international divisions – the Americas – that was behind its move to cut its forecast for group sales for 2016. Emmi conceded on Tuesday (23 August) it was "becoming clear" its target to grow sales from its Americas business – which also includes units in Spain and Tunisia – by 5-7% on an organic basis was "too ambitious for this year". Emmi pointed to pressure from low milk prices in the US and "difficult" economic conditions in Chile and Spain.
Can Emmi get its Americas arm back on-track to hit that target in 2017? Speaking to just-food on the day Emmi's first-half results were announced, Emmi CEO Urs Riedener is uncertain. "We still believe we can have a good single-digit growth rate in the Americas in the future. As soon as milk prices are kicking in again, we are going to show that. I'm not sure whether we can be there next year," he says. "That's something we are going to look at once we know the 2016 results and, then, we will give guidance again. At the moment, it looks quite aggressive but, on the other hand, we've seen some acquired companies with quite good growth potential and we have to do the math, once we know how 2016 turned out."
Emmi, which has steadily sought to expand internationally organically but, principally, also via M&A has made two acquisitions in the US in the last nine months alone. In December last year, Emmi snapped up US-based goat's cheese business Redwood Hill Farm and Creamery. This May, Emmi struck again, buying the California-based organic dairy Cowgirl Creamery Corp. and the associated Tomales Bay Foods. When Emmi announced the acquisitions, the company underlined businesses in "niche" parts of the dairy sector in countries in which it is already present were of "particular interest".
Announcing its half-year results, Emmi highlighted the acquisitions of Redwood Hill and Cowgirl Creamery as one of the reasons its sales from fresh dairy products in the Americas jumped 17% year-on-year and the cheese sales generated by the division increased 7.9% (they rose 2.8% and 1.9% on an organic basis, respectively). Emmi cited both new assets as "positive influential factors" on its business this calendar year.
However, Riedener does not divulge anything about the plans for either business, insisting they are run at arms length. "Our philosophy [is] they're more or less independently-run companies, even though we're the owner of those companies. Our role is to enable them financially, for example, production site expansion-wise or whatever, to enable them to achieve their targets we are discussing with them. One thing is for sure, both companies have a great growth potential in the future because we are just in the right spot with organic, or with goat or with lactose-free. They're in the right spots to grow in the future."
In Switzerland, a market that accounted for 54% of Emmi's net sales in the first half of the year, the company said its performance during the period was "within the target range". However, Emmi still reported a 2.4% in sales on an organic basis in its domestic market, hit by declines in its cheese business. The company said its cheese sales in Switzerland fell 5.8% on the first half of 2015, while sales of fresh cheese were down 5.1%.
Emmi will continue with its strategy of trying to grow sales of higher-margin lines and developing new products. The company, for example, is launching a porridge product in Switzerland in the second half of the year under its namesake brand (as well as under its Onken yogurt brand in the UK).
However, Riedener underlines its Swiss sales will fall again in the second half of 2016. "What we expect [in the second half of 2016] is as we communicated – we are going to see a decline. Half of the decline in the first half year was price-driven and the other half of the decline was volume-driven. We think that this is going on. We expect it to be -2 to -4%. That's what we announced to the market," he says.
However, Emmi admits he is unsure whether the company can even get its Swiss business back in growth in 2017 due to a series of factors. "Then, the question is the assumption of this pressure from cheap imports into Switzerland [and], like in the UK, a higher share from the discount [retailers] and then retail tourism. People go abroad because Switzerland's a very small country. They go where it's cheaper. How will that go on? We would expect to stabilise the business, and our ambition is to get back the growth in Switzerland. I'm not sure if by 2017 but, of course, this is the ambition."
This decade, Emmi has made five acquisitions in Switzerland (while selling one local business) but, asked if M&A could play a role in injecting some growth into the company's domestic business, Riedener suggests it would be "difficult" to expand inorganically in Switzerland because of its scale in its home market. "We do everything from milk to mozzarella, to powder, to cheese, to you name it. It's difficult for us to grow further and to do acquisitions in Switzerland because everything is already in there. If you're going to do acquisitions in Switzerland, they're mainly synergy cases. By nature, they're normally smaller cases," he explains.
Emmi will continue to look for M&A targets outside Switzerland. The company, Riedener says, sees international expansion as a way to "balance out our portfolio" as it believes the Swiss market will "open up even more in the medium-to-long term". Emmi's international acquisition strategy has focused on markets in the Americas and Europe. Riedener said Emmi would look first to build its operations in existing markets but could look to enter new markets.
"Internationally, we are only in niches and actually we are quite small. The first priority still is to strengthen businesses we are already in. Also, geographical areas we are already in. On the other hand, we might be interested in opening we said about three new countries in the next whatever years. Therefore, yes, we think we could expand with more of our geographical footprint, but only in a limited way. Emmi as a company is premium, is specialty, and it's not that mass market or down market, therefore the number of countries are somewhat limited to us," Riedener says. The company declines to comment on where it could enter next.
Emmi has long had an ambition of having its business outside Switzerland accounting for half its sales. Speaking to just-food in 2013, the then head of Emmi's international business, Matthias Kunz, said the company believed it could hit that target by the end of 2016. With Switzerland generating 54% of its first-half net sales, it is all but certain Emmi will fall short of that this year but Riedener is relaxed about when the company will see its international sales match its Swiss sales.
"Actually, I do not care," he laughs. "When we were discussing this kind of objective, it was more to open the [company's] perspective at that time. We had about 25% of sales outside of Switzerland. I wanted to make it clear that the ambition has to be to have much more sales outside of Switzerland. Then it's not about acquiring sales; you can acquire whatever kind of company, which bring you billions in sales and negative results. That's not what we're looking at. It's more about carefully selecting targets and the day will come when we will achieve the 50%, I do not care whether it is '16, '17, or whenever. I do care about the quality of the mix we are acquiring. That's the priority."
One factor that could dampen Emmi's growth outside Switzerland is the UK's decision to leave the EU. When Emmi announced its half-year results last week, the company sketched out its outlook for the rest of 2016 and included "Brexit" in the "significant new macroeconomic uncertainties" that have "recently appeared", adding: "Political unrest and decisions such as Brexit are weighing on consumer sentiment and the commercial development of several of Emmi's key markets."
Riedener insists that, on a group level, Brexit "is not a big factor that we expect to influence overall results". However, at the same time, the Emmi chief executive acknowledges the company will need to weigh up the impact of the UK leaving the EU carefully, pointing to the fact Emmi exports to the UK from plants in Switzerland and Germany and suggesting Brexit could impact consumer demand across Europe.
"We do not know yet all the details of how Brexit is going to turn out. You're in the middle of that and I think you also don't have an answer how this is turning out," Riedener laughs. "It could potentially affect the consumables in European markets because we are going to see growth rates come down in Europe, even more so probably in the UK. The other thing is, of course, we are selling products from Switzerland. Being produced in Switzerland or being produced in Germany to the UK, the question is what does that mean in terms of pricing? Of course, we have to look at price increases. Then the question is how does that affect demand? There are some open equations about that business, how we can be sure that we are seeing a very successful business as we have done in the past, and also in the future."
In the immediate aftermath of the UK referendum on EU membership, the value of sterling dropped, driving up the cost of imported products. Could Emmi consider local production in the UK?
"That's always the discussion, we have looked into this before and we are going to probably look at this in the future. I'm just not sure whether it makes sense because you also have to look at the competitive set-up. We have a very good set-up in Germany, for example, which would be very expensive to duplicate in the UK. One thing is for sure, it's not a quick option. I wouldn't say it's not at all an option for the long term. That's something we are for sure going to look at. I think first we have to solve some issues with pricing, positioning, whatever, then we can again talk about the long-term set-up."
Despite Emmi's recent progress, there is plenty for Riedener and his colleagues to ponder.