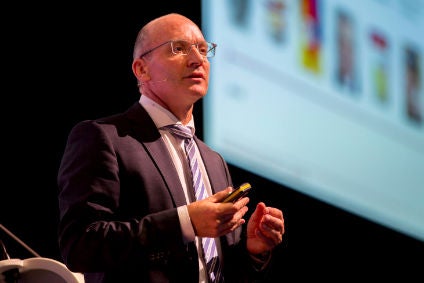 The first-half results from Swiss dairy group Emmi, published on Tuesday, demonstrated the company's recent efforts to improve its profitability. The figures included a cut to Emmi's forecast for annual sales but, nonetheless, the numbers pleased analysts and the company's share price rose. Dean Best discussed the performance with Emmi CEO Urs Riedener.
Emmi CEO Urs Riedener sounds positive as he speaks to just-food from a sunny corner of Switzerland on Tuesday (23 August) after the Swiss dairy group reported its results for the first half of the year.
The numbers were a little mixed, with sales inching up 2% on the first six months of 2015 and in fact declining 0.7% on an organic basis, which excludes any impact from M&A and changes in exchange rates.
The top-line performance, affected by the continued challenging conditions in Emmi's domestic market and by slower-than-expected growth from the group's Americas division (which as well as North and Latin America, also includes its operations in Spain and Tunisia, which are its third- and fifth-largest markets by sales), prompted Emmi to cut its forecast for annual sales this year. Emmi now forecasts its sales performance for 2016 could range from a fall of 1% on 2015 to an increase of 1%. Emmi had previously forecast its 2016 sales would be flat year-on-year to up 1%.
Emmi's sales figures did miss analyst expectations and could have been expected to have had a dampening effect on the company's share price. However, the profit numbers posted by the Onken and Caffe Latte owner and the company's move to lift its forecast for 2016 operating profit cheered the market. Emmi's shares closed up 3.45% on Tuesday afternoon.
The group posted a 9.6% increase in EBIT and a 31.6% jump in net profit for the first half of 2016. While one-off items gave Emmi's bottom line a bit of a boost, the company's recent efforts to improve its mix of products, selling more higher-margin dairy items, as well as efforts to control costs, have resulted in improved underlying profits.
Analysts believe Emmi's management, led by Riedener, has, in recent quarters, altered its focus towards margins and profitability and, discussing the company's results with just-food, examples emerge of that emphasis in action.
Emmi said its business in Switzerland performed "according to plan" in the first half of the year but its sales in its domestic market fell 2.4% on an organic basis, hit by declines in its cheese business. The company said its cheese sales in Switzerland fell 5.8% on the first half of 2015, while sales of fresh cheese were down 5.1%.
Riedener concedes those sales figures were "more than we expected" but insisted the breadth of Emmi's cheese portfolio meant "there are always various impacts when it comes to sales deviation". He pointed, for example, to Emmi's Grana Padano and Parmigiano-Reggiano products. "We are not allowed to pre-pack or pack Grana Padano or Parmigiano-Reggiano any more out of the region. We have done that in Switzerland and this is going to be forbidden by next year. The retailers already switched to direct sourcing from Italy."
However, Riedener swiftly points to the performance of Emmi's Kaltbach cheese and reveals the company's focus on profitability. "On the other hand, we were able to increase Kaltbach sales double-digit, so it's not only about managing sales, it's more about managing the mix. That's what we're doing; not only looking at sales, but looking at the returns," he says.
As the largest milk processor in Switzerland, Emmi's room to grow in what is a relatively small market is limited, while the ongoing challenges of operating in the country – intense competition in a declining retail market, pressure from cheap imports looking to benefit from the strength of the Swiss franc and domestic consumers looking to do the same and shopping across borders – has been weighing on the business in its home country in recent years.
Emmi's moves to increase its focus on higher-margin products and its emphasis on NPD – "we are a very innovative company," Riedener insists – are two ways in which the company has looked to support the profitability of its domestic business. However, Riedener says Emmi has focused on costs. "We are always working on costs and we have a kind of attitude, engaging a lot our employees. Every employee feels responsible to be very cost-conscious and also to come up with ideas of how we can bring down our production costs. With this Emmi operational excellence programme, we see a lot of progress in the past years, this of course has to protect the bottom line."
And Emmi has sought to roll out its "operational excellence programme" internationally, stepping up its implementation last year and reporting on Tuesday it had felt the benefits of those efforts in the first half of this year.
Looking at Emmi's international sales, Riedener says "several" markets stood out in the first half of 2016. "We had a very good sales development, for example, in markets like Tunisia, in goat's cheese in North America [and] we did a very good job also in Holland where we launched Caffe Latte," Riedener says. "We had very good lactose-free sales in Spain. In the UK, we had wonderful development of Caffe Latte sales [and were] also quite good on Onken. There are a lot of concepts really working well. We were quite happy with the overall development."
However, although Riedener pointed to some pockets of growth in Tunisia and Spain, the performance of the overall Americas division that houses those markets alongside the likes of the US and Chile, was below Emmi's expectations in the first half of 2016. Sales from the division grew 7.5% and by 1.8% on an organic basis, once the impact of M&A was excluded. In December last year, Emmi snapped up US-based goat's cheese business Redwood Hill Farm and Creamery. This May, Emmi struck again, buying the California-based organic dairy Cowgirl Creamery Corp. and the associated Tomales Bay Foods.
Emmi had been forecasting a 5-7% rise in sales on an organic basis in the Americas for 2016 but on Tuesday conceded that was "too ambitious" and downgraded that projection to 2-4%. As well as the growth in Tunisia and the expansion of the lactose-free business in Spain, the company touted the higher exports of Kaltbach and Der Scharfer Maxx cheese reported in the Americas in the first half of the year. However, Riedener explains it was in the Americas markets that Emmi felt the pressure of internationally-low milk prices, with a particular impact in the US.
"What we have to ask is where did we see most of the milk price pressure, and of course we saw that in the Americas. Normally [in Switzerland and Europe] we are coming from locally-sourced milk, and then trying to do the best with it, which means transforming it into premium products. Therefore, we have the biggest impact of internationally-low milk prices in the Americas, much less in Europe," Riedener says. "Having said that, I think I'm quite satisfied also with the development we have seen in the Americas, also with the recent acquisitions we have done. I think we have a good base for growth in that region. We still believe we can have a good single-digit growth rate in the Americas in the future. As soon as milk prices are kicking in again, we are going to show that."
Emmi believes milk prices have bottomed out so hopes to see one pressure on its international business recede in the coming weeks and months. Nevertheless, Emmi's recent acquisitions and its recent work to improve efficiency within its international operations have helped improve the company's profitability, which was plain to see when the company reported its half-year results.
Click here for part two of our interview with Emmi CEO Urs Riedener in which he discusses the Swiss dairy group's outlook for the rest of 2016, its prospects in 2017, its M&A strategy and the potential impact of Brexit on the business.