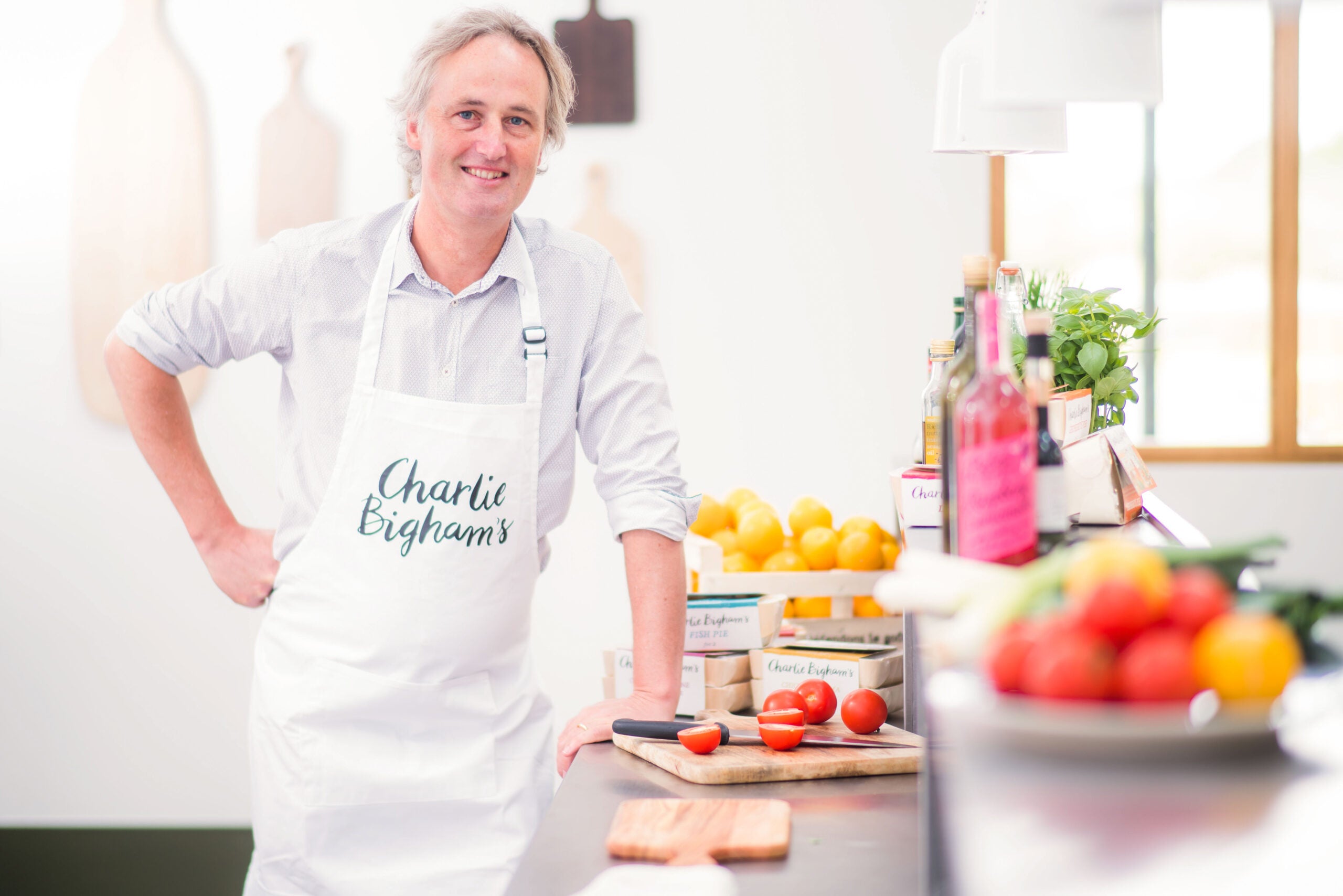 With all the chatter around climate change, Charlie Bigham is proud of the UK upmarket prepared meals firm's planet-friendly credentials.

And with another heatwave hitting the UK and Europe, the entrepreneur behind London-based Charlie Bigham's says the world has to act now to accelerate efforts toward net zero and avoid a catastrophe.

Twenty-five years or so since setting up the company, the founder has built Charlie Bigham's into a more than GBP100m (US$120.9m) business, growing on average 15% a year and even faster at the height of the pandemic when people were restricted from eating out.

At the heart of Bigham's personal and business foundations are what he calls three pillars – "delicious food, thriving people and looking after the planet" – with a thrust toward "how we can do our bit to be more sustainable".

For the past 15 years, Charlie Bigham's has packaged its meals in wooden rather than plastic trays, sourced environmentally-friendly green electricity and employed a zero-waste-to-landfill policy, the founder tells Just Food. But, he adds, "we have to do more".

Bigham explains candidly: "We have to move faster in that area, work very carefully with our suppliers to get down on emissions and help on this path to net zero, which I think is not something that any of us have a choice about. It's not, 'shall we be more sustainable, shall we cut carbon emissions?' If we don't, I think all the evidence is now overwhelming that we're heading towards a long-term climate catastrophe. So we've got to fix it."

Charlie Bigham's serves all the major UK supermarkets and counts premium retailer Waitrose as its longest-serving customer stretching back to the company's founding years. The majority of sales, 95%, are generated from branded pre-prepared meals and the remainder from private label.

The category is expected to grow at a CAGR of 3% from 2021 to 2026, according to research and intelligence firm GlobalData, Just Food's parent, which compiles the figures as a subset of ready meals.

While Charlie Bigham's is currently exceeding that pace, the founder is keen to point out that "we don't make ready meals", although they are found in the same aisle in stores. Bigham envisages there's "great scope" to exceed the company's existing 5% market share going forward.
Nevertheless, category growth in prepared meals has been relatively muted over the past few years, but, according to GlobalData's forecasts, will be touching on US$10bn in 2026.


Bigham gives his interpretation of the landscape as the business moved through the pandemic.

"Prepared meals generally, prepared food, took a real hammering from cook-from-scratch at home. On the other hand, we're very lucky. We do grow every year about 15%, and in 2021 we grew at twice our normal rate.

"People decided, maybe, to buy less prepared food. But fortunately, people decided to buy a bit more of our foods, and maybe that's because we're the sort of everyday treat end of things rather than the more utilitarian end - something to bang in the microwave and have food as fuel rather than food for pleasure."

He adds: "In terms of sales, we actually did very well through Covid. Lots of people tried us for the first time and we've held on to those customers for the most part, so that's very nice. It was, of course, a very challenging time to be running any business. We were very lucky to be in the right sector at that time and I'm very proud of the job that the whole team did."

Price Challenge
As one challenge passes - at least with the pandemic subdued to a degree - another emerges in the face of inflation and the pinch on consumer pockets, especially when it comes to prioritising food over energy bills and other rising household costs.

Like the majority of packaged food manufacturers, not just in the UK, Charlie Bigham's has pushed through price increases as a matter of survival.

"We've unfortunately already had to do it and we anticipate we will probably have to do it again," Bigham says. "Since November 2021, we're sitting on 25% inflation on our food and packaging. For businesses in our sector, you simply don't have a choice, you can't absorb that. In the food sector, everybody makes pretty small profit margins, so if you have a 25% increase, if you don't increase your prices, you're toast."

Bigham is reserved on whether trading down into private label in such a testing environment is chipping away at the company's branded sales, with the proposition that people still have to eat.
"I think we might be seeing a few signs - everyone is looking carefully at their household spending and being a bit more cautious. But demand for us is still strong," he contends.

Speaking before the Bank of England's interest-rate hike last week and the imminent prospect of a recession and even higher inflation – meeting the definition of stagflation – Bigham says his business has been "fortunate".

"To an extent, we're discretionary, but people do have to eat. I think if we do enter a recession, which is quite possible, I might even say likely, what we will see is some people trading down from eating out to eating our food. We're also extremely good value for money if you compare us to take-away pizza or Deliveroo or something like that. So we are confident that we're a pretty resilient business, even when times are tough."

He adds: "We're growing about our normal rate of 15% year-on-year – the longer-term average over the last ten to 15 years - and that's after very strong growth last year. So we're not complacent, but we're confident we're in a reasonably good place."

UK priority
Bigham has a different approach when it comes to future growth prospects, preferring instead to promote the company's values, particularly around food and his employees in a tight labour market.

"We don't really approach things that way. Our focus is on making really delicious food, not just how we can launch new recipes but how can we make our existing recipes better," he explains.

"The other thing we're very focused on is assembling a fantastic team of people and making sure that there's exciting opportunities for them to grow their careers with us. That's a very difficult environment at the moment with the shortage of people. And when you're growing, we do need to recruit new people but it's a tough market to be recruiting."
For the time being, Bigham is happy to keep cracking away at the UK market rather than expanding further afield, especially in the wake of Brexit, and more recently, the machinations around the Northern Ireland Protocol and the subsequent tiff with Europe.

"It's not my number one priority. We've got plenty of growth opportunity in the UK, so that's where our focus is," he says. "I mean, it's complicated exporting stuff outside the UK. Fresh food with a very short shelf life has always been complicated, and it's a bit more complicated today than it was a few years ago with where we are with our relations with our European neighbours. Even getting stuff into Northern Ireland has become more complicated.
"In business, we're simple people, we like stability, we like a lack of paperwork. At the moment things are like a yoyo, nobody knows really what's happening, for example, with things like the Northern Ireland Protocol, very complicated. It's not great, so let's hope that gets better."

Quality reservations
When it comes to the growing consumer interest in plant-based foods, whether because of environmental or health considerations, Bigham is critical of some of the products on the market. And he's not the first. Heather Mills, the owner of UK plant-based business VBites, was equally belligerent speaking to Just Food in January.

Charlie Bigham's caters to the vegan, vegetarian and flexitarian groups but the category is not growing as fast as some envisage.

Of the company's 50 or so meals, "the proportion of our recipes which are vegetarian is higher than the proportion of our sales, so I think the demand is still not quite where sometimes people might think it is just reading the media", Bigham says, adding "we will continue to launch flexitarian and vegetarian recipes".

He explains his reservations around perceptions some plant-based or alternative-food products are highly processed.

"Personally, I'm very sceptical about vegan food. And I'm not sceptical necessarily from the kind of consumer-demand perspective, although that is actually very modest.

"The thing that worries me about vegetarian food is, when I look at what I call fake meat, which makes up quite a lot of vegan food, it worries me that it's probably some of the most highly processed food you can buy today.

"My strong personal belief when it comes to food is, the less processed your food is, the better it is for you. And so it really worries me that there's this highly processed food which has been created and sold to people as vegan, with a sort of implied healthy message. I seriously question whether food that has been processed to the extent that lots of fake meat has, that it can be anything other than potentially quite harmful to have."

Bigham is also adamant we are entering a new era for food prices in the UK, which he argues is going through a "transition" in the context of inflation. And consumers will have to "adjust to this new reality" to pay for climate-friendly food.

"I think there's going to be a period of transition as we get used to these new prices. The journey to net zero is going to be a big chunk of responsibility for getting there, both in the UK and globally, and is going to fall on the food and agricultural sectors.

"These sorts of changes are never free – it's very important for the planet, our children and grandchildren and generations to come that we make these changes, but they're going to be expensive. And all of us as consumers are going to have to pay for them."