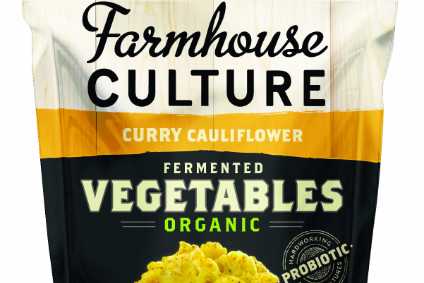 US firm Farmhouse Culture produces what – at first glance – might sound like a traditional product: fermented or pickled vegetables. But, in re-imagining the production method, first developed primarily as a preservation technique, Farmhouse Culture – which has recently secured investment from General Mills – has updated the concept in a way that is proving appealing to US consumers. Katy Askew spoke to Farmhouse Culture director of marketing Marc McCullagh to find out more.
Farmhouse Culture was formed in 2008 by Kathryn Lukas, who started selling her take on German staple sauerkraut in a local Santa Cruz farmers' market. Since then, by expanding its range of fermented vegetables and kraut-based snacks, the US firm has looked to capitalise on two mega trends shaping the country's food sector: increased demand for organic products and growing interest for products that deliver probiotic benefits.
"The Farmhouse Culture journey began with Kraut and, fuelled by growing consumer demand for gut-healthy foods, the company expanded its product offerings to Gut Shots, more fermented vegetables and Kraut Krisps," director of marketing Marc McCullagh tells just-food. "At the end of the day, we wanted to provide consumers varied, tasty options for getting the gut-healthy foods that are in such high demand."
According to information from research provider New Hope Network, sales of probiotic products are expected to total US$2.1bn in 2017 and is projected to increase to $3.1bn by 2020. The researchers suggest almost 50% of US consumers claim to want to increase their consumption of probiotic foods.
In order to capitalise on this market opportunity, McCullagh suggested it is important to provide consumers with "more ways to incorporate probiotics" into their diets.
The company has extended its range to include other varieties of fermented vegetables, such as orange ginger carrots, curry cauliflower and ginger beets, as well as probiotic "gut shots". Most recently, Farmhouse Culture entered the snack aisle through the launch of Kraut Krisps, which were on display at the Natural Products Expo West trade show in California earlier this month (10-12 March).
All of Farmhouse Culture's products are certified organic, which should feed into rising US demand for organic-certified ingredients and snacks. According to the Organic Trade Association, the sector's value rose to US$43.3bn in 2015-16, up 10.8% year-on-year.
A commitment to organic has been an important principle for Farmhouse Culture's founder, Lukas, since before the company's inception, McCullagh stresses. "Our commitment to organic originates even before Farmhouse Culture was started. When our founder Kathryn Lukas returned to the States [from Germany] in 1998, she noticed how homogenised the food system was and how bland the food was, so she became active in learning about organic agriculture," he reveals.
Farmhouse Culture's pouch packaging and on-trend recipes bring a traditional method of preserving fresh produce up-to-date in its line of fermented vegetables. "While Americans have been making fermented vegetables for hundreds of years, we use fresh ingredients and a unique culinary approach," McCullagh explains. He also stressed they are a convenient and flexible way of introducing people to probiotics. "Sprinkle them on a taco" or "toss them into a salad", he suggests.
Likewise, with the line of Kraut Krisps, Farmhouse Culture is aiming to make it easier for US shoppers to increase the amount of probiotics they consume, while also meeting demand growth in the snacking sector. Data from Packaged Facts, a market research firm, suggests the healthy snack sector is witnessing at an annual compound growth rate of 4.7% in the US.
The Kraut Krisps range includes five varieties: zesty garden veggie, white cheddar, smoked jalapeno, sea salt and dill pickle.
Farmhouse Culture products are currently distributed in about 3,000 stores nationwide. The company is present in natural foods stores, as well as conventional grocery stores. "Some of the bigger current retail partners include Whole Food Markets, Costco, Hy Vee and Sprouts," McCullagh says.
Farmhouse Culture's unique product proposition caught the eye of 301 Inc., the investment arm of US food giant General Mills. The division led a $6.5m investment in California-based probiotics firm, it emerged this month.
"301 Inc. seeks to elevate emerging brands using its unique set of resources – world-class resources in the fields of science, procurement, operations and distribution. We are proud they see the value Farmhouse Culture brings to the probiotic food and beverage category," McCullagh says.
"The probiotic food and beverage category is exploding following the ever-increasing consumer desire for gut-healthy foods, and Farmhouse Culture is a leader in the category with expanded probiotic-rich product offerings that take us into new aisles at grocery. That, combined with a great team with rich experience in natural foods, shows them we're a company that is well-positioned for significant growth."
301's investment will be used to increase the presence of Farmhouse Culture's products and expand the group's production levels, McCullagh says. "This round of investment will serve to expand the availability of our products nationwide, growing sales and marketing visibility, scaling up production of existing product lines and accelerating innovation in the fast-growing probiotic-rich foods category," he explains.
McCullagh is quick, however, to emphasise Farmhouse Culture will continue to operate on an independent basis. "The existing investors remain extremely important partners to Farmhouse Culture and we will continue to draw from their vast knowledge and insight."
With General Mills' backing, Farmhouse Culture could be set to ferment another period of growth.