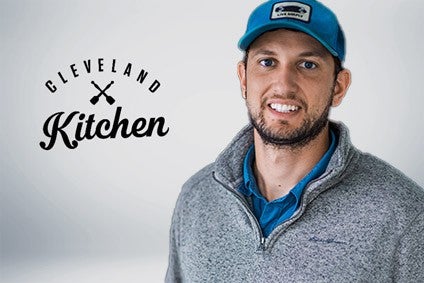 Building a business on sauerkraut, US firm Cleveland Kitchen is taking its knowledge of fermented foods into a new category – dressings and marinades. Co-founder and CEO Drew Anderson talks to Dean Best about the prospect of doing battle with larger competitors, Cleveland Kitchen's stint in Kraft Heinz's incubator and launching a product in the middle of a pandemic.
just-food: What consumer insight prompted the move into dressings?
Drew Anderson: We kind of started developing this project almost two years ago. We started the company with the sauerkraut, started at farmers' markets and, when you're selling to the same customers every week, you get a lot of very honest feedback on your product. A couple of years back, we took our sauerkraut brine, bottled it up and took it to farmers' markets to see if there was a gut shot product there. We then noticed people were taking it home, putting it in soups, using it as a vinaigrette replacement in home-made dressings and marinating things.
Some people really like a shot of sauerkraut brine – I can do it all day – but it's not necessarily delicious to everyone. We noticed how the brine has the same qualities as a vinaigrette or vinegar and looked at how we could make it into a delicious salad dressing – and push our fermented mission into a more mainstream category. People are excited to try fermented foods but getting into a fermented vegetable like a sauerkraut or kimchi takes a little bit of adventure. We see great success of those products but people will try a fermented dressing a lot quicker. It's something a little more accessible.
just-food: How aware are mainstream consumers of fermented products? How do you market products?
Drew Anderson: There are multiple avenues. One is fermented foods are obviously very healthy for you, especially at this time. Eighty per cent of your immune system is based in your gut. If you've got a healthy gut, it's basically your first line of defence, it allows you to have a healthy immune system, and you can just fight things off better, right?
The other thing that's big for us is fermented foods offer that depth of flavour. You see chefs throwing miso into soup. Sauerkraut is becoming an interesting ingredient that's being used not just as a side to a sausage but because it offers that umami, that depth of flavour. One way to get to customers is to show different usage occasions and to partner with chefs, to do social media cooking demonstrations, recipe development.
We've seen quite a bit of success during the lockdown because people are cooking more. We're actually driving a lot of trial because of this virus and it's going to be beneficial for the dressing. We're going to set it as an easy way to get fermented foods' healthiness into diets and now's the time to do it.
just-food: It's a challenging time to launch a product.
Drew Anderson: It's a very challenging time. And we've switched our brand from Cleveland Kraut to Cleveland Kitchen – a bigger kitchen for a bigger purpose, we say. We did that and launched a new product right in the middle of a pandemic.
We had a great partner in Whole Foods. They actually helped us out during the development of the dressing and had them input on flavours and what customers are asking for. It has been on shelves nationwide for about two weeks. Not all shelves are getting stocked as fast as they normally would; all of the stores are under a great deal of pressure. Things being what they are, we're happy with how sales are going so far. We'll be in Whole Foods exclusively until the end of June and then branch out to our other partners.
just-food: How has Covid-19 affected your usual marketing of a new product?
Drew Anderson: That was a big hit to us. We had a lot of plans to get our brand ambassadors out into stores. We've kind of moved all that budget to digital campaigns. We've got some radio out there, we're working with Instacart. One of the cool, grassroots-style things we're doing is we found a lot of chef friends of ours are unemployed and at home. But they're still cooking and we've been able to start working with them, limited partnerships, where we send them our product, have them film in their own kitchen and then we put it out there. It's a way to help out people that have helped us in the past, get recipes and usage occasions out there and keep the brand moving during this time.
just-food: Is the launch of the dressings the most significant piece of NPD you've done since the original product?
Drew Anderson: We went from a glass jar into a stand up pouch with a vent in 2018. That was a huge, huge change for us, not necessarily a new product but a new package and it was about making sure everyone knew it was the same product and a new package – and the reasons we went to that new package.
"It's opening up a whole world of new products that we can get into"
I would say that this is our biggest departure from the original [product]. Now we're entering a brand new category. There's new competition here. There are bigger players. Going into dressings, I'm competing with Lighthouse, Marzetti and Bolthouse. These guys, their marketing budgets are the size of our revenue. We need to be smart, to be efficient, to make sure our product stands out.
It is massive for us. It's opening up a whole world of new products that we can get into, new categories that we can get into, all based on this fermented vegetable platform.
just-food: What did Cleveland Kitchen pick up from being part of Kraft Heinz's Springboard incubator?
Drew Anderson: That was a great experience for us. We were part of the first cohort and they really opened up the doors. They were, like, 'Here's how we look at data and all the data that we have. Here's how we look at categories. Here's how we do R&D.' We got in there and learned as much as we could. You know, what does a Walmart like to see in a pitch deck? How did Kraft approach it? What are the metrics? We kind of had a sense for it. We had some good distribution going in there but they really helped us fine-tune and see the bigger picture.
They also really taught us how do we take a brand that's a US$5m brand and turn it into a $100m brand. What does that look like long-term? How do you create a household name brand? It was a huge learning opportunity. We would do it over again in a heartbeat. I hear some other different types of incubators don't let you get knee-deep in the company but [Kraft Heinz] really opened the doors and allowed us to come in. Actually, we made the first sample of dressing in one of their labs there two years ago.
just-food: What do you think they learned from you and Cleveland Kitchen?
Drew Anderson: Oh, everything. They're changing their whole business model now [laughs].
just-food: But it is interesting to look at it from that standpoint. There's been a flurry of these announcements from Big Food.
Drew Anderson: I think what [Kraft Heinz] is trying to foster over there is an entrepreneurial spirit within their teams and see how a small company with extremely limited resources is able to do so much and move so quickly and get products to market.
"Kraft Heinz are trying to introduce some of that entrepreneurial spunk into their culture"
I think it's a culture thing mainly. Obviously they want to look and see – 'Hey, this is a good product. We're going to buy you guys someday type of thing.' That's definitely right there. Kraft is very open about, like, 'Hey, you know, there's a possibility that down the line there's a bigger partnership' but you can tell that it's a culture thing. They're trying to introduce some of that grittiness, some of that entrepreneurial spunk, I guess, into their culture. There's a lot of red tape in these companies and to come up with a good idea and then push it forwards, there are so many hurdles.
just-food: So, fast-forward to the start of this year. What were your plans for growth in 2020? How has Covid-19 affected that?
Drew Anderson: Let me talk about last year real quick. We grew at 400% last year. This year we were looking at about 200% revenue growth but really doubling down. The dressing is amazing but our first priority is continuing to push our 16-ounce retail sauerkraut product. The market's so big and people haven't tried it yet. We've got all this ACV: how do we maintain those stores and continue to push same-store sales?
Beyond that, we had a very conservative plan for dressings because it's a new category. We built it to have very average movement on-shelf and we weren't expecting too much. For the year, we were expecting some amount of revenue and we've already hit half of that just with the pipeline orders.
In February, we were already ahead of forecast significantly. Then, we went into March and Covid hit – and we completely blew away what we were expecting to do for March, as well as April. I think maybe we're going to slow down a little in May but we're still on track to have a very solid month
So we're up. First forecast, we're probably 30% over what we were expecting to do.
just-food: What are you expecting your annual revenue to be in 2020?
Drew Anderson: I would say between $10m and $15m depending on which scenario we're looking at here. We're not in a capital-raise year, so we're trying to just knock out the essentials, make sure our back-end operations are really strong.
We were also kind of launching a little bit more into foodservice which took a dive obviously with Covid. We had a small business but we were going to put in a lot more resources to it this year and that's obviously on hold.
just-food: Is the business profitable?
Drew Anderson: We will be profitable this year. We're very happy all the work that we put into it is coming to fruition.
just-food: What's your personal stake in the business?
Drew Anderson: My brother, my brother-in-law and I are all equal partners. We own about half the company. We've got mainly high-wealth and small venture-capital money. We've a very, very, very good group of investors. A lot of industry vets who have run food manufacturing companies, started, bought, sold etc.
just-food: How do you think Covid-19 could shape your strategy – and the categories in which you do business – over the next one to three years?
Drew Anderson: Fermented foods are on fire right now. It's a big category elsewhere. It's just really starting to hit the United States. I think we're on the cutting-edge of what can be done in the fermented vegetable space. The core of our business for the next three years is going to continue to be our retail sauerkraut fermented vegetable line but what's exciting is where fermented sauces, fermented dressings, fermented condiments can go because the category is just so much bigger.
just-food: Among some Big Food CEOs, there's talk about the depth of recession we could see, with consumers becoming more interested in value. Often-times that may rub up against healthier products, which can be more expensive depending on category or segment. Can a $5.99 fermented dressing still attract consumers if they're starting to feel the pinch?
Drew Anderson: That is the risk for us. We're a premium product and, during a recession, premium products start to go out the window. We'll still benefit from the nature of this recession [being] caused by something health-related.
One of our mantras is fermented foods for all. We sell 16-ounce sauerkraut in thousands of Walmarts in the United States. Because we're a manufacturer, we're actively trying to get more scale. If we can make the same product at a bigger scale, then we can offer it to everyone at a lower price. Our goal is be able to make our products more cost-effective. Can I do it during this recession? I don't think so. It's a longer-term play. Will we be fine in this recession? I'm sure we will be. It's going to get a little tough. I think we'll be fine – but it is a wake-up call. We're lucky because we're healthy but, long term, we need to look at how do we get our costs down while still offering the same quality product. Long term, we want to be able to compete better.