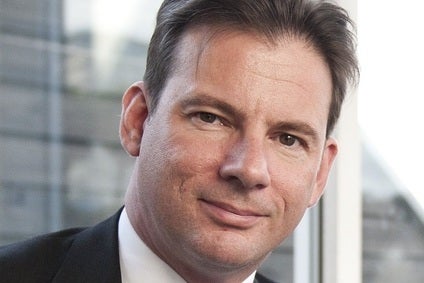 The Middle East is often seen as a bit of a golden nugget for exporters, with 98% of its consumables coming from elsewhere in the world. But Sean Ramsden, CEO of UK wholesale exporter Ramsden International, says it's not always the easiest market in which to operate, with strict compliance legislation and a focus on driving down prices. Hannah Abdulla caught up with Ramsden on the sidelines of Gulfood where they exchanged notes on the challenges and advantages of being an exporter to the Middle East.
just-food: What is Ramsden's involvement in the Middle East?

Sean Ramsden: This is our 40th year of exporting globally and I'd say 20th year of exporting to the Middle East. We are an export wholesaler of British grocery products – we supply 23,000 products across a huge range of supermarket items covering ambience, chilled, frozen products, speciality foods, health food products – a huge range of products that reflects virtually everything you would find in a standard UK supermarket. We supply buyers around the Gulf – and world – that would need specific access to a range of products from a single supplier.
just-food: In your experience, how would you say the Middle East has changed since you first started out here?

Ramsden: It's grown. It's grown quite significantly in terms of the size of the economy and the number of consumers. There are 240,000 British ex-pats in the UAE which is a huge number, not to mention all of the other nationalities, including quite a lot of educated wealthy local consumers, many of whom have links with the UK and are familiar with UK brands.
just-food: Why do you think the Middle East is a promising market?

Ramsden: It's a significant market, 98% of everything that is eaten has to be imported. It's 11% of our global turnover. Evidence is this show [Gulfood] itself, I remember coming to this show in the late '90s and it was in one hall and now it is the second largest show globally with buyers from all over the world.
I would like to think Ramsden's success here is because the market is growing and we are doing better in managing and servicing the market. It is quite a complex market in many respects. Things like compliance and logistics make it quite difficult but we are very very good at that. It is also very competitive. There's a part of the market that is very price driven, but it's the service and the value-added elements of trading that we are very good at which are are important as well.

just-food: You're not currently based in the Middle East – is the business significant enough here to consider shifting your regional base to this part of the world?
Ramsden: It's something we are looking at. Traditionally we've managed this market from the UK so we have had sales people for the Middle East here several times a year. But we're now looking at the model from a different perspective. Perhaps having a permanent presence here. Obviously the logic there is you put your sales resources where the customers are.
just-food: What would you say is the most important country in the region at present?
Ramsden: We are probably looking for the biggest amount of growth in Saudi – it's a market that's really starting to blossom in terms of the retailers and their sophistication. There are still massive compliance issues there and logistical challenges in terms of getting the product in there. But again it's something we are getting better at [overcoming] as a business.
just-food: What would you say are some of the biggest challenges of trading in this region?
Ramsden: The biggest challenge is compliance. The GCC varies slightly with Bahrain's compliance being quite easy, Qatar slightly harder and Saudi Arabia extremely difficult. However that is something we as a business have invested in developing expertise in and we are able to do that quite well.
just-food: Does the time it takes to get round compliance issues cause a problem, say when you're trying to send across items with a short shelf-life?
Ramsden: It is a challenge but we are good at that challenge. We do weekly air freight shipments to most of the GCC countries of items like yoghurt, milk and ready meals and other very short life products. There is a great deal of logistical documentation and compliance issues in line with that but we are very good at managing those.
just-food: Anything else you find tough in this market that you might not see so much in other markets?
Ramsden: Competitiveness. It's very much about sourcing products at the cheapest price. Quite often that's one side of the market we are not so good at because they don't care about the value added things that we as a business are very strong at.
just-food: There's a big focus at the moment in the Middle East on local sourcing and sourcing sustainably. Would that have any effect on Ramsden's business here?
Ramsden: We haven't really seen a big impact because our consumer base is primarily expats or cosmopolitan consumers looking for products made in the UK. I can see certainly on a bigger scale it's a sensible thing for authorities here to try and encourage but I don't think it would really impact our business that much.
just-food: What are your expectations for this year – where do you hope to be by the end of 2014?

Ramsden: We see Saudi at the top of the list in terms of growth potential. We do also see opportunities for growth across all the GCC countries. With a presence in all the Middle East markets already, I'd expect us to grow by a double digit amount here.