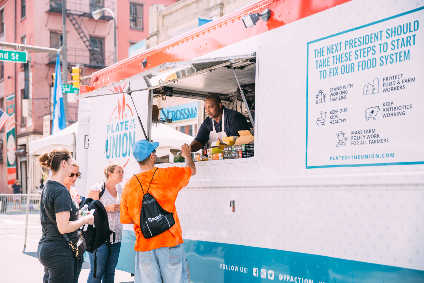 Activists, industry advocates and many consumers would like food to be a more prominent issue in major elections, such as the current race to the US White House. History, Ben Cooper writes, may suggest this is a forlorn hope but, speaking to Claire Benjamin DiMattina of the Plate of the Union campaign, it is clear advocates do not believe it is a futile endeavour.
Over the last couple of years, at least 14 politicians and one self-declared non-politician have sought to be considered for either the Democratic or Republican US Presidential nomination. Now, the fight has come down to two campaigns but for food policy watchers stateside, a third campaign is proving worthy of attention.
The Plate of the Union campaign, launched by pressure groups Food Policy Action, the Union of Concerned Scientists and the newly formed Heal (health, environment, agriculture and labour) Food Alliance, sets out a five-point call to action for the prospective President.
The campaign calls for a commitment to ensure the US population has access to healthy, affordable food; to stop companies marketing "junk food to kids and end subsidies that support processed junk food"; make farm policy work for all farmers; protect workers in the food and farming sectors; and "keep antibiotics working".
"We got involved because we saw for too long, for too many election cycles, that presidential candidates just weren't talking about food policy reform," says Claire Benjamin DiMattina, executive director at Food Policy Action. "In our work at Food Policy Action we really found that better food policy is connected to the economy, it's connected to health, it's connected to the environment, and candidates really haven't acknowledged that and we felt like it was time to start to build grassroots support and talk directly to candidates running for President about the importance of food policy reform."
There are a few of the usual suspects among the issues the Plate of the Union raises but it is arguably the interconnectedness of all these areas that defines the campaign. Plate of the Union is concerned with directing all of these issues together at a single politician with overarching power and influence, because it believes holistic solutions are required.
"Our goal really is for Presidential candidates to publicly declare that our national food and agriculture system is in need of significant reform and must be addressed holistically. It is simply not enough for a candidate to say 'Americans shouldn't go hungry' or we should look at the environmental impacts of how we grow food in this country. It's really critically important to connect the dots, so to speak, to say that this is a food system and that the inputs are as important as the outputs and we will address the whole system as a system. That's the role of the President, to ensure that the different pieces are working together and not in opposition."
All that said, the US President has always had these overarching powers and convening capabilities and so far food policy has still rarely been a high-profile topic in campaigns.
While the Plate of the Union campaign is notable for trying to achieve what has never been done, the reaction from many observers – even those kindly disposed to the issues being raised – would most likely be a resigned "Good luck with that one".
"As important as food policy is, and as interested as the public is in issues ranging from food additives and food safety to food sourcing and simple ingredients, it is hard to imagine that food policy will become a significant issue in this Presidential campaign," says Maureen Enright, acting director of the Children's Food and Beverage Advertising Initiative (CFBAI).
The vitriolic and particularly negative atmosphere in the current campaign – even by US election standards – will certainly not help the Plate of the Union's cause. The issues around food policy are nuanced and sophisticated, arguably requiring the type of considered and mature debate that has so far been largely lacking.
While history suggests Enright's doubts are justified, her comment speaks to the one thing that would radically alter the candidates' views, namely public sentiment.
"We knew that it was going to be hard to sort of break through the noise with the public, even with people who care about food issues," DiMattina tells just-food.
Aiming to make this campaign different, the Plate the Union "food truck", bearing the campaign logo and its social media handles, has toured key marginal states, and DiMattina says the public response has been positive. "That has just been a really incredible tool to bring into communities across the country. People want to know what the truck's all about, they want to talk about it, they want to talk about our food system. Our campaign certainly isn't over and we absolutely hope that we have moved the needle".
This week, the campaign has begun a seven-state tour with the truck to battleground states such as North Carolina, Iowa and Pennsylvania. "Many of our big events will occur over the next three months. We're travelling around important electoral seats and doing these large-scale events to just better engage the public," DiMattina says.
The aim, she underlines, is to convince the candidates voters care about these issues and want to hear the candidates talking about them, "to show Donald Trump and Hillary Clinton that these issues matter to voters, that being good on food policy is really good politics for them."
Whether this ultimately succeeds in enthusing the public and prompting the candidates to push food policy further up the agenda remains to be seen but even a small movement would be a positive direction of travel, not just for this election but for future campaigns.
If food is a more prominent political issue than it once was, this is largely because pressing issues around food – notably its impacts on health and the environment – are higher in the public consciousness than they ever have been. In fact, in not fully reflecting this, politicians may be rather behind the curve. Those behind the Plate of the Union campaign aim to nudge them to catch up a little ground, which may mean the next election sees food beginning to take its rightful place on the political agenda.
While food policy remains little discussed on the stump, once in office the new US President will likely face some key food policy decisions. The second part of this feature examines how the candidates might approach food policy if elected and how certain other policies they have advocated might impact on the US food system and food companies.