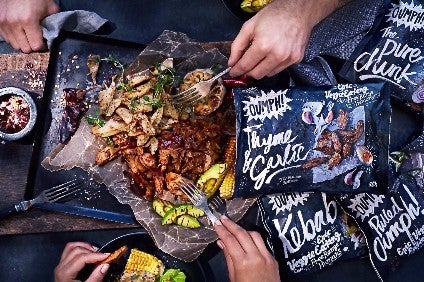 Sweden-based vegan supplier Food For Progress has made inroads in the Nordic region and, after entering the UK last autumn with a listing at Whole Foods Market, has struck a deal to supply Tesco. Dean Best caught up with Food For Progress co-founder Anna-Kajsa Lidell to discuss the company's UK expansion, its ambitions and its unusual history.
The rise of Food For Progress, the Sweden-based vegan business, has caught the eye in a category on the rise and one becoming ever more competitive.
And Food For Progress' back-story is as striking, with the group behind the firm turning its back on animal products and deciding to focus on plant-based foods.
Now Food For Progress, after success in its domestic market and in neighbouring Norway, has struck a deal in the UK, securing a major listing at Tesco, the country's largest grocer.
The company was formed in 2014 by Anders Wallerman and Anna-Kajsa Lidell. Wallerman is the son of the family behind Ecab Invest, a business set up 30 years ago in meat production. Lidell was an entrepreneur who had developed a brand called Beat, using beans to create vegan products. Wallerman had already started supplying non-meat products but the two decided to work together on a business eschewing the use of animals and focusing instead on plant-based food.
"I came up with the Beat concept and met Anders Wallerman. I was one of those innovators that came up with an idea, and he was the only person that dared to collaborate with me. Anders has a real talent for daring to co-create and find the right partners to collaborate with," Lidell tells just-food.
Wallerman, Lidell explains, was already making falafel but the move into plant-based "accelerated" when the two joined forces. Central to their partnership, she says, is "a new food logic", which focuses on what Food For Progress calls "One Planet Food" – that is food for 9bn people but food made "within the planetary boundaries".
Ecab Invest is no longer producing meat, although the company has a facility still manufacturing ice cream, which it is in the middle of converting. All of Food For Progress' vegan products are made at a self-contained site. Knowing how some in the vegan community could be concerned about the firm's history in meat and (though not for much longer) presence in ice cream, Lidell seeks to underline how committed Ecab Invest and Food For Progress is to plant-based food and talks up Wallerman's decision to move away from animal protein.
"Since [exiting ice cream] is something we are working intensely on, I don't want to have that we still have that factory as something that will get vegans against us," she says. "Getting this transition going and transforming everything from production to people and mindset is a really tough job. It's absolutely amazing to be part of a company that dares to cut all those contracts – where the company was successful – in order to make the transition to plant-based. It takes a lot of guts. I'm really proud of how Anders dared to do that transition."
Ultimately, Wallerman and Lidell plans for Ecab Invest to be renamed Food For Progress. The two partners, as well as Wallerman's sisters, are set to be the shareholders in what Lidell calls "Food For Progress 2.0".
"Everything is in the transition to be Food for Progress 2.0," she adds.
After success in the Nordic region, Wallerman, Lidell and the wider (and expanding) Food For Progress team are eyeing further growth in new markets.
Food For Progress launched what has become its flagship vegan brand, Oumph, in the UK last autumn, with a listing at Whole Foods Market's clutch of stores in the country. At that stage, Food For Progress was already in talks with some of the larger grocers in the UK and, in March, announced a deal with Tesco. The country's biggest food retailer is stocking three Oumph lines at almost 400 of its stores.
Last year, Tesco hired Derek Sarno, the former senior global executive chef for Whole Foods Market, to fill a newly-created role of executive chef and director of plant-based innovation to lead its moves to broaden its range of vegan food.
Tesco was one of the major UK chains to be interested in listing Oumph, Lidell claims, but Food For Progress "went for the one we believed in".
We don't believe in selling with a 'no'
"We knew they had hired Derek Sarno and that were very progressive at the moment. We saw they were trying to bring things to the market that wasn't just ordinary, free-from products, being sold with a 'no'. That was really important for us. We don't believe in selling with a 'no'," she asserts. "In the UK and also traditionally in Sweden, when you sell vegan products, you sell with a 'no', you sell 'free-from this, free-from that'. We believe to ignite real change, we have to make things progressive. Things have to be really attractive. We have to use every layer we can when it comes to product development, when it comes to how you visualise the food and how you communicate it to be able to reach the audience that is not already convinced."
In black packaging, the Oumph products stand out from the usual plant-based fare in the frozen aisles in Sweden, Norway and the UK, while, as you'd expect, Lidell touts the taste of products like Kebab Spiced and Pulled Oumph. At a price of GBP3.49 (US$4.88), the price of the products is also eye-catching, although Lidell defends the price point, says it did not hinder Oumph in the Nordic region. She also says consumers should become more used to paying a higher price for food.
"We had the same situation in Scandinavia where we went out with a higher price point. To tell you the truth, people believed the product was so good that they wanted it and they bought it," Lidell insists. "You can't go down on price. When you're working with these product types, it's innovation and the machine doesn't run as fast as with textures that are not the same quality level. It doesn't run as fast as meat.
"I think the problem is food is too cheap. There is no farmer, no industry that can survive on such low margins than there is on a lot of UK food. When I walk into a shop in the UK, I wonder how can we have a sustainable food system with these price levels?"
As with many an entrepreneur in the food industry, Lidell acknowledges the larger competitors Oumph faces in the broader fixture, pointing to Quorn, Tivall and Orkla. But, in an again common belief among entrepreneurs, she insists when focusing squarely on the product Oumph faces no competition. "There are a few companies trying but no-one has been able to really nail that beautiful texture."
She is sanguine about the prospect of an ever-more busy plant-based category and in effect calls on the industry to innovate more. "We don't really see the competition as competition. We see it as we have to grow that category with an enormous amount of good products. I'm more worried about the bad products that are out there and that is coming in. Everyone is running into this category right now. If a flexitarian or meat-eater gets a bad product the first time, they might not try the good one."
What are Food For Progress' ambitions in the UK? Lidell says the company will not sign up with another UK grocer this calendar year but is eyeing the foodservice channel, where Food For Progress has made inroads domestically.
"We're working very hard on the foodservice side. That's how we've been working in Scandinavia, to create a pull so when the restaurant chains use the Oumph word, like with Oumph fajitas, that drives traffic into retail as well. There are discussions with a lot of customers that are approaching us."
Food For Progress indicated last year it was in talks with potential customers in a number of other markets in Europe, with the Benelux markets, Germany, Austria and Switzerland as possible new destinations. "One could say that there's a lot of talks in progress," Lidell says by way of an update.
The company, she continues, has the production capacity to move into new markets but hints it needs to ensure it has the right people in place to carry out further expansion. The business is busy hiring in areas like sales and marketing. "There will be challenges in adding so many new people into the organisation at the same time as we are moving so fast. It's all about working with the right people. That's key to navigating a new market. You have to find the right people."
Food For Progress does, meanwhile, want to take Beat, the brand Lidell had developed before joining forces with Willerman, into more markets. "Beat has been a little bit in the background. We've been so focused on the internationalisation of Oumph," Lidell reflects. "There are very interesting conversations going on around the Beat brand and where we can take it. It's more in the stage we are planning to see where, when and how. It's all to do with having enough people to work on it."
Oumph and Beat are not the only parts of the business on which Food For Progress is working. The company supplies private label and acts as a manufacturer for other plant-based brands. It does want to expand these parts of the business too and has hired an executive to look at these divisions. "We think it's important to have more than one leg to stand on. We are one of those businesses that hasn't got external capital. We've grown by our own strengths, and for us it's crucial to be working with developing more than one leg."
Would Food For Progress be open to outside investment? With demand for alternatives to meat on the rise in North America and Europe, companies supplying plant-based food have increasingly come on the radar of larger players looking for growth, including those in the meat sector. Canada's Maple Leaf Foods has snapped up US meat-free supplier Lightlife Foods. Tyson Foods, the US meat giant, has invested in meat-alternatives firm Beyond Meat.
Asked if Food For Progress would be willing to sell equity for investment from private equity or a food manufacturer, including a meat-products supplier, Lidell says: "At this particular moment we've got massive interest. We've had companies and investors knocking on our doors from the first launch. As we see it, we want to have the freedom to operate in the way we believe. No investors would have let us do all the crazy stuff we've done when it comes to putting a black package into an orange-and-green category. We don't do business as usual when it comes to what we do in many aspects."
But what does Lidell, someone passionate about the planet's need to produce food sustainably, make of Big Meat's interest in plant-based food? "I think the meat business has to transform, to move into a new era because of risk management. I think there's a lot of people within the meat business that understand the overall picture from a global level. From that perspective, I'm not surprised they are moving into this. It's brave from a holistic perspective and it's also of course they can smell the money right now. It's quite hard to make money on meat actually," Lidell says.
But was Wallerman's move into non-meat – and his partnership with Lidell – also based on financial return, as well as a belief in sustainability? "One has to consider both factors because otherwise you don't have a business," Lidell says. "The only way you can take part in the change is if you have a sustainable, financial situation. We see lots and lots of start-ups in Sweden, having the most brilliant ideas but not a functional financial situation and then you don't bring any value to the transition."
If a company like Tyson approached Food For Progress, Lidell says the company would be open to discussions. "Since we are a curious kind of people, we would listen very carefully to how they think. I've only heard it through the media. I don't know their purpose. You have to talk to people to see through to see which ones are run by greed and which ones want to be the game-changers. You can't do that by not talking to them. We are always open to see how business models can look. What we after is to really make a difference."