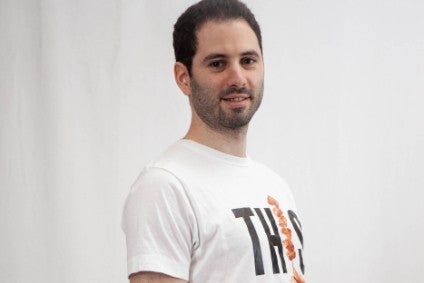 Plant Meat, the UK-based meat-alternatives firm trading as (and under the flagship brand of) This, is one of a flurry of businesses looking to ride rising consumer interest in plant-based fare. Dean Best talks to co-founder Andy Shovel about adapting as Covid-19 hit, competition in the category and his optimism for foodservice.
London-based This – yes, that is the business' and brand's name – was set up in 2017 by meat lovers and entrepreneurs Andy Shovel and Pete Sharman after they had sold the previous business, burger chain Chosen Bun.
This, focusing so far on alternatives to chicken and bacon, has secured listings with UK retailers including The Co-op and Waitrose and had, until the Covid-19 outbreak, business with foodservice operators, with a notable deal announced this year with national distributor Brakes.
This says its sales through UK supermarkets doubled in February and March but, of course, the business has been hit by the near-complete shutdown of the foodservice market. Foodservice, Shovel says, accounted for a third of This' sales. "Obviously that's taken such a big knock but on the other hand, retail spiked a lot, so in a strange way we're actually back where we started," he tells just-food.
just-food: In January, the company announced a fresh round of funding.
Andy Shovel: Me and Pete were kind of funding the business for the first year. We were able to do that because we sold a fast-food business, Chosen Bun, in 2016. Then, once we got to prototype stage, we managed to attract GBP900,000 (US$1.1m) of investment from 12 business angels and two VCs – Seedcamp and Five Seasons Ventures. That investment basically got us to market. We launched to market in June of last year.
It became clear by September we were on a really high growth trajectory and that we'd need more capital, so we took that new GBP4.7m investment. We now have an additional three VCs on the cap table – Backed is the lead investor in the last round. We also have Manta Ray Ventures and Idinvest.
just-food: How much of the business has that left you and Pete with?
Andy Shovel: We have over half the business. I think overall we're really grateful to have the backing, to be honest. It's meant we can go from being, you know, two bearded smiles with a business plan, to then having a really fast-growing brand. I know we couldn't have done it without all the investment.
just-food: What is the funding announced in January being used for?
Andy Shovel: We're spending on manufacturing, increasing our production capacity, and then we're also establishing a London-based innovation centre. We're buying some lab-scale equipment. It's been slightly delayed because of Covid but we're hoping to go back into visiting properties in the next few weeks. A thing that has really suffered is innovation. The work for our innovation pipeline is all lab-based, so we need to experiment with different proteins and processes and try and create all the things we want to create.
just-food: Why start with plant-based alternatives to chicken and bacon? Did you see those products as an opportunity in a market mainly of burgers and sausages?
Andy Shovel: Pretty much. I mean, it was one of those start-ups born out of a selfish need. Around 2017, our consciousness was rising of issues around meat consumption, along with everyone else, [and] we found, as newly-reformed meat eaters, there weren't the options that we wanted in terms of a product you basically couldn't tell the difference [with meat] as you ate it. If you can tell the difference, then inevitably it's going to be some form of compromise. That was our guiding star to start with.
One of the reasons for going into bacon was we felt like it could be a hearts-and-minds win for a start-up to take. We know people always crave that smell and taste and we thought if we could get close then it would excite people about the brand. It's definitely worked out to be true. It's our best seller, the bacon, by quite a way.
just-food: You have further national retail listings coming up. Are you able to name the stockists?
Andy Shovel: It's just a tiny bit too soon. It's safe to say we'll be in most of the biggest retailers by the end of this year, which is really exciting. We're still in the first year of trading, so we're happy about the potential this year.
just-food: Before Covid-19, what level of revenue were you looking to hit in 2020? And are you still able to make it given the growth you've seen in retail?
Andy Shovel: Our target was GBP10m by the end of 2020 – run-rate, so annualising December's revenue. We think we can get to GBP7-8m. For a year and a half in, it's satisfactory, I would say.
just-food: The near-closure of the UK foodservice market in late March saw you lose a third of your business overnight.
Andy Shovel: We've refocused sales efforts to retail. We had a strategy that we wanted to take it quite slow, steady in retail, and go really aggressive in foodservice. We felt like we could get a really good brand recognition by doing that and being in everyone's favourite chains – and then once we had that, we could then leverage all of that brand equity and try and get into retail. Now we've repositioned a bit and we've got all these retailers lined up for this year.
just-food: To secure those new retail listings, did you have to move on price?
Andy Shovel: We can't move a great deal on price to be honest with you. We are operating really quite slim GP [gross profit] margin. There's been a bit of negotiation on terms but, generally speaking, I think supermarket chains are getting much sort of kinder to start-up brands than perhaps they were five years ago or more. I did once work for drinks company and they were really tough to deal with back then [in] 2010.
just-food: Why 'This'?
Andy Shovel: I just thought it was a fun name [laughs].
"We don't want to just stick to meat alternatives. We'd like to branch out into other sustainable food areas"
We don't want to just stick to meat alternatives. We'd like to branch out into other sustainable food areas. We thought that if we call it something 'meat' it'd be a bit limiting.
The other reason is, I flippantly said it, but, genuinely, fun and humour is a fundamental part of our brand. We sat down and tried to evaluate this space and one of the things is consumers get a bit defensive; as soon as you mention vegan or plant-based, people have a tendency – not the very progressive consumers and not so much young consumers – but some consumers, they get a bit defensive. They start to have preconceived ideas about being lectured and told that their food choices are wrong. So, we thought a way to disarm those feelings in consumers was humour basically, try and disarm all those defences with wit. We thought that This would be quite funny name. If anyone ever describes it, it's always confusing. 'I'm going to eat This for supper.' We hear about so many of those conversations and we find it quite amusing.
just-food: What other 'sustainable food areas' could you look at? How well-formed are those plans?

Andy Shovel: It's more like two years-plus down the line. We're looking at potentially a plant-based egg in the future but these things are quite far off. The focus for now is meat alternatives but we've been trying to obviously name the business for the longer-term picture.
just-food: What's your outlook for the foodservice channel? How are you looking to kick-start things again?
Andy Shovel: That's a real sore point for me because we had an absolutely stonking pipeline for foodservice. We were talking to the biggest of the big, a number of them. I don't think it's gone down the drain but obviously the can's been kicked down the road somewhat.
We're just keeping a really close eye and trying to stay in touch with all of our pipeline, our potential customers and figuring out what they're doing. Obviously with the larger businesses, it's somewhat difficult because the people you speak to, you know, they're big organisations, right, so I think for a firm plan to percolate through the organisation is going to be quite difficult.
Generally speaking, I'd say the foodservice pipeline is the most exciting part of our outlook when this thing clears. We had more foodservice inquiries than we could deal with almost. That's the area of business I find really exciting as well because it sets us apart to some degree. We made more traction in foodservice in six months than I think most of the category did to be honest. There aren't that many meat-alternative brands who are co-branding in restaurants like we are.
just-food: And that excitement still persists? You're still pretty upbeat.
Andy Shovel: Yeah, for sure. Obviously, things have changed. So much depends on when they find a vaccine because if we're all inoculated in 12 months, it's business as usual.
just-food: Even if some UK outlets open on 4 July, capacity will need to be lower – and, even then, some may not want to sit in a restaurant. It's going to be a very strange experience until that vaccine comes along.
Andy Shovel: Exactly, so I am conservative about volumes in the near term but I do think that the scientific community will bail us out because of all the noises we've been hearing.
just-food: You have tested the waters outside the UK, with a trial in Italy's foodservice channel.
Andy Shovel: We did it to make mistakes and understand what they were before we do a larger-scale export market. We got really good uptake in Italy. We're mostly around the Milan region. Obviously that's mostly been on hold for a couple months. In terms of our strategy moving forward, it actually remains the same. We are not going to be going into, say, the US and the rest of Europe for another nine-plus months. The strategy is to try and get anchor partners in foodservice in regions, try and build up the brand in foodservice and then move, say, six to 12 months later into retail.
just-food: When could be the next round of funding?
Andy Shovel: We're actually planning in the next couple of months to do a top-up for the business and we're considering quite strongly crowdfunding. We get lots of inquiries from people saying 'Can I invest in This?', so I think we're going to give people a chance to invest in the business. It'll be most likely GBP1-2m probably.
just-food: Have you had interest from Big Food?
Andy Shovel: We have been contacted, actually right since the beginning, partly because one of our investors – Five Seasons – is so plugged into the food space. My attitude is very much to distance ourselves for now. Any innovation that we manage to pull off or any brand equity that we manage to build I think we should keep within the business and not try and dilute it. We won't be selling off parts of the business to Big Food anytime soon.
just-food: How do you feel when you look at the competition in the plant-based meat category?
Andy Shovel: Our category's growing double digits in grocery, which can't be said for basically any other category. By virtue of that, I don't think it's going to a Hunger Games category where one winner is going to take all and everyone else is going to fall away. There's going to be multiple winners, and I almost think newer brands to the space help incumbents to some degree because they just alert more people to the idea of it.
Maybe that's too much of a kind of optimistic spin on it but that's kind of how I feel. If you look at the States, Impossible Foods and Beyond Meat have openly said one another's brands kind of benefit one another because they're both recruiting millions of people to the space. If we were in a category like washing detergent that was growing or shrinking at 1% a year then I would fight hard and we'd stick our elbows out. Our category is so different and growing so much more than that so I'm not as preoccupied with competition.