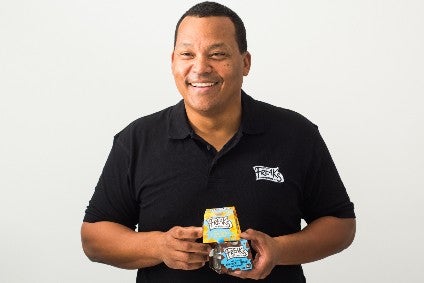 Peter Ahye, the founder of Freaks of Nature, has seen the UK plant-based desserts firm enjoy rapid growth since its formation in 2016. He talks to Dean Best about trying to expand further under the spectre of Covid-19.
just-food: Freaks of Nature has announced investment in production capacity. Why has the company embarked on that project?
Peter Ahye: Over the last few years, we've seen some really significant growth. With growth coming down the track, we took the decision around Christmas time. We struggled to hit our volumes. The volumes came through thick and fast, we just didn't have the capacity to achieve them. It outperformed everybody's expectations and we said we needed to be ready for next Christmas and for the growth that we'll see with existing retailers as well.
just-food: What will be the site's capacity when the investment's finished?
Peter Ahye: We will be able to produce somewhere between 8.5 and ten million pots of desserts a year. We don't co-manufacture. I wanted very much to have control. Having the factory's really helped us because we can we do the development in our development kitchen, and then we can take it into the factory and work on the nuances that come as a result of scaling up.
just-food: Your career includes time at United Biscuits. Why did you return to the food industry to set up Freaks of Nature?
Peter Ahye: Having done what I call a corporate career as a CFO in various businesses – UB, Next the retailer, I did a big turnaround at a business called Shop Direct – I always had a hankering for 'could I run my own businesses? Could I set something up?' Food's an area I've got a natural passion for. The idea was stoked out of have a conversation with a vegan lady who said she couldn't buy desserts at the supermarket and, when I started to do my research, it was really obvious that she was absolutely spot on.
just-food: In five years, you're selling into the major multiples in the UK.
Peter Ahye: I think it was a case of identifying a product range, having a clear vision and being able to make it yourself, that really interested the retailers. They started to talk to us about own-label and we said 'We can't do own-label for you unless you support our brand' and it gave us a good leverage in to some of the retailers, and will continue to do so for the foreseeable future. Free-from and plant-based desserts is still a relatively small part of the market but it's an area that will continue to grow.
just-food: How do your sales divide up between brands versus own label?
Peter Ahye: We'll probably be 70:30 in this financial year, something of that order, in favour of brands. It's really important that we continue to stay focused on being a branded organisation. The retailer will always be loyal to their brand, so if they can get it cheaper or faster from somebody else in the future … We don't want to over expose ourselves to that. At the end of the day, we're trying to build a brand, which has value to it. Our focus would be to keep it in that – certainly north of 60%, I would say.
just-food: In the business' last financial year, what were its annual sales?
Peter Ahye: It ran to March 2020. The business did just short of GBP1.5m (US$1.9m). This year, it's targeted to do GBP3.5-4m.
just-food: Is that what you were expecting to hit pre-Covid-19?
"Free-from and plant-based desserts is an area that will continue to grow"
Peter Ahye: Covid's been a hindrance. Covid's been fantastic for certain categories, so sales of flour, massive sales of Golden Syrup, things like that, staple products. Anything that's really fresh, for-now, didn't really sell. That's starting to reverse now.
Our sales declined and held steady and are starting to grow back to the pre-Covid levels. We've missed our target but we're still well up on last year. Quarter-on-quarter, our first quarter of this year we'll be the thick end of 100% up on last year, just because we've got more listings and more products in the marketplace. We were hoping to be much higher than that but that's the steam that Covid took out of the business.
The reality of it was we were nervous. We're a small supplier, we could be deemed, in that complex situation. The big advantage, though, that Covid-19 has given to us is it's locked the buyers in their houses and it's meant we've got access to them. That's really helped shore-up the relationships in the near term. We were apprehensive but then things opened up quite nicely. We've got new listings going into retailers. just-food: Broadly, packaged food is relatively recession-resilient but manufacturers, with these economic storm clouds on the horizon, will be having to think about how they can appeal to a greater number of consumers becoming more value conscious.
Peter Ahye: We had already made our moves to do that. Our whole range was singles and we're moving everything, bar our trifle, into twin packs. We're moving to fully recyclable plastic on everything, away from glass. The reality is it's expensive. We sourced everything that can be recycled – from the cardboard, to the film, to the pots. The savings that we made on the pots, we've reinvested into products. The consumer will get the best part of 50% more product in the pot than in a glass ramekin they may or may not use. The headline price comes down. If you bought Freaks of Nature, it'll cost you GBP4 for two. It'll now cost you GBP3.50 for two and then we'll promote from GBP3.50 down to GBP3 broadly.
It makes it more accessible for the consumer. People accept that you will never get as low as dairy because dairy, white sugar, white flour and eggs, which form the basis for the vast majority of dairy-based desserts, are as cheap as chips. We're not going to try and compete with that head on but we had to realign our value proposition, particularly as people are looking to make the switch from animal-based products into plant-based products. They still need to feel 'I'm happy to do it but equally it needs to offer good value for me.' Back to your specific question, we've started that process anyhow. We will see how consumers respond to it. There'll be lots of guessing. Nobody really knows. I think all we can continue to do is try and offer that value proposition, and make our products taste as good as we possibly can at the moment and continue to improve on those at the time.
just-food: Does Freaks of Nature have any business in the foodservice sector?
Peter Ahye: Very little. We were literally about to sign two people up at the start of this year to go on a foodservice push and, because of the challenges of producing what we needed for our retail businesses, we held off doing that. We're lucky that we haven't invested lots of money in that but it's something we'll look at because at some point. The foodservice sector will start to come back.
just-food: How do you see the trading environment taking shape in 2021?
Peter Ahye: I don't believe we'll see a V-shaped recovery. If we were chatting in 12 months' time, I think we'd be starting to talk about 'green shoots' again territory. I don't think it's anytime this year. It's going to be a bizarre Christmas this year. We will have a spike again in cases. Until there's a vaccine that says we could kill this thing off dead then there's always a risk of it. There are people that I've spoken to, though, where their businesses are absolutely flying, not just in food, but my view is it'll be 12 months before we start to see any real confidence back in the system.
just-food: Do you see food manufacturers supplying into grocery retail suppliers continuing to be advantaged, versus those with business with the foodservice market?
Peter Ahye: Yes, in the primary categories of essentials, if you've got something essential in grocery, you should be in good shape. I think if you've got something in grocery and it feels a little bit discretionary, it could be tough-ish – and I would probably put ourselves into that category. But if you're in grocery retail, you've got a fighting chance.
just-food: What kind of levers will you look to pull to try convince consumers that, even if you are a bit discretionary, they should still indulge with your kind of products every now and then?
Peter Ahye: As a private business, no external funding, it gets really ballsy, putting your hand in your pocket and spending a bit more money on social media. One of the rationales for that is there's more people in their home, so with some targeted stuff, we can start to talk to consumers. The problem I've got with my product is it's not a telephone. It's not GBP150 worth of spending where you go 'That's prompted me to buy it. I like that. I'm going to buy it.' My product is GBP3.50 for a twin pack; if it makes you start your weekly shop, I'd be absolutely amazed.
We're going to do some targeting with some marketing spend. The vast majority of the spend is going to be 'It was GBP3.50 full price. It's now GBP3 pick-me-up. For a twin-pack, it's exceptional value for plant-based. It's great tasting. You've got to buy it.' There's not many more levers you can do. Normally you'd do some sampling – which is really expensive to do – but you're not getting the footfall in stores at the moment.
just-food: Any plans to launch into markets outside the UK?
Peter Ahye: We've had a look. All of our products are frozen recovered to chill. By being frozen, we're able to export. We're focused on the UK for the next six to 12 months, I think. We've had some initial discussions, but I can't see that stuff opening up anytime soon.
just-food: Does your existing growth strategy need any external investment?
Peter Ahye: No, fortunately, I managed to line up, with myself and the initial investors, people with deep enough pockets.
just-food: Are you the majority shareholder?
Peter Ahye: No, not any more. I had to transition away from that to get more money into the business in the early stage but I'm still a significant shareholder.
just-food: Do the other shareholders prefer to stay out of the limelight?
Peter Ahye: Yes, because they're not from the sector at all. They're business people and they've got money to contribute.
just-food: Is the business profitable?
Peter Ahye: No, not yet. I think within 12 months we'll be at that break-even stage. I know profitability's an important measure. For us, our real measure is are we getting the listings and further distribution … and, really importantly, do you make a gross margin that makes sense when you sell stuff? We've invested in a property, a sales director, technical director, we've just brought in a new MD to run the business day-to-day, because it's of that size now where it's got daily things to do and for somebody to manage.
So, we've invested in a core team but, as we grow, we have a lot more of that dropping through. We may never be profitable. We may just continue to invest in marketing, because a lot of these brands, you just ramp it up again, you go again on the sales. The sorts of numbers I'm talking about getting to this year, if we double our distribution in retailers, then you pretty much double the business overnight. Our focus is on driving rate of sale and so on because there's a lot of available volume, just from existing retail space.