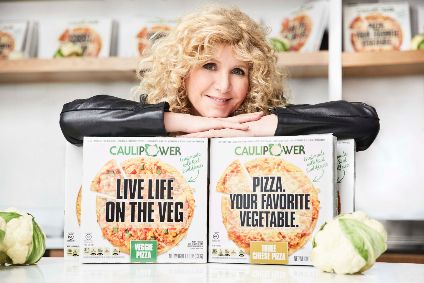 Gail Becker gave up a lucrative career in PR to run her own food business. She talks to Dean Best about the growth of – and ambitions for – US frozen-food firm Caulipower.
"Never in a million years could I have predicted anything close to this."
Gail Becker, the former PR executive-turned-food entrepreneur, is reflecting on the rapid growth of her three-year-old, frozen-food business Caulipower.
"People go to business school, come up with a business plan and execute on that plan. This is not that story. This is a story of someone who saw a need hiding in plain sight."
In 2016, following the death of her father, Becker decided to quit her job as a president at global PR giant Edelman and "do something more meaningful". As the mother of two sons with coeliac disease, Becker had observed the rise of the gluten-free market in the US but wasn't wholly convinced about the quality of the products on offer. "I had a really good perch from which to watch the gluten-free industry evolve and I began to notice how much junk they were putting in the food – more fat, sugar, salt and calories and less nutrients. And that's certainly why I created Caulipower."
Not that the gluten-free consumer was Becker's sole target. Practised in making cauliflower-crust pizza for her sons, she launched Caulipower as a business offering, she says, "better-for-you pizza that tastes great and happens to be gluten-free".
After its market debut in February 2017, Caulipower's namesake pizza is, Becker points out, the eighth-largest frozen-pizza brand in the US, "regularly driving more than 50% of category growth"
California-based Caulipower, with sweet potato 'toasts' and tortillas also in its product range, has risen to become a business set to turn over around US$100m in sales this year, pretty rapid growth for a firm set up a little more than three years ago. And it's growth, Becker says, that has contributed to a US frozen-food market that is "on fire".
"One of the things that made our pizza so popular amongst retailers is it brought people into the category that haven't been buying frozen pizzas for quite some time," she tells just-food. "I hear all the time about how Caulipower is the first frozen pizza they had bought in years. And we think it will be very much the same way with the chicken tenders."
The latest product off the Caulipower development line is a baked chicken tender with a coating made from cauliflower, food the company has touted for its zero saturated fat, lower-than-usual carbs and higher-than-usual protein and fibre.
"This will also bring a lot of people back to the category that have haven't been there for quite some time due to traditionally unhealthy nature of frozen chicken aisle," Becker asserts. "It's going to revolutionise the way that people are approaching a food that is traditionally fried."
Convenience was also a factor. "We noted people were spending a lot of time on taking chicken tender meat, coating it in everything from cereal to tortilla chips, and then baking it or putting it in their air fryer. They were doing that because there was nothing like it that the industry had given them. There was nothing in stores."
Caulipower secured listings for the tenders in 8,000 stores in the US, including at Walmart, Kroger and Sprouts. "It's a lot of stores for two reasons," Becker says. "The retailers have had great success with the Caulipower brand and it speaks well to the trust that they have placed in us. But I also think it speaks to the truly innovative and category-busting nature of this product. There is nothing like it. We are 82% less fat than anything on the market we have 42% less calories than the category average. There is no oil, there is no sugar, you can eat the entire bag for 480 calories."
The "solid, rapid growth" Becker says Caulipower has achieved in its three years in existence has, of course, not been without its challenges. "Often-times I sit on panels for other entrepreneurs and I always try and talk about the bad as well because it's sort of the stuff that you don't see," Becker reflects. "And it is hard. It is hard, hard, hard. There has been a challenge every single, solitary day since the day I started this business. Keeping up with demand is quite challenging, as is finding the right staff and finding people who share your vision, who want to join the team and want to put in the hours that is necessary when you're trying to build a brand on a ride that is as wild as ours. Those are the two biggest challenges."
The ride has seen Caulipower take on some investment. US venture-capital firm Boulder Food Group, set up by Tom Spier, the food entrepreneur behind the EVOL Foods convenience-foods brand, has backed Caulipower to the tune of $10m.
"That was the really the right decision for us because we needed that money to grow and they've been fantastic partners," Becker, still Caulipower's majority shareholder, says.
Looking three years hence, Becker sees Caulipower's pizza and new chicken tenders as central to the company's plans to grow sales further. "We're going to continue to sell a lot of pizza," she insists. "Even though we are the number eight frozen-pizza brand, we don't have even 2% of the frozen pizza market, which shows you the size of the market. We're definitely going to capture more of it. We also believe our tenders will do for the chicken category what our pizzas did for the pizza category."
But what of the competition in pizza? There are, of course, some major names among the more conventional parts of the US pizza market, from Nestlé to Schwan's. And while Nestlé is home to household brands like DiGiorno, it has also brought that pizza-making background to newer, more health-oriented assets like Sweet Earth, the US veggie-food business it snapped up in 2017. Last year, the Sweet Earth brand moved into the US frozen-pizza market.
"There's two ways to look at competition," Becker says. "One way is to look at it quite fearfully, sort of always looking back in the rear-view mirror The other way is [to think] isn't it wonderful that we live in a world where people have so many more choices? The only thing that gets me frustrated is when people offer choices that you know aren't necessarily a benefit to the consumer or when they sacrifice taste in that mission. I think the only person that benefits from competition is the consumer and that's fantastic. And when the consumer wins, we all win."
That's not to say Becker and Caulipower isn't ready to compete and use the full range of marketing, merchandising and pricing tools at its disposal. "We do some traditional things. We do some less traditional things," she says. "We followed a lot of rules in building Caulipower – there's no question – but we also broke a lot of rules and we continue to break a lot of rules and everything we do whether it's promotions or marketing."
Would Becker consider taking on further investment to help the company navigate the competition meet its growth objectives? "If there's one thing I have learned in the last several years of running Caulipower, I never say never. Right now, we're good but, you know, in this crazy business you never know what tomorrow brings."
Alongside pushing the pizza and tenders, Caulipower's growth agenda does include plans to enter more categories – "We will have a new product, at least one in 2020, which we're very excited about," Becker says – as well as trying to grow further in the US foodservice channel and over the border in Canada. She notes the "vast majority" of Caulipower's sales, at present, are through the US retail market.
"Our pizzas today are in about 5,000 locations, a lot of regional pizza chains and restaurants. Our tortillas are in foodservice in some big, regional chains around the country," Becker says. "The thing with foodservice is starting out is so hard, just trying to build that distribution – but we've done the hard part, so now we're really able to move forward with really fuelling our foodservice business. And we expect great things in that business in the year ahead, including with our chicken tenders."
The tortillas will soon join the Caulipower pizzas already on sale in Canada but, for now, that's as far as the company's geographical expansion is going. "We do get a lot of requests but we're still focused on on the markets that we're in. We never say never but that's our current plan right now," Becker says.
And does Caulipower attract another sort of interest, from corporates eyeing up the business' growth so far? "We just keep our eye on doing what we do every single day. Being able to build Caulipower has really been the privilege of my life – other than my kids, of course – and I'm going to keep doing it until someone tells me I can't do it," Becker says. "I'm trying to run the business as best as I can every day."