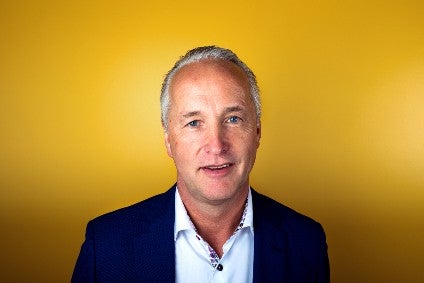 With fresh investment in hand from US confectionery major Hershey, Ireland-based nutrition snack bar start-up Fulfil hopes to build on its impressive growth to date. Simon Harvey speaks with chief executive Brian O'Sullivan on the challenges ahead, particularly with Brexit around the corner.
In some respects, healthy snack bar brand Fulfil is still a nascent company having only started out in 2016 but the Ireland-based business is already targeting sales in excess of EUR100m (US$111m).
And Fulfil is seemingly ticking the right boxes after US confectionery heavyweight Hershey took a minority stake in the firm last month, adding to the 25% acquired by Ireland's largest lender, Allied Irish Bank (AIB), in 2018. Barry Connolly remains the major shareholder through his Richmond Marketing business after his two other co-founders – Niall McGrath and Tom Gannon – were bought out last August.
Chief executive Brain O'Sullivan would only reveal to just-food that AIB's holding is larger than the minority interest taken by Hershey, while Connolly's ownership represents more than 50% of the firm, which counts Ireland as its biggest market but with the UK catching up fast.
O'Sullivan joined Fulfil in October 2017 having served at another snacking powerhouse Mondelez International for 17 years, both before and after the Cadbury takeover in 2010. He spent time serving in Ireland as managing director for that business and also a stint as the European director of sales strategy.
In Ireland, Fulfil supplies to Tesco, Marks and Spencer and convenience stores, and in the UK it is in the same two major retailers, along with Sainsbury's, Morrisons, Asda, The Co-op, Waitrose and Ocado.
just-food: Why did Fulfil decide to sell a stake to Hershey?
Brain O'Sullivan: We are still a very young company but we've been experiencing rapid growth in the UK and Ireland, in Australia, Belgium, and the Netherlands. And in a high-growth company you are always looking for investment to fuel that growth. It was a bit of a surprise as it's not something we would have been expecting. They took a really keen interest in the business and what we have achieved already and also what our future plans are.
just-food: Does the deal with Hershey mean you will automatically be going into the US?
Brain O'Sullivan: Not at all. The US market is very attractive. If the UK is the biggest snacking market in Europe, the US is the biggest snacking market in the world. It's a hugely attractive market. A lot of brands have been successful in the US but many more have failed. So it's not something that you would do lightly or jump into.
When you look at Hershey, they are looking for a brand that is disrupting the snacking market. For somebody with the scale of Hershey to come in and say they believe in it as well is a huge confidence boost and a huge endorsement of what we've done to date but also our plans for the future.
just-food: What will Hershey bring to the table?
Brain O'Sullivan: The short-term benefit is we can use the investment to fuel growth. Our principal growth markets are the UK, where we are currently the 17th biggest single-bar brand. We hope next year to be in the top ten, may be knocking off Bounty or Cadbury Twirl. So we have very aggressive plans and that investment will really fuel those plans.
just-food: Was the UK the first export market outside of Ireland?
Brain O'Sullivan: Yes. The way we look at it, to be successful in Europe you have to be successful in the UK. So it's our number one focus growth market and has been for the last 12 months. What's surprising is, and what's really encouraging, is that our performance in Ireland hasn't stopped and this year we are growing more than 20%. We are already the number two snack bar brand in Ireland, second to Cadbury Dairy Milk. There seems to be no limit to what the potential of the brand is if we get all the dynamics right in terms of the market.
just-food: How is the UK market developing?
"The UK should be our biggest market, if not next year, then certainly the year after"
Brain O'Sullivan: Ireland is still our biggest market overall but the biggest growth is coming from the UK. And the potential, because of scale, is the UK should be our biggest market, if not next year, then certainly the year after.
just-food: What about in percentage terms?
Brain O'Sullivan: About a third of our business is in the UK. Facing into the uncertainty of Brexit, two thirds of our business is still outside the UK, which is a stronger financial position to be in when you're facing this uncertainty. It's hard to judge because Australia could grow and Ireland is still growing, but I would expect it to be half this time next year.
We are a company based in Dublin, mainly employing Irish people, but our ambitions were very much international in scope when I came in 18 months ago. We have 24 people in the business in total – four are in the US, two are in the UK, one is in Spain, and the rest are based in Ireland.
just-food: What is your biggest fear ahead of the new 31 October Brexit deadline?
Brain O'Sullivan: Has everyone not moved beyond fear at this stage? Whatever it is let's just get to it so we can deal with it. We have taken short-term measures to make sure we have enough stock in the UK to satisfy customers if there are any issues around ports and so on. The biggest challenge I think will be what will happen to the value of sterling versus the euro and the dollar and what will that do to general pricing in the UK. Will prices go up, and if they do by how much and what impact will that have on consumer confidence? Will tariffs go on?
But when I look into it I think every major change I've seen over my career has always offered both opportunity and threat. I think we are a very agile company, we are very aligned between the shareholders, the board and the management, so I think as soon as we get a new piece of information, we decide on it and we act. And that's what I'm going into Brexit with, we've done all the short-term stuff, nobody has any idea of what the longer- or medium-term implications are, and we'll find out soon enough after 31 October. Let's be really quick and agile to react to it and hopefully there will be opportunities.
just-food: You've made contingency plans but have you had to stock up on ingredients?
Brain O'Sullivan: Our manufacturing is in Continental Europe. We've looked at what ingredients come out of the UK into our factories on the Continent and then product going back into the UK and also product going to Ireland because the main travel route between Continental Europe and Ireland is through the UK and UK ports. So we've been looking at what our stock holding is in Ireland and the UK: have our manufacturing bases got enough on that side? That's all I think you can do in the short term and that's going to run out at a point in time and we are going to be left with the reality of what does it all now turn out to be. I think that's where the agility comes in to figure out where are we and what we do now.
just-food: Is all your manufacturing on a contract basis?
Brain O'Sullivan: Yes. We have two partners and we've been developing and reinventing our bars with them, particularly over the last 18 months. We launched two products last year, we've launched two this year and they count for 70% of our sales. The products we are bringing out are so much better than what was there three years ago. We've got to keep the pace of that going so we are satisfying consumers better than anybody else.
just-food: Is the company eyeing any more export destinations?
Brain O'Sullivan: In the first 18 months of the business we went into quite a few markets in Europe and Australia. The business at the time wasn't really geared up to take on that many markets so we've said let's be less ambitious in terms of opening new markets, look at the markets we are already in, and then develop strategies to see how do we build a sustainable position in those markets.
The UK is probably the best example. We've made great strides, particularly within the last eight or nine months. Last October, we were sitting on 9% distribution, and today we are sitting on 56%, which is a huge shift. So we have to continue that. It's a big market that's going to take a lot of time and resource.
But then outside of the UK we have Australia. We launched into Coles last year, which is about 40% of the market, and we've launched into Woolworths in the last three months. There's huge potential in Australia.
And Belgium and the Netherlands – the Netherlands is the bigger of the two. We started our business there [Netherlands] with Albert Heijn last year and it's doing really well. We are growing year-on-year now by about 30% in Belgium and the Netherlands. So for us that's another key market where we need to continue that growth, establish our position and grow from there.
just-food: What are you turning over at the moment?
Brain O'Sullivan: This year we will turnover about EUR35m in manufacturing sales value (distributors) and at a retail sales value at a consumer level it's closer to EUR80m. Last year we did EUR26m of manufacturing sales and around EUR50m in consumer sales. We have third-party partners as distributors in markets including Ireland, so we don't have our own sales force. We work with Richmond Marketing in Ireland, Redstar Brands in the UK and Manassen Foods in Australia.
just-food: How does Fulfil plan to keep abreast of the market?
Brain O'Sullivan: We have a real understanding of the importance of not just delivering health benefits like high protein, low sugar, and vitamins but that people who snack generally want to enjoy the snack. But we've got to keep pushing the boat. We've got to keep pushing on texture. If you took a protein bar five years ago it would have taken you a while to chew it. Our bars today are much lighter, much easier to eat and digest and then we've added chocolate and different flavours to get that taste. So what was just a functional experience of eating a protein bar is now an enjoyable experience. We need to continue that.
Single-serve snack bars are the biggest format of snacking. We are still growing, we are still developing, getting our range right, getting our distribution right, building the brand. So in the short term there is a huge amount of work to be done and we want to make sure not to lose focus and start diverting off into other categories until the timing is right. We will do it in time but not today. We are not a fitness brand for people who are seven days a week at the gym. We are a brand for everybody who is leading a busy active life. And that's allowed us to play in a much bigger category.