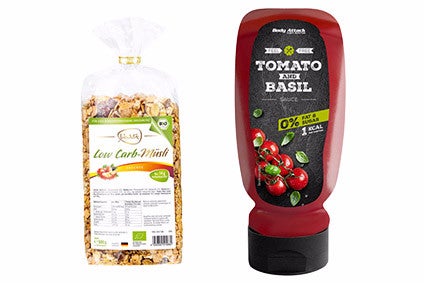 As in many western markets, sports nutrition is one of the growing parts of the food market in Germany. John Shepherd talks to German company Body Attack, set up two decades ago as consumer interest started to take off and now a leading player in the field.
A growing number of consumers in Germany are showing interest in sports nutrition, as they link regular exercise to health and incorporate sports nutrition products into their health regimes.
One German company – Body Attack – saw the business potential for sports nutrition when founder Jan Budde sprinted into the market as an entrepreneur more than 20 years ago. Today, his company is a leader in the field and has extended its range into more mainstream food products.
As a young man in the early 1990s in Germany, Jan Budde quickly grasped the business potential of the country's increasing interest in working out at fitness centres as an extension of a healthy lifestyle.
Then a student at Braunschweig University of Technology, Budde made some much-needed extra cash when he hit on the idea of selling dietary supplements door-to-door to gyms, fitness halls and wellness centres. By 1994 he stepped up his fledgling business by manufacturing and selling dietary supplements of his own, with the help of a friend, under his Body Attack label. Budde was soon selling his limited range of supplements and protein items, boosted by the help of another friend who ran a fitness centre and introduced the Body Attack products to his clients.
Today, Hamburg-based Body Attack's portfolio extends to a wide range of better-for-your food products including cereals, spreads and sauces. Its business has also grown to take in more than 30 markets outside Germany. The company has around 130 employees and has gone from selling a limited number of products via an e-commerce site to supplying more than 38 countries and building up a range of customers from fitness clubs to drug stores and, in Germany, supermarket majors including Edeka.
Budde, Body Attack's managing director, is not an entrepreneur who enjoys the media spotlight, preferring instead to work behind the scenes. It is Body Attack's marketing and sales director, Jan Sellmer, the company puts forward for interview to discuss the business' growth plans.
Sellmer tells just-food Budde "is still very involved in the company in developing new products and "even does some of the market research work himself." He claims it is Budde's ongoing personal commitment to developing the firm and its products that has seen Body Attack go from being a manufacturer of food supplements to being a "key player" in the overall health and wellness sector, with a growing range of products that now takes in food including cereal and condiments.
Body Attack does not divulge its sales or profits but Sellmer says the company is forecasting solid growth over the rest of this decade and into next. "Let us say that we are expecting up to 50% more sales in some channels in the next five years."
The company's expansion has not been entirely smooth. Sellmer says Body Attack talked to health food outlets in Germany about placing its products in their stores as an initial move but with little success. "At first, other stores did not want to work with us to sell our products. So we opened the first store of our own in Germany five years ago. One of the biggest developments for us has been launching into the shopping malls with our own stores," Sellmer says.
The idea to open its own stores came on a visit by Body Attack's management to the US and touring shopping malls there. "We saw a lot of specialist retail stores in the malls and we thought this could also work well in Germany," Sellmer says. "We saw the opportunity to sell to the different groups in the sector such as body builders or those who just wanted to follow a healthier lifestyle."
Today, Body Attack has 37 of its own stores across Germany and Austria. "By the end of 2016, we expect to have opened another three stores and another six stores are planned around the country in 2017," Sellmer said. Most of the outlets are around 50 to 80 square metres in size and Body Attack also sells "specially-selected" other branded products.
Body Attack products can now also be found on the shelves of major supermarkets in Germany such as Edeka, where Sellmer claims the brand has a "big presence". "We are also involved in talks with Rewe and we are now also very close to selling our products in filling stations," he adds. Products sold are set to include protein pizza and ice cream.
The company is coy about plans to expand retail opportunities for its range of products, but Sellmer says: "We are in negotiations with big new retailers in Europe," adding Body Attack is forecasting a 15% increase in international sales in 2017.
Central to Body Attack's plans will be product development. The company's mission continues to be "doing it better", Sellmer says. "There are of course other products out there and there were other healthy food brands around when we started, but our founder wanted to better them in terms of quality and taste. Today we have something like 1,600 products in our line including a range of protein shakes in 15 flavours."
Body Attack's range is broader than protein shakes. Sellmer says products including muesli, hazelnut spread and peanut butter are popular choices for fitness enthusiasts and "lifestyle consumers". The company's product development this year has included the launch of a range of sauces and dressings including a caramel syrup and a BBQ sauce. New products under development include a white chocolate protein spread and a low sugar high protein bar which is set to be launched in February.
Asked whether sports nutrition enthusiasts are really interested in buying these products, alongside the basic protein shakes, Sellmer's answer is an emphatic "yes". "They are searching for low-sugar, low-fat alternative products. Normal ketchup and BBQ sauce is full of sugar. Ours is not."
Sellmer says Body Attack's product development work is based on what he calls a "strong trust base" among consumers. "Those who buy our products know we have grown out of the health and fitness sector and they trust us to care for the quality of what we produce for that sector," he insists.
The new line of products is also attracting interest from more mainstream or "lifestyle" consumers, Sellmer says. "We are getting a lot of new customers with this new category of products. It is more for lifestyle reasons than sports nutrition reasons. People want to live healthy. They are searching for solutions and help. This is why they are coming to us. We can provide products for this healthy lifestyle."
The interest from more mainstream consumers in Body Attack's ever-expanding product range comes at a time when the market for core sports nutrition products in Germany is showing signs of slowing.
Euromonitor says its recent research shows sports nutrition – which it defines as including products like bars, powders and drinks – will "continue to record healthy current value [sales] growth" in 2016, thanks, it says, "to the ongoing fitness and health and wellness trends".
"In order to stay fit and healthy, more consumers every year are committing themselves to regular exercise," Euromonitor says. "Many of them additionally are trying to enhance their energy and fitness levels or build muscle by using sports nutrition products, (but) even though sports nutrition has finally started to reach the mainstream, its sales and penetration are still evolving."
However, the growth in retail sales of those sports nutrition products in Germany is set to be lower in 2016, than at any time in the past five years, according to Euromonitor's data. Just looking at the last two years of data, in 2014, retail sales grew 16.5%, easing to 13.8% growth in 2015 and they are forecast to slow again to a growth rate of 7.5% in 2016.
Sellmer says he has seen the Euromonitor data but insists the easing of the growth in retail sales in Germany was "not the main reason" for Body Attack's drive for product development and its international expansion. "We expand internationally because we have really good products and good contacts worldwide with good partnerships. International growth has been our company's strategy for many years," Sellmer says.
He insists the company had anticipated a slowdown in the growth of demand for the core sports nutrition lines in Germany. "In regard to product development, we are always working on smart and new solutions. We saw two years ago that there would be a change in consumer behaviour. That is why we started working on new product categories and are still doing so. A lot of new Body Attack products will be launched in the coming months. Another we have just launched is Protein Truffles, which has massive demand."
Alongside its expanding portfolio, the growth of Body Attack itself has potentially made it a tasty proposition for acquisition. Sellmer says the company frequently attracts the interest of potential suitors, all of which are rebuffed. The founder, he adds, has "no intention of selling the business, which he regards as his baby".