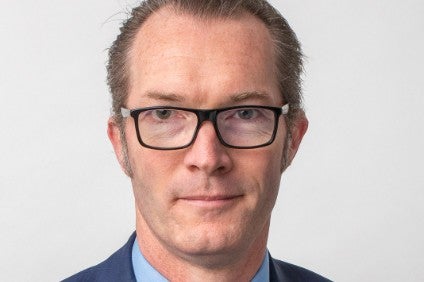 Greencore's exit from the US leaves the Ireland-based own-label supplier to focus on the UK. Speaking to Dean Best, CEO Patrick Coveney surveys a market he sees as in flux.
Greencore's decision to quit the US leaves the Ireland-based own-label manufacturer with a business straddling both sides of the Irish Sea – but one that generates the vast majority of its sales in the UK.
The sale of Greencore's US operations means the group is ostensibly a UK-focused convenience-foods business, leaving to one side the 5% of sales it makes from selling ingredients in Ireland.
Greencore is one of the largest players in the UK own-label market, supplying retailers and foodservice customers a range of products including sandwiches, salads, sushi, soups and ready meals.
Through organic growth and M&A, Greencore has, in the UK, grown to become a business generating annual sales of GBP1.4bn (US$1.82bn), according to figures for the financial year to 29 September 2017 (the most recent accounts are due next month).
In his 11 years as Greencore CEO, Patrick Coveney has worked hard to build operations on both sides of the Atlantic. While Coveney says he will miss doing business in the US, he insists Hearthside Food Solutions' offer for Greencore's US arm was one the company could not refuse – and believes there are more opportunities for growth in the UK.
"We have very exciting things we can do in the UK," Coveney tells just-food.
Some 70% of Greencore's sales in the UK are in food-to-go products, which Coveney says Greencore – the country's largest sandwich manufacturer – defines as "everything that's sandwich-type, so wraps, rolls, sandwiches, baguettes and we also group salads and sushi into that".
Announcing the sale of the US business in October, Greencore touted its "industry-leading position" in the UK, which, it said, generates "attractive growth and returns". There are, the company told investors, "significant opportunities in a dynamic UK marketplace".
Greencore pointed to how the UK's food-to-go category has been growing at almost three times the rate of the nation's overall food sector. That growth is set to ease a touch but Coveney expects food-to-go to continue to grow at around twice the pace of the UK food market as a whole.
And it is the underlying growth of the UK food-to-go market – which industry researchers The IGD see at a compound annual growth rate of 5% between 2018 and 2023 – that Coveney sees as "more important" to Greencore's continued growth in that category.
"We've benefited from a growing market but we've also been able to build our share very significantly through organic growth, customer wins and acquisition activity. As we look at the food-to-go piece of the market, I think the scope for us to build out that part of our business through acquisition or big new business wins is less than it might have been in 2011 or 2012," Coveney explains. "We think we can do more with food-to-go but it'll be at more modest levels than the sort of explosive growth we've had in the last seven years."
However, the Greencore chief executive underlines the company plans to keep pace with the growth of the overall food-to-category. "That's the minimum that we have to do because otherwise we're not doing a good job for our customers."
Manufacturing shake-up to follow retail consolidation
Greencore's largest food-to-go customer is upmarket UK grocer MARKS AND SPENCER, followed by The Co-op, the country's sixth-largest food retailer by market share. It does business with each of the UK's so-called Big Four supermarket chains – Tesco, Sainsbury's, Asda and Morrisons – and has some contracts with some foodservice operators, although the thrust of the manufacturer's food-to-go contracts is with supermarket chains, including their small-format stores and their in-store, foodservice-style cafeterias.
Food manufacturers doing business in the UK have seen significant changes in the make-up of their potential customers, with a series of deals being done in recent quarters, including Tesco's takeover of wholesaler Booker and The Co-op's acquisition of UK convenience-store and wholesale business Nisa.
In April, Sainsbury's and Asda, the UK's second- and third-largest grocers, announced plans to join forces. At the time of writing, the deal is being scrutinised by the UK's competition authority. Should the combination go through, it looks set to present challenges to some suppliers.
Coveney is sanguine about the impact that deal could have on Greencore – not just on its food-to-go business but on its overall convenience-food presence – although he says the recent wider consolidation in the UK food market will be one factor that will lead to some "volatility" for manufacturers over the next couple of years.
"You're seeing a pretty dramatic level of change in retail and wholesale ownership with a pretty sustained trend of consolidation [and] of independent convenience stores coming under the ownership and/or influence of traditional grocers. You've got the impending combination of Asda and Sainsbury's, which is a specific event involving those businesses, but also has a kind of knock-on [effect] on the response of everyone else," he reflects.
However, Coveney adds: "I think it's very likely the customer set we have today is very largely what we will have going forward. Over time, I see us broadening out the convenience-food categories that we supply them with and also becoming more and more relevant to the format growth strategies that they're pursuing."
The sale of Greencore's business in the US will, as well as reducing debts, give the company more resources in which to invest in the UK. Some of that will be driving organic growth but there is the possibility of Greencore looking for acquisitions.
Coveney believes the UK private-label sector is set to see more M&A activity and he says Greencore will be in the market for deals, although he insists the company will not pay over the odds.
"I have a view that the UK manufacturing market will likely experience a level of consolidation and reset similar to what we're seeing [in retail]," Coveney says. "You can see bits and pieces of it happening already. The announcement last week of 2 Sisters selling on some of their business to Samworth [Brothers] has followed on from a series of other disposals 2 Sisters have done. You've seen a reconfiguration in the desserts market with us coming out of two parts of it this year.
"I think you'll see [consolidation] accelerate. We clearly have resources that will enable us to grow the business in a number of different ways. But just because we have the resources doesn't give us the mandate to overpay for things. We plan to be an active consolidator but we're not going to chase consolidation where it doesn't make sense."
Coveney refuses to be drawn on which particular parts of the UK private-label market Coveney expects to see some consolidation – "It would be inappropriate for me to be too specific on that" – but he is open about how he sees some (albeit unnamed) categories could take shape.
"What I can say is if you look at the structure that has emerged in sandwich production in the UK, if the transaction of Samworth buying the 2 Sisters [assets] goes ahead, you end up with a high level of concentration and supply with, in this case, two – two-and-a-half really – suppliers left there with the resources to do a very good job to drive growth and performance for customers but also the resources to continue to invest, to keep that sort of virtuous circle of performance, growth, and investment going forward. That kind of model could make a lot of sense across a whole set of convenience food categories."
Warning on Brexit and availability of labour
Another factor that could add volatility to the UK food market is Brexit, which, as 29 March – the date when the country is set to leave the EU – approaches, is increasingly focusing the minds of all in business, especially in the food industry.
Coveney's brother, Simon, is Ireland's Minister for Foreign Affairs and Trade and central to that country's talks with the UK and the EU on Brexit.
At the time of writing, there are reports UK and EU officials have agreed on the text of a draft withdrawal agreement, with the British Cabinet reportedly set to meet today to discuss the text.
Speaking to just-food on Thursday (8 November), the Greencore chief executive says his "best sense" was the UK and the EU would sign a withdrawal agreement before the 29 March deadline, which will, if it secures the backing of the UK Parliament, then at least pave the way for future talks on trade and not lead to a hard, or no-deal, Brexit.
"I have a lot of sources of information on this not just in Ireland but because of the status of our business in the UK and the industry and political engagements we have here. My view is Number 10 completely understand the economic consequences of not signing a withdrawal agreement and are absolutely motivated to be able to sign one," Coveney says. "There's only one thing that matters – that there's a withdrawal agreement. Anything else, whatever's in the future trade declaration, is a long-time thing.
"On the assumption a solution around the backstop for Northern Ireland can be found, you will have a withdrawal agreement that means continuity of supply chain and a pretty positive forward-looking declaration around what future trade will look like.
"It will take a very long time for that to get sorted. The history of how those trade deals play out is closer to ten years than five years. But if the declaration is sufficiently positive, if the withdrawal agreement is signed and it's voted through the House of Commons, the Brexit topic will move from being all-consuming in Britain to what I would describe as a technocratic matter. Trade negotiators will get on with the bottom-up work of figuring this out over a long period of time. In the meantime, Britain will be out of the European Union but the economic consequences will be very largely mitigated by the transition agreement and implementation agreement, and everyone will get on with their business, and at some point in the future new trade arrangements will emerge – although a long time in the future."
Coveney describes the prospect of the UK leaving without a withdrawal agreement and crashing out of the EU as "the abyss scenario", with negative consequences for the UK economy. "The consequences for Greencore would obviously be worse under that scenario but we believe them to be manageable because everything we sell in the UK we make here and 80% of the raw material and packaging we need we source here."
Away from the shorter-term concerns over supply chains (sizeable though they are), Coveney suggests a longer-term issue for the UK food sector is the availability of labour, with, according to trade body The Food and Drink Federation, around 34% of workers in the country's food and drink manufacturing industries coming from overseas. Some 30% comes from the EU itself, presently benefiting from freedom of movement around the bloc, a system the UK looks set to leave on 29 March.
"The near-term risk of a disorderly exit will be around the availability of raw materials and product and how integrated supply chains between the EU and Britain – and between the rest of the world and Britain – work. That'll be the issue to manage. My best sense for that is that would be painful, in certain product categories. Ultimately that supply chain piece will get reset. It may be a lot more expensive and that would be reflected in food inflation, but it'll ultimately get reset and I'm pretty confident of that. It's the transition that will be painful," Coveney says.
"Labour won't be a near-term issue but it is actually maybe the bigger long-term issue. The truth is 30%-plus of the UK food industry is made up of people who are from EU countries. Many of them have been here for a very long time. It's not like the country is awash with vast swathes of people who want to come in and do that. Britain does not have enough people to populate the full value chain of food, from farming to distribution to manufacturing, retail, hospitality."
For all that, Coveney does see opportunities for the new Greencore to continue to grow, even if it is now focused almost squarely on the UK. And he is looking forward to the work ahead, even after more than a decade in the hot seat.
"I love doing this job and I want to continue doing it. I think the opportunities and challenges that we have in the UK actually are very energising for me and our business and I think we've got the resources to be able to be proactive in going after it. That's what I want to do."