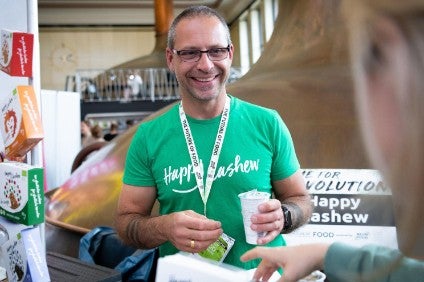 just-food: You've just returned from UK show VegFest. How was it?
Mudar Mannah: It was great to see the response for our product. It was a really, really nice event. Unfortunately, we have a slight problem with our UK wholesaler, Marigold. It burned down a few weeks ago and now we're looking to get another wholesaler. We're working on that. They were mainly distributing in the London area.
just-food: What's your UK presence?
Mudar Mannah: Mainly the London region. Usually we have been at Planet Organic, at Whole Foods and small organic vegan shops. Marigold was our distributor so we're in discussions with other distributors to get that covered.
just-food: Has the Marigold fire disrupted supplies?
Mudar Mannah: We are working with a vegan wholesaler, a distributor for smaller shops. This is working quite well but, because it's so small, it's not distributing to the bigger shops. We're in discussions to get the main distribution again on the run.
just-food: What are your biggest markets by sales outside Germany?
Mudar Mannah: The UK was before Marigold. It's a pretty big and very developed market already. They're not so many good cheese alternatives, handmade cheese alternatives, on the market. The demand is there. It just has to be covered.
just-food: Have you had discussions about selling into the big supermarket chains in the UK?
Mudar Mannah: We could supply them from our production capacity. The thing is the price point. We are quite a premium product with a high price-point. I think one or two years ago we were in discussions with Sainsbury but it's just not the right price for the retail market right now. Our cheapest [cheese] product is GBP4.50 (US$5.80) and the most expensive is about GBP9.
just-food: You're also present in France.
Mudar Mannah: We have a wholesaler there, we are in different small shops in France, not as big as the UK but the French market is developing quite fast right now.
just-food: Are there any other countries where you do business?
Mudar Mannah: We are in Austria, a little bit in Switzerland, a little bit in Italy, a little bit in Denmark, in Norway. Those are the main ones. It's mainly the cheese alternatives. The yogurt and drink alternatives we just started to try to get more broad. We've lowered the price of the yogurt alternative and the drink alternative to EUR1.49 (US$1.65) for the yogurts and EUR1.99 for the drinks. With this, we will get a much broader audience.
just-food: In your home market, are you present in the larger grocers?
Mudar Mannah: Not the [mainstream] retail market. In the coming three years, we will work hard to get into the regular retail market. Where we are broadly available right now is the organic market. We are with almost all wholesalers in Germany, so, the next step is to get into the regular retail market like Edeka, Real, Rewe. This will be the next challenge.
just-food: What is the category for cheese alternatives in mainstream retail in Germany?
Mudar Mannah: Mainly cheese alternatives based on starches, those who try to imitate cheese, but don't use traditional techniques from cheese production. They are concentrated mainly on cheap products. We differ from that because we don't try to imitate cheese. We use traditional techniques from dairy cheese-making. We use cashew milk to ferment it, bring the curd into shape and we have a real ripening period: for example, our camembert ripens for about two weeks. This is completely different to other brands that are using starches, aromas and binders to create something which looks, smells and maybe tastes a little bit like cheese.
just-food: How do your products smell and taste?
Mudar Mannah: It smells and tastes like a fermented product, it has acidity. What makes the difference is due to the ripening time and the living bacteria that are in those products, which are not killed due to heat. This gives a special kind of aroma. It doesn't taste like cheese but it tastes quite good, so a lot of non-vegetarians are very, very happy with our products. At the beginning, we had to name this product so we called it a cheese alternative but actually it's a product on its own, a new product category. For the future, we want to come away from this corner of cheese alternatives because we have a product which has value on its own.
just-food: Have you come up with a way of describing the product that isn't 'cheese alternative'? What would you call it?
Mudar Mannah: We don't know yet [laughs]. A fermented cashew product doesn't sound quite as sexy. It's also hard to create a new product category and for people to know how to use the products. Customers need information how to use them. There are similarities between cheese and our product – though it's not the exact same – so it was easy in the past to call it a cheese alternative but we have been attacked by a lot of lawyers and from the dairy industry because we're using the term. We won a suit regarding using the term 'cheese alternative' [but] for the future we are looking forward to name it differently. Right now, I don't have an idea of what this would be.
just-food: Are you still able to call the products a cheese alternative? What happened to the brand name Happy Cheeze?
Mudar Mannah: We had a few lawsuits at the beginning of 2018 where we were asked not to use the word 'Cheeze' and not to use the wording 'cheese alternative' any more. Regarding 'Cheeze' with a z, the law was quite clear that anything which sounds similar to cheese is not allowed to be used if it is not real cheese – so we said we would change the name for the products from Happy Cheeze to Happy Cashew.
In a way it was okay for us because at that time we also introduced our yogurts and our fermented drinks off the base of cashew. It had the consequence of being able to say 'We are more than cheese. We have also different products now like yogurt alternatives and buttermilk alternatives.' The company name remains Happy Cheeze Ltd.
And for the other [lawsuits], where they wanted to forbid us using the term 'cheese alternative', I said 'No, this has no legal base. If we just give in in this case, this will be not good for the whole plant-based community.' That's why we went to court and we won two times, so right now we are allowed to use this term.
just-food: Will you consider changing the name of the company?
Mudar Mannah: Not if we are not forced to, no.
just-food: What were the origins of the business?
Mudar Mannah: I'm an orthopaedic surgeon. Due to a change in my diet, I was missing good cheese alternatives. This was back in 2010, 2011 and at that time vegan was almost a bad word. It was not one that was socialised, I would say. I was also looking for an alternative business besides being a doctor. I tried out some recipes and family and friends liked what I did. I thought 'Okay, maybe I should make a business out of it.'
just-food: When did the first products go on sale?
Mudar Mannah: It was the cheese first, the 100g ripened one, which went on sale in October 2012. The cheese was made at home. We scaled it up and, at the end of 2013, I rented a small bakery and started to produce it on a more professional level but still as a one-man show. During the day I was working as a doctor and in the night I was making cheese.
The supermarket chain Veganz was one of my first customers, as well as some other vegan shops. I got a bank loan and started to plan a bigger facility. Since October 2016, we have been in a 700 square-metre facility, which will be extended at the beginning of next year by another 400 square meters.
just-food: What has given you the confidence to expand? 
Mudar Mannah: I was taking a lot of risk but I was sure the product was so good and had big potential and that the market was developing in the right direction. I'm always planning a few years ahead. Somehow I was foreseeing what is happening right now and that has given me the confidence just to go on with what I was doing. Right now the development of the market is showing that I was right.
just-food: What is the company's annual revenue?
Mudar Mannah: In 2018 we made over EUR1m on revenue.
just-food: And what are you forecasting this year? 
Mudar Mannah: I can't tell you that right now – but more.
just-food: Is the business making a net profit?
Mudar Mannah: I can't give you right now any answer because I'm in the middle of a financing round and this data is confidential. The first financing round was in the middle of 2017. And now we are discussing with some strategic partners and different investors, with one in the final phase, actually.
just-food: Who invested in the business in 2017?
Mudar Mannah: It was a family office who invested in Happy Cheeze.
just-food: Are they taking part in this new financing round?
Mudar Mannah: Right now, this is confidential. I think at the beginning of the next year I can speak about this.
just-food: What percentage stake in the business do you own?
Mudar Mannah: I own 60% of my business.
just-food: And after this round what level would it go to?
Mudar Mannah: That's confidential.
just-food: How are you looking to grow the business next year?
Mudar Mannah: The main target point would be to get into the retail market, mainly first in Germany, and then covering also the surrounding European markets.
just-food: What do you think you need to do to achieve that?
Mudar Mannah: It's quite a complicated process. With our new investor onside, we will have a strong strategic partner with which we will develop the strategy in more detail and see how we will cover these markets.
just-food: Is that strategic partner also a food company?
Mudar Mannah: You will know in January.
just-food: Are you facing increasing competition?
Mudar Mannah: The competition is increasing but we know how to scale our product without quality loss. We have a lot of experience in keeping [maintaining] our quality with scaling and this is knowledge other companies lack. They start at zero and we have seven years of experience.
just-food: Is this competition from other types of alternatives to cheese or specifically from cashew products?
Mudar Mannah: In cashew and other seed and nut-based products. What is also now coming are protein-based products, with pea protein, beans and lentils and all this kinds of stuff.
just-food: Why have you focused on cashew?
Mudar Mannah: We already have products in the pipeline, which we will introduce at the beginning of 2020, based on things other than cashew. It will be a protein carrier. Until now, we have been using cashews because it has similar characteristics to dairy milk when you process it. It's quite easy to use it instead of milk and use the same techniques from dairy cheese production.
just-food: Is increased competition the reason you're looking for more investment?
Mudar Mannah: No, it was quite a natural development. We are growing and for this growth you need money. It's quite common for start-ups when the concept has proven itself that some bigger companies or investors come in.