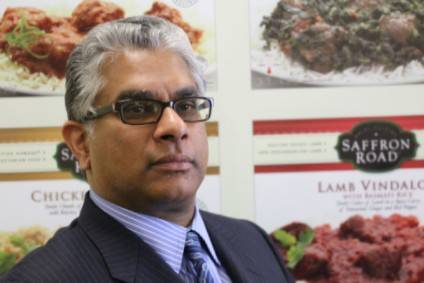 US frozen entree-to-broth maker American Halal Co. recently made its first acquisition, snapping up local lentil snacks business Mediterranean Snacks. The firm is hoping to deliver around US$$30m in sales for fiscal '15, and in the next three-to-five years, CEO Adnan Durrani is eyeing sales of between $70-100m. Here he talks to Hannah Abdulla about how the company's focus on antibiotic-free, non-GMO and organic foods will win points with the millennial consumer and help achieve that goal.
BITESIZE STATISTICS
Name:
American Halal Co.
Brands:
Saffron Road, Mediterranean Snacks
Products:
Frozen entrees; frozen snacks; plant-protein snacks; soups; broths
Markets:
US, Canada (end 2015)
Founded:
2009
just-food: American Halal Co. made its first acquisition this year, expanding its presence in the plant-protein snacks arena. Why this space?
Durrani: We already had a presence in the snack space with our organic chickpea snacks and though we generally don't do too many acquisitions, with Mediterranean Snacks we found it to be completely complementary to our business. We launched the organic chickpea business about two and a half years ago, and it's been doing extremely well. The bean category – the lentil category – was one we planned to go into anyway. It's a strong category; high fibre, high protein, but nobody did it in a sophisticated way other than Mediterranean Snacks. It has a superior nutritional profile to other snacks, they are calorically smart and low fat and high in protein and fibre. In the US especially there is a strong positioning for plant-based protein snacks. Snacking accounts for 50% of all American eating occasions and 20% of Americans are shopping for healthier versions of salty snacks.
just-food: Why Mediterranean Snacks specifically?
Durrani: It is the leading brand of lentil chips, lentil crackers and hummus crackers in the US. We saw they needed some management direction. They didn't have a strong sales team and we felt it was a hidden gem – it just needed proper management and positioning and we were able to buy it at a value we felt was very rational. We are at the cusp of a couple of tectonic changes in the organic food business – this is one of them. Organic snack sales have risen 20% for the last two years so we feel this positions us as a platform brand in natural foods.
just-food: How do you plan to grow the business?
Durrani: First we want to integrate the acquisition, but on a parallel basis look also at our Saffron Road line of snacks and look to complement it with some products from the lentil category. We haven't yet had time to sit down fully and do a deep dive on the innovation side of things but we will be before the end of the year. We've done two things here that are very relevant to the acquisition. We recently hired Haroon Jafree as COO – he was the head of corporate development and assistant controller at Sabra during its growth stages from $40-50m to $600m. He was there during its most entrepreneurial stages of growth when they had the most innovation and the most amount of product development you could ever imagine, so he is a real gem for us. Then we hired John Wis from B&G Foods. He really built Pirate's Booty from a $20m-100m brand. He knows how to build snack brands – a guy with that background is very formidable when you're trying to build a snack platform.
just-food: Organic is evidently a big focus for the company, what other modern-day trends are you capitalising on?
Durrani: Just under Saffron Road, we have 60 SKUs. For our gourmet frozen entrees everything we do is Halal-certified, all antibiotic-free, 100% vegetarian-fed, 100% hormone-free. I've been in the organic food business for over 30 years, this is my fourth food company, every single one of them was in the natural and organic sector so our whole team is very dedicated to the values around natural and organic food. The mission of our company is to raise the standards around the current food system and create a platform around ethical consumerism. In terms of our other lines, we have a gluten-free chicken nugget; our culinary world cuisine simmer sauces are 100% non GMO; we have organic chickpea snacks and a line of antibiotic-free halal broths.
just-food: With a focus on an all-halal line, would you say your customer base is predominantly Muslim?
Durrani: The reality is our model at American Halal was never built on a platform to cater to only American Muslims. That is our core consumer in terms of where we started but it's not where we end. Counter-intuitively over 70-80% of our consumers are not even Muslim or Halal, they are natural food consumers that are very attracted to values around Halal. So when we talk about Halal we really talk about it at a different level. We are celebrating the ethics around Halal. Anybody that supplies us any kind of livestock has to be audited to make sure the animals are treated humanely. For example we use HFAC – Humane Farm Animal Care – which is a certifying agency and makes sure all our farms are certified to treat their animals with humane care. We also work with GAP – the Greater Animal Partnership that makes sure all our livestock are humanely raised. We don't allow any of our suppliers to supply to us unless they've been audited by one of these two agencies and passed. That gives consumers a tremendous amount of trust in the product and the quality and the safety of what they're buying with us, appealing to a very broad audience not just an American Muslim audience. That's why our competitors are not Halal companies. They are larger food companies on the frozen side so Nestle's Lean Cuisine, Boulder Brands' EVOL, ConAgra Foods' Healthy Choice.
just-food: How much do you believe your focus on growing trends, antibiotic-free; organic; traceable has contributed to the company's success?
Durrani: When we started six years ago, a number of industry experts questioned why we were focusing on the millennial consumer. They said it was a younger consumer, with no disposable income, they were brand shifters and we should focus on the baby boomers because America is an ageing population and it was the biggest consumer segment with disposable income. We rejected that notion; 80% of our consumer base we felt would be millennials because even though they have less income, they spend a greater percentage on natural and organic foods in the US. The millennial consumer…will go online and research a product and they want transparency and honesty, they want authenticity. We felt that was our sweet spot. As they get older, as their tastes get more sophisticated, they will pay up for some of those products. As of January this year, millennials are the largest demographic in the US and growing faster than any other demographic. Millennials are fed up of unethical practices both on Wall Street and in the food system – they don't trust big companies. If you look at what's happened in the last two years to Lean Cuisine, Stouffers and ConAgra's Healthy Choice – I mean Lean Cuisine lost $200m in sales last year. We don't take pleasure in that. It doesn't help the frozen foods business when Nestle is not doing well. But the reality is they bet the whole ranch on the baby boomer who was under recession in 2008/9 and pulling back whereas millennials were saying we want to know what's in our food, we are willing to pay more to find out, willing to work with brands we feel we can trust and who are dedicated to values around the food system.
just-food: While antibiotic-free meat/poultry is on the rise, it is still a segment in its early stages of development. Is sourcing for these products -and for organic, non-GMO, or halal lines – tough in the US?
Durrani: It's gruelling to be able to source antibiotic-free and organic and non-GMO and the supply chain is definitely the most challenging part of building this type of enterprise whether Halal or not. We are very fortunate, we always look at building partnerships long term with our suppliers so we've been able to anticipate two-, four-, five-years ahead of time what our needs are going to be and build our strategy according to that.
We don't do machine slaughtered Halal. While it would be convenient and extremely profitable for us, while it would increase our capacity and supply, we don't allow it. Everything we do is hand harvested. We work with small, family-owned farms, some of them Amish, some Kosher. We work with them so that they can get humane certified so they know the proper animal welfare they need to keep for their livestock and little by little we've been able to upgrade a number of farms and facilities to meet our standards.
just-food: As well as a strong presence in the natural channel, you are in mainstream stores, too. How straightforward has that journey been?
Durrani: Our model started at Whole Foods. Normally you sell in one or two regions of Whole Foods for two or three years and, after you're successful, if you're lucky they agree to have a meeting with you to see if they want to distribute you nationally. For us, they contacted us before we even had a brand name and wanted to be the first exclusive distributor and they launched our products from day one across all 360 stores. We have a very strong partnership with them. Frozen entrees in Whole Foods before we arrived were dropping 5-10%. We've lifted that category 20% two years in a row for the whole Whole Foods chain. Initially, five years ago, it was hard to get into mainstream retailers. But we're now in 20,000 stores across the country, in every major retailer you can think of. We've actually had tremendous success in mainstream. I was [partner and principal shareholder] with [yoghurt maker] Stonyfield, helped build that brand. It took us about 12 years to achieve that recognition; we achieved that just in our third or fourth year of business (with Saffron Road).
just-food: Do you have plans to take the business into any other markets?
Durrani: There is tremendous growth here for us so we're going to stick to the 50 states and Canada. We are expanding into Canada at the end of this year, it's very convenient in terms of shipping costs and production facilities – the supply chain is very convenient for us. We think there is a very strong Muslim market in Canada and a strong millennial consumer base. Also our key retail partners are there such as Whole Foods so we know it's a soft landing for us to go north across the border.
just-food: What are your hopes for the business in the near future?
Durrani: Our mission is to impact positively the whole food dynamic, regardless of the sales we may reach, in five to ten years. If I can look back and say we really had an impact on consumer and retailer choices when it came to healthy foods, I would say then our mission is accomplished. The CEO of Whole Foods said we'd really raised the standards in the chain, in that before we came people weren't doing third party certification. We never make a single claim on our package that isn't certified and auditor verified. The reason is we want consumers to start to trust food again, believe there is ethics around food and make healthier choices. A way to do that is to make sure we are bulletproof and we would encourage other brands – whether competitors or not – to do the same.