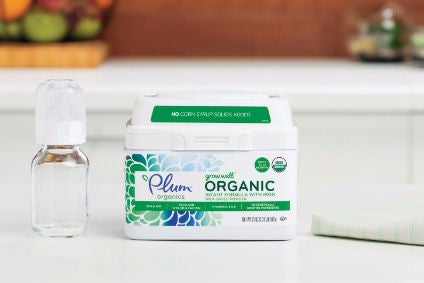 Plum Organics, the US-based baby food business owned by Campbell Soup Co., launched itself into the infant formula category last month. The business's entry into the sector represents the culmination of more than five years work. Katy Askew spoke to Plum senior vice president and innovation director Ben Mand and brand manager Larissa Friesen to find out why Plum believes it is well-positioned for success in the category.
Campbell Soup Co.-owned Plum Organics revealed plans to expand its business in the US by entering the country's infant formula category last month. The company said it is rolling out Grow Well Organic Infant Formula, which uses organic lactose as its only carbohydrate rather than corn syrup solids. The formula is made with organic plant-based oils, organic non-fat milk and organic whey protein, and does not contain genetically engineered ingredients.
Plum's move into organic infant formula was a "personal passion" for brand manager Larissa Friesen. "As a mom, I tried breast feeding. That was what I wanted to do, but for me it didn't work. At the time, there was only one organic infant formula in the market…. There was a huge opportunity there. When I joined Plum I found out that there was a lot of resource that had gone on to research [this area]. I made it my personal passion to figure out what the opportunity is here and really bring something to the market that is different and new," she explains.
The company believes the ingredients and formulation of its product will be a key to its success. Plum is not only offering a formulation it says is good for baby. It is also an ingredients list the group believes will enable it to convince parents to think of formula as "food", Friesen tells just-food.
"When we approached the idea of making an infant formula, we thought of this as food. But when we interviewed parents, they didn't see formula as food. Really its an infant's first food… Thinking of it as food lead us to really dig into what is in it and start to educate ourselves and consumers," Friesen explains.
"Right on the side of the package we talk about lactose, plant-based oils, whey protein. This makes up about 95% of what is in formula. These are recognisable things that have benefits for the baby. There is also a whole host of supplements inside, which are FDA-regulated, but if you go into our website, we have that whole list of ingredients that might sound cryptic. We demystify that: we tell you what it is, why it is important for baby. As a company that is all about clean label, this is an interesting one where we needed to understand what was in there. For us it was a huge opportunity to start educating the consumer."
Ben Mand, innovation director at Plum, is quick to agree that is one of the most distinct features of the company's approach to the category. In particular, he suggests, by getting parents to think of "formula as food", Plum will be able to convince more shoppers – many of whom already buy organic food – to switch from conventional to organic formula.
"Nobody has actually tried demystifying formula and tried to explain to parents what it is. It was actually a similar experience for my family: my wife started breast feeding and she couldn't keep up. At that time we brought… everything organic and we bought conventional formula. I guess it didn't register that it was not organic. We just didn't think about it the same way. And that is a real opportunity."
Mand says US consumers are starting to "wake up" to two things: "the importance of buying organic" and the connection between buying organic food and organic infant formula. "Organic is important so if parents are making the choice to do organic food they should also be thinking about organic formula," he insists.
Plum hopes to assist consumers in making this jump by "explaining" what goes into formula and making the ingredients list more accessible. The group is working to do this through communication on its packaging, online and external initiatives where it talks to professionals, such as paediatricians.
While Plum's new line will be entering a crowded premium infant formula segment, Mand believes that, when thinking about organic products, the sector is actually "somewhat under developed".
"If you look at food, and you see about 30% of the category in measured data is actually in organic sales. In infant formula, 3% is actually organic. Those same parents who are buying organic food are buying conventional formula. For them, they say organic is incredibly important [in informing purchases]. That is a space that is growing and we think there is a big unlock there. We also don't see a lot of other organic producers thinking about lactose. They are using corn syrup solids and things like that. From a carbohydrate source we think its important to get the closest to breast milk as possible. Using organic lactose we think is one of the best ways to do that."
To Friesen, the strong growth in organic formula sales represent an opportunity and Plum's entry is a way to drive sales. "The overall organic infant formula category is growing at 30% and there are very few players in organic infant formula. So we expect to continue to grow that share of pie. It is only 3% of total formula and we expect that to grow with us entering the market," she suggests.
But Plum also intends to grow ahead of the market and is already eyeing the number one spot in the sector. "We are a trusted brand that parents know… we expect to do extremely well," Friesen says. "We would love to be [the number one brand in organic infant formula]. We are the number one brand in organic baby food. There is no reason why we can't be number one in organic infant formula."
The group is ramping up national distribution, with listings in grocery, baby and natural channels. "We are distributing nationally, so retailers like Target, Babies R Us, Kroger, Whole Foods Markets, Sprouts, Earth's Fair. We think there is going to be success in every channel. Every channel operates a little bit differently, but those channels where mom is going to buy her diapers or food, we think it will do really really well – wherever mom shops."
There is also plenty of space to grow Plum's infant formula offering, Friesen says, although gaining Food and Drug Administration approval is a time-consuming process. "I would love to launch more quickly with different pack sizes. But this category is highly regulated. Everything has to go through the FDA and that takes time… As soon as we can come up with more solutions for parents that will fit their modern parenting lifestyle we will."
Mand and Friesen see various ways in which Plum could add to its formula range, from formulations designed to meet the needs of babies with dietary sensitivities, to on-the-go portable formula options, to milk powders for toddlers.
"We see this as the start of a journey. For us as a brand, everything we do is to make each product better and better everyday and bring in new solutions for parents," Mand says.