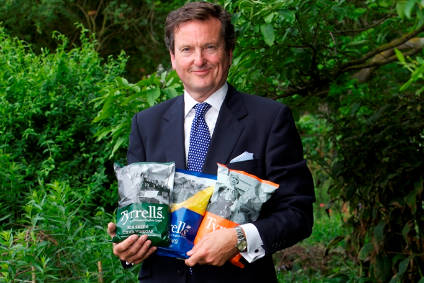 Tyrrells, the UK crisp maker, has enjoyed a sustained period of growth and has, in recent months, sought to bolster its business with two international acquisitions. Dean Best talks to Tyrrells CEO David Milner about the business, backed by Bahrain-based private-equity firm Investcorp, plans to continue its expansion.
Tyrrells' purchase of Germany's Aroma Snacks – announced last month – was the UK crisp firm's second international acquisition in under a year, following its move last August for Australia's Yarra Valley Snack Foods.
The two deals were Tyrrells' first moves to attain manufacturing outside the UK; until the acquisition of Yarra Valley, Tyrrells' international business had been built via exports.
Tyrrells' presence outside the UK now accounts for 45% of the company's sales. And, speaking to just-food, CEO David Milner says it will not be long before Tyrrells' international markets account for the majority of sales. "By next year, it will probably have swung the other way. More international."
Asked what Tyrrells' sales were in 2015, Milner says: "If you measure them in retail which is how most brands measure themselves, retail sales will be GBP240m this year." Tyrrells, backed since 2013 by Bahrain-based private-equity firm Investcorp – does not publish sales forecasts. Milner declines to do so when asked – "I can't say actually. That's confidential" – but insists the business will be trying to maintain its recent growth. "I'll give you a clue. We've grown 30% every year for six years. This year is 35% and it's not slowing down. My plan is, who knows I might get it all wrong, but the plan is to continue this level of growth if we can."
Central to Tyrrells' strategy is to build on the assets it has bought in the last year. Milner says Tyrrells' has just secured national listings for its namesake brand in Australia's two largest grocers – Woolworths Ltd and Coles. Tyrrells' rivals in Australia are "the same as ever", Milner says, "PepsiCo are number one in Australia". Nevertheless, he adds: "Fortunately for us, there are no other hand-cooked crisp manufacturers in Australia. We're the only one. That's a lovely place to be."
How well do you really know your competitors?
Access the most comprehensive Company Profiles on the market, powered by GlobalData. Save hours of research. Gain competitive edge.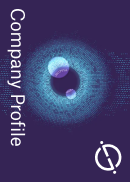 Company Profile – free sample
Thank you!
Your download email will arrive shortly
Not ready to buy yet? Download a free sample
We are confident about the unique quality of our Company Profiles. However, we want you to make the most beneficial decision for your business, so we offer a free sample that you can download by submitting the below form
By GlobalData
However, like many an international food manufacturer operating in Australia, Tyrrells sees the market as a platform to help grow its business in the wider Asia Pacific. Tyrrells already, for example, ships crisps from the UK to China – "we've got a really nice business in Shanghai, Beijing", Milner says – and he has hopes Yarra Valley Snack Foods will help Tyrrells grow there and in the wider region. "We will eventually produce in Australia for Asia. It hasn't helped us yet but that's definitely the plan."
There were, Milner told just-food in the first part of the interview, three central reasons for Tyrrells' more recent move to buy Aroma Snacks – European production, geographic expansion and the German firm's status as a supplier of organic crisps under the Lisa's brand. And it is the latter that, in the short term at least, provides the most interesting growth strategy at Tyrrells. By the end of the year, Tyrrells wants to launch the a line of organic crisps in the UK.
"What's unique is you can't buy an organic crisp in Britain. They don't exist," Milner says. The crisps will be made with organic potatoes from Germany. "We cannot get organic potatoes in the UK all-year round but you can in Germany," Milner says. "We can't do it until we get the new crop out of the ground, so that won't be until the autumn. I think it's going to be the end of this year will be the earliest we'll be able to get them there."
The plans are not yet fully-formed as there is some internal debate about the brand Tyrrells will use for the new organic line. "We like the Lisa's brand, [while] Tyrrells stands for premium in the UK. We haven't completely concluded on this one. Some people think we should do Tyrrells organic and I think we should do Lisa's but I'm in charge so we're probably going to do Lisa's," Milner says, laughing. "You want to make sure that something you do is incremental. I used to work in big branded businesses and if you've got a big share of the market and you launch something new, unfortunately, most of your new business is stolen from your existing business. The incrementality of the activity can be minimal. You can have a great big success but [the] overall business has stood still and that's just because you transferred consumers from buying the brown thing to the blue thing you've just launched. Our challenge is to try and make sure that people that are buying these organic crisps are not just switching out of Tyrrells but they're switching from elsewhere. My argument is if it's a different brand, it's less likely to come from Tyrrells. I have to be careful what I say. We haven't concluded on it yet. There are other views."
The plans suggest Tyrrells and Milner believes there will be demand for organic crisps in the UK, a market where the wider organic category enjoyed its third consecutive year of growth in 2015, marking a sustained recovery after the country's economic downturn hit the sector. There remains, however, some debate about why UK consumers buy organic food and drink. Milner believes there are three main reasons – health, the "premium" cachet of the category and concern for the environment. "Some people buy for all those things. That's why we think it will work well on crisps," Milner says. "Tyrrells is the most premium handcut crisps you can buy, they're always the most expensive. We're premium. This is another step above Tyrrells. We think it fits quite nicely where we're already positioned."
Milner insists launching an organic crisp in the UK was not driven by a belief Tyrrells could benefit from higher margins, pointing to the cost of production. However, he suggests, with no-one else selling organic crisps in the country, the launch could pay off financially. "I wouldn't say we're hoping to make a higher level of margin than we do in our regular business but what I said before is you don't want to be making what everybody else makes. The nice thing about organic is there won't be anybody else selling organic crisps in the UK because we don't think anybody else can do it," Milner says. "That should give us an attractive margin. It should mean it's a profitable business. That is definitely part of it. If you can get a product that's differentiated or better still unique, then usually that means that you can make money out of it."
The UK crisp market is, after all, an intensely competitive market, with brands often on promotion and the major supermarket chains also stocking a growing range of own-label lines. Milner sees promotions as part of the nature of the category and of retailers' strategies to drive sales. "One is driven very much by retailers on promotions. You have to play by the rules of the category. If we said we're not going to do promotion, I think we'd struggle to stay in the supermarket. It's just the way it is," Milner says. "You know the background to it but what they try and do is called expandable consumption. The supermarket likes to promote brands, or lines I should say, that when people buy them, they take them home [and] they're going to consume them just as fast as if they hadn't bought the promoted line. I used to be in the soap powder business. If you do a promotion on soap powder, you buy two boxes instead of one [and] you just don't come back for another couple of weeks because you don't use it up any faster. There are certain categories like soft drinks, confectionery, snacks, where if you buy two instead of one, you'll still eat it in the week you bought it, so next week you'll be back again."
New products like the organic line are key to Tyrrells continuing to grow in the UK, Milner says. Tyrrells has two "big bits of innovation this year", he reveals. "One you know about which is organic and the second one is confidential but it's a really big innovative idea which should be out next calendar year, January." He adds: "There's plenty of distribution opportunity to expand and the brand is still growing."
What about Tyrrells' plans for more M&A? The recently-acquired Yarra Valley Snack Foods and Aroma Snacks are both suppliers of organic crisps. Is organic the lens through which Tyrrells will continue to look at acquisition targets?
"Not necessarily. If we're in a market with a big business already and we can make it locally and buy a business that we can make it through, that's what we want," Milner says. "Those businesses have to be like us. They have to be right at the top of the market, really premium, hand-cooked. We don't want to buy anything that's not like that. It happens that these two businesses happen to be that – and organic."
However, Milner adds: "Organic, I think, is going to be a plank of our business worldwide. We're already getting interest from America, saying we've heard you bought an organic business, can we get organic Tyrrells over here? There's definitely an appetite for organic. That would be the biggest."
The Tyrrells brand is present in the US but Milner concedes the company would need to acquire a business there to make a step-change to its fortunes there. "You're spot on. We try hard there and we do have success but you can't be a part-time competitor in North America. It's the biggest market in the world. It's the most competitive market in the world. If you're going to win there, you've got to be on the ground. We're not. You can't win everything at once. You have to stage it. Do these things one after another."
Milner, however, will not list where Tyrrells is most likely to make its next acquisition. "The difficulty answering that question is it sort of tells my competitors what I'm going to do next," he laughs. " Although I have a plan. I can tell you that. I've got a very clear plan."
Owner Investcorp has owned Tyrrells for three years and is approaching the time in which it could be more open to offers (private-equity firms would tell you they are always ready to listen to offers). Has Investcorp and Tyrrells been fielding calls from interested parties?
"I have to say I don't know about that because that doesn't come to me," Milner says. "I just run on the crisp business and they do all that stuff. I'm sure we do because we're a very attractive asset but it's not something I would know about. I just get on with doing this stuff."