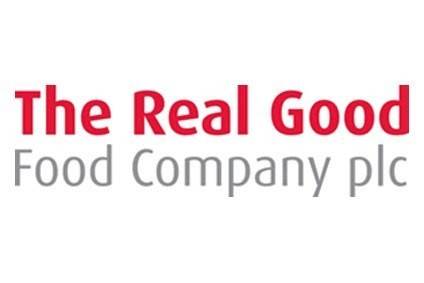 Real Good Food is a food maker on something of a journey. Since the sale of the Napier Brown sugar business ten months ago, the UK group has been freed from the shackles of a hefty debt burden. The company has completed a number of bolt-on acquisitions, including most recently Chantilly Patisserie. However, Real Good Food was forced to issue a profit warning earlier this month, citing investments and one-off costs. Katy Askew spoke to marketing director Andrew Brown to find out more about the group's strategy.
Discussing the future growth prospects of Real Good Food, marketing director Andrew Brown starts in the past – with the "transformational" sale of the Napier Brown sugar business last year. "We were a business that had a relatively high level of debt but the Napier Brown sale cleared all that debt so we now have a very healthy balance sheet," he explains.
The GBP34m (US$47.3m) disposal enabled Real Good Food to repair its balance sheet and provided it with the necessary funds to invest in growth opportunities.
By shedding its sugar unit, Real Good Food focused in on the areas it believes it can build value, Brown says. "We refocused our business on developing three core market areas: we have our cake decorations businesses, our ingredients businesses and, thirdly, our premium bakery businesses. We want to build scale in each of those three sectors, which form the pillars of our strategy."
In a relatively short space of time, Real Good Food has completed three bolt-on acquisitions. In December, the firm purchased sports nutrition brand ISO2 Nutrition from the administrators of Cre-8tive Health for a "nominal" sum. In January Real Good Food acquired Rainbow Dust Colours for GBP4m. And earlier this month the group announced a deal to take control of frozen dessert maker Chantilly Patisserie for GBP1.8m.
"We are looking at acquisitions in all three areas," Brown confirms. "Cake decoration is a high added value, it's as much a leisure and fashion business as a food business. Premium bakery is another high value-added area. Food ingredients is a bit different, we are looking at more specialist areas to add value in food ingredients, but the returns here are likely to be slightly lower than the other two areas."
Real Good Food is not looking at "huge" transformational deals although management has an "open mind" if the fit is good, Brown reveals. "We are not going to go into vey large acquisitions, they are likely to be small businesses that we can grow and look at opportunities for selling across different channels or perhaps different manufacturing expertise. There are all sorts of ways it can add value and scale," he suggests. "We like a lot of relatively niche acquisitions."
Primarily, Brown says acquisitions are not about "costs" and synergies for Real Good Food. "It is about expertise and cross selling," he notes.
Brown says the deal for Chantilly, for example, will give Real Good Food access to a wider consumer base, growing its reach in the foodservice sector.
"Chantilly fits into our premium bakery ambitions, where we have our existing Haydens business. This business is different. It is focused – 100% at the moment – on foodservice, which is a sector that we are interested in. More and more of the food pound is being spent out-of-home as opposed to in-home and we think that trend will continue. It is a business that is producing high quality products. High-quality products are crucial to any business and that is certainly the case here. Their production is frozen and obviously sold as pre-thaw for the customer. Very high-quality products, very focused channel. Lots of opportunities," Brown explains.
"They have some established customer relationships that go back a long way that we would certainly be interested in. We have developed out Haydens business into foodservice to an extent over the last three-to-four years. We are selling Haydens products in some of the major coffee shop chains such as Costa and Cafe Nero. But this business has a bigger penetration into that sector in the likes of some of the big pub chains – Mastersons – certainly foodservice supply chains such as Brakes and 3663."
Haydens and Chantilly are better positioned to grow together, Brown continues. He says Real Good Food is looking at the combined product range and weighing up opportunities to expand the products on offer under each business. He also confirms Real Good Food is examining whether there is the possibility to move Chantilly into Real Good Food's retail channels. "We don't want to take away form this business's core equity, but if there is an opportunity there we would take it."
Brown is upbeat on the prospect of growing Real Good Food's foodservice sales which, he says, fits the trend for UK consumers to eat out more. "More money is being spent out of home, they tend to spend more than purchases for in-home [consumption]. In retail there is certainly a trend towards the discounters. Yet at the same time there is more added value available as people eat out-of-home and spend more. Our business as a whole isn't overly dependent on retail, which is probably a positive. If you look at us as a whole, retail accounts for, I think, less than half our total sales. It gives us a balanced port of sales by different channels.
Brown also believes Real Good Food is, to an extent, insulated from price pressure in the UK retail space. "There is a risk on pricing pressure in retail, albeit our retail business is more on the value-added side. A big chunk of our retail sales are from the Renshaw business, which is cake decoration. Pricing is not really the issue there. It is more about looking to build the category. The other main chunk of our retail business is in the Haydens business, and, again, there we are very much at the premium, value-added area of bread. I am aware, with all bakery markets, there is some inflation in terms of commodity prices but that doesn't necessarily translate to some of the more value-added products that we produce."
Likewise, Brown dismisses the concern Real Good Food's sales will suffer in the face of growing interest in eating more healthily. "Our Haydens products, they are not healthy products they are treat products and unashamedly so. In terms of ingredients we are very open about what we put into them. Our view is that consumers understand healthy eating and want to eat healthily but they also want to eat treats. We want to make sure that those treats are as high quality as possible. Like any food manufacturer we are acutely aware of healthy eating trends and we will adjust our products accordingly but it is not the only consideration."
While Real Good Food remains on the look out for bolt-on acquisitions, the company is also investing in growing its business organically. "You can't really build a strategy purely on M&A. You would end up acquiring things for the sake of it and possible paying too much for them," Brown explains.
Real Good Food has focused its investment in existing business on building its brands and expanding in added-value sectors. "The businesses that we have built up over the last few years were generally own label manufacturing businesses. We are trying to make them much more market led. We are trying to develop brands more strongly and we have invested in a lot of sales and marketing resource to make these businesses not just manufacturing but market led. We deal with each sector, we have identified opportunities and then we will invest our manufacturing behind the market, where the opportunities lie."
Real Good Food is looking at market trends to scout out growth opportunities, which it then follows up with product innovation. "You have got to get the product right," Brown stresses. To this end, the company is opening a new development centre in April. "We are opening a new development centre in Liverpool that is helping to look at innovation and opportunities across our group. It is all about having the right products," he says.
For all its investment in growth, Real Good Food was forced to issue a profit warning earlier this month. Investment, combined with unspecified "one-off events" within its business, meant underlying EBITDA for the 12 months to 31 March would be flat year-on-year, leading to a final profit that would fall below City estimates, the company revealed.
Brown said some of the one-off costs related to the time it was taking to for investments to "bed down". In particular, he says, spending on Scottish subsidiary R&W Scott has taken "a bit longer than we had hoped" to show results. Real Good Food moved to increase R&W Scott's capacity after the jam maker picked up a new contract for the pie-filling side of its business.
While Real Good Food has had "a couple of problems" with some of its investments in the short term, Brown insists the company will be "through any issues" by the end of the financial year.
"We are not looking for quick returns, we are looking for sustainable growth and sustainable returns. Three-to-five years out is a sensible framework and we are still confident we are on track to deliver over that period."