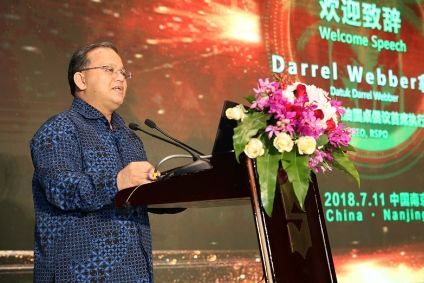 The Roundtable on Sustainable Palm Oil (RSPO) has tried to answer criticism received in recent years by adopting revised – and enhanced – standards for the certification of sustainable palm oil. RSPO chief executive Datuk Darrel Webber speaks with Ben Cooper about the new rules and the role he believes food companies can play in promoting the idea that palm oil can be a sustainable commodity.
Anyone who needs convincing palm oil presents the food industry with complex sustainability challenges might consider taking a look at the sections covering sourcing on the Unilever or PepsiCo websites.
But, be warned, this is not a task for the faint-hearted or anyone in a hurry. Unilever subtitles its palm oil chapter with words "Everything you need to know about palm oil", and the volume of material suggests this is no hollow claim.
Central to food companies' efforts to make their palm oil supply sustainable was the formation in 2004 of the Roundtable on Sustainable Palm Oil (RSPO), a multi-stakeholder coalition of producers, traders, food manufacturers, investors, environmental NGOs, social NGOs and retailers.
Bringing together a diverse group of stakeholders to agree a common way forward was ambitious and the RSPO won plaudits when this resulted in the creation of a certification process for sustainably-produced palm oil.
However, even in the early years, the RSPO was criticised for progressing too slowly and the level of dissatisfaction among many stakeholders reached an unprecedented level during last few years. Concerns the RSPO's certification standards urgently needed upgrading were shared by food companies, NGOs and investors.
In this context, the 18-month review process of the RSPO's Principles & Criteria (P&C) that culminated in the adoption of revised standards last November is timely to say the least.
That said, RSPO chief executive Darrel Webber stresses the standards are reviewed every five years as a matter of course, and he sees the change as "the continuation of a long journey".quot;We've put into this new review all the learnings over the last five years, particularly from the aspects of halting deforestation, protecting peatlands and strengthening human and labour rights. Those were the main, big changes," he tells just-food.
The revised standards have addressed the main concerns being voiced but Webber is at pains to point out this was achieved through consensus-building between the different stakeholder constituencies. "There is no use us addressing or engaging only in one sector, one part of the supply chain, and not having the agreement of the rest, because it won't work." The RSPO itself is, Webber adds, "a reflection of a consensus".
The revised standards have been welcomed by NGOs and food companies and received support from NGOs outside the organisation such as the Rainforest Action Network.
However, while welcoming the strengthening of the standards, Ran voiced concern strong certification is "meaningless" without effective enforcement. The speed and effectiveness of the RSPO's enforcement processes have been a constant subject of debate for years, and the protracted handling of complaints against Indofood palm oil unit PT Salim Ivomas Pratama , and Nestle 's brief suspension last year for a code violation, have ensured enforcement has remained a high-profile issue for the organisation. Webber says complaints systems have been "strengthened over time" and points out RAN itself has been using these mechanisms "quite a bit". He continues: "They [RAN] may argue that it takes too long but at the end of the day we do take action. It's just that we have a certain rigour we have to meet when we go to our complaints process."
NDPE commitments to be "codified and verified"
As dissatisfaction with the RSPO's previous standards had grown, companies had sought to introduce their own 'No Deforestation, No Peat, No Exploitation' (NDPE) policies. While these were undoubtedly pointing the way for the RSPO to go, Webber says the NDPE commitments were generally not subject to the level of scrutiny and transparency the RSPO has established for its rules.
"This is where the NDPE policies become real now in the standards," Webber says. "It's codified to a level where there's hardly any room for interpretation. It will be verified and audited by third parties so it's no longer just about you claiming that you're doing this policy but there's no verification against it." He expects NDPE will now cease to be used as a classification because the RSPO's new P&Cs supersede them with more rigorous and verifiable criteria.
So, given the RSPO's travails in recent years and the contrastingly upbeat reception of the revised P&Cs, is it a new dawn for the RSPO and its members? Here too, Webber uses the language of the continuation of the RSPO journey, and resists any temptation to forecast a step-change.
Meanwhile, to the suggestion, put forward as a concern by some observers, that there will be immediate and significant demand for palm oil certified to the new standards which producers may not be able to meet in the short term, Webber responds wryly: "I've heard it before."
The remark speaks to concerns felt by RSPO producer members that food companies have required higher standards before but not followed it up with demand. In 2015, RSPO Next was unveiled as an enhanced certification for food companies that wanted to move faster on sustainability. "RSPO Next was created because apparently there was this demand. Unfortunately, there was no demand. After people produced it there was no demand, much to the concern of some of the growers who took extra effort to produce RSPO Next," Webber says. "Hopefully, it won't happen again with these standards."
At a conference in Kuala Lumpur last month, RSPO co-chair Dato' Carl Bek-Nielsen suggested big consumer goods manufacturers need to "put their money where their mouth is" and "start to buy sustainable palm oil instead of talking about it and disappearing out of the door like greased lightning when it becomes available".
Bek-Nielsen's remarks appear to speak to increased frustration and tensions between producers and their customers on this issue. Demand has always lagged behind supply, though the RSPO now believes, if all commitments made so far are fulfilled, equilibrium between production and demand for certified, sustainable palm oil (CSPO) will be reached in 2021.
Production of CSPO totalled 13.4m tonnes for the year to February 2019, representing around 19% of global palm oil volumes but, according to RSPO data, only around 6.3m tonnes of this was sold as CSPO.
"We hope this time we will see the market really leaning in and going for what they want, which is a deforestation-free product"
Keeping this broad global coalition together is an exercise in diplomacy, so Webber's exhortations to food companies to play their part in making that a reality are couched in gentler terms. "I want to try to be optimistic on this front. We've been let down before. We hope that this time round we will see that the market really leaning in and going for what they want, which is a deforestation-free product. Let's say the proof of the pudding is in the eating."
Webber also says certain revisions included in the standards review are a response to producer concerns. "The vision of RSPO has always been to transform markets, to make sustainable palm oil the norm, [and] not just to transform sustainable palm oil production. As a result of some of the key changes in the P&C 2018, and with the introduction of the concept of 'shared responsibility', producers are calling for greater accountability from supply chain actors," he says.
"We can't expect the demand for sustainable palm oil to come entirely from consumers. The producers have been pushing CSPO for quite some time now and the supply chain actors must move to increase uptake so there's a greater balance between supply and demand. The supply chain, like most chains, shouldn't be pushed. It should be pulled. We have not seen enough of that pull."
Selling the idea of sustainable palm oil
Another challenge Webber is putting to food manufacturers and retailers is to speak more openly and candidly about the use of palm oil.
While certification schemes like Fairtrade and The Marine Stewardship Council have gained considerable public traction, RSPO and CSPO are not terms most consumers would recognise. "Palm oil is not consumed as palm oil in the market, so consumer recognition is very difficult," Webber says.
Many food companies are reluctant, Webber believes, to draw attention to the presence of palm oil in their products, even if they have a good sustainability story to tell, because consumers are more likely to know something about its links with deforestation.
"We find that our members don't necessarily want to talk about the fact that there's palm oil in their product, because palm oil has such a terrible reputation. I think retailers and brands, if they wanted to, could easily educate their consumers on this. Everyday consumer purchasing is influenced by brands and retailers, always, so it's something that our stakeholder members can do if they wanted to, and some have. Some are already doing it."
RSPO members may also have hearts and minds to win over among policy-makers. The recent draft ruling by The European Commission to exclude palm oil from the oils that can be used in biofuels, on the basis that it has been a cause of deforestation, is another challenging development for those striving for a sustainable palm oil market. It also not surprisingly triggered an angry response from the governments of Indonesia and Malaysia, the two biggest producers of palm oil.
Webber believes the development opportunities of sustainable palm oil need to be taken into consideration. Palm can be a good crop for smallholders to switch to in order to boost their income so it has a potentially positive contribution to make to the UN 's Sustainable Development Agenda.
"Palm oil is so vilified today that Africa is afraid to use it as a tool for responsible development," Webber says. "There is such a big image problem that there are people afraid to embark on using this commodity as a tool for poverty eradication in countries that need it."
Oil palm, proponents argue, is also a more efficient crop to grow than many other vegetable oils, further strengthening the case for making its production sustainable rather than banning it.
Smallholders pay price for traceability goals
The desire of food companies to protect themselves from the reputational risks associated with sourcing palm oil is exacerbating another challenge facing moves to create a sustainable sector.
Around 40% of palm oil production comes from smallholders. However, production cannot easily be a traceable commodity. As more companies set goals to source 100% certified and traceable palm oil, smallholders are seeing demand for their product fall.
Enlightened food companies are aware of this and include measures for smallholders in their palm oil programmes, which Webber welcomes. "Many RSPO member companies are already working with smallholder groups to integrate small producers within global supply chains for promoting traceability, certification, and sustainability, in line with RSPO standards."
The RSPO has made changes in P&C 2018 to help smallholders engage and is also in the process of developing an Independent Smallholder Standard aimed at addressing the specific challenges they face.
Like the RSPO's producer members and many other stakeholders, Webber bemoans palm oil's "vilification". He claims other commodities are not moving as fast and hopes the palm oil sector will provide an example to follow. In fact, he believes it has a responsibility to provide that lead.
"It would be a sad day for me, and for many, many stakeholders, if RSPO succeeds in transforming this industry but does not do anything to inspire the other commodities. It will be a hollow victory for us."
While Webber may be careful not to make bullish short-term forecasts on the immediate uptake of CSPO produced under the new standard, foreseeing a day when palm oil, vilified today, will be a bastion of sustainable production and an inspiration, shows him to be an optimist at heart.