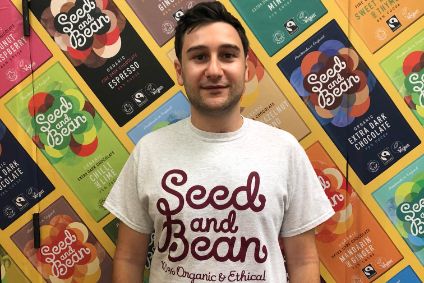 Seed and Bean is a fledgling but growing UK-based organic chocolate maker, building a presence at home and abroad. Dean Best spoke to co-owner Oliver Shorts about the company's ambitions.
just-food: What's Seed and Bean's presence in the market?
Oliver Shorts: The UK is our biggest market but we do around 40% export. We distribute to about 21 countries as far and wide as Japan and Australia.
just-food: What are the biggest export markets?
The Nordics. Sweden's our biggest export market. The disposable income of Scandinavia is much bigger and they're very clued up on organic produce, much more than any other European country. Germany's coming forward a little bit but it's very, very difficult to get into a market saturated with German-owned brands. Sweden isn't so much. They like British product, so it works really well for us.
Overall, I want the brand to be at the forefront of organic and Fairtrade and be that chocolate bar of choice. When I look at what [Mondelez International's] Green & Black's is doing, they've moved away from Fairtrade and organic with their new Velvet Edition. That's great for us because those loyal customers who would want to stick with the brand but [who are] sticking to that ethos and have moved away, they're going to look for a new brand and I'm hoping we're that brand.
just-food: After Cadbury signed up with Fairtrade all of those years ago, now Mondelez is following its own certification programme, which it says is run in partnership with Fairtrade – but the Fairtrade logo isn't emblazoned on the pack. Do you believe that gives Seed and Bean a relative opportunity, being a Fairtrade-certified brand?
Oliver Shorts: Fairtrade is super-important and we want to support it. When your Mondelezs move out, I think it confuses the consumer. Having a third-party give you that label, rather than yourselves, that's the most important thing. It gives us an opportunity to move in and get customers who are loyal to another brand because of their ethos.
just-food: What are the ethical credentials of Seed and Bean range?
Oliver Shorts: We're 100% organic. There are four products that are non-Fairtrade. That is because some of the ingredients were bought from Europe. We are, as far as I'm aware in the UK market, the only chocolate brand that has a compostable inner foil. We are 100% recyclable. We've been doing this for five, six years. We're hoping that retailers, distributors, wholesalers from the UK and the rest of the world, as they move towards being plastic-free and being more friendly when it comes to recycling, that we will be that brand of choice. Thankfully, we stuck to our guns and we'll hopefully see the fruits of our labour.
just-food: I'm assuming that has demanded a certain amount of investment.
Oliver Shorts: Ultimately when you're getting product that others aren't using, there's a cost element to it but we're 100% ethical in what we do. We want to make sure that we're not just saying it, we're actually acting upon it and doing something about it, even though it might mean a higher price to pay for those things that you need to do. When it comes to organic products, the price is continually going up and you'll see a lot of chocolatiers that when they started they wanted to be organic but actually when reality bites, they can't. And for us, if we say we're 100% organic, we have to stand by that. If that means we can't develop the range in a way we want to, then that's something we just can't do.
just-food: It's a challenge to convince retailers to carry as much of that cost you have to bear. How do you look to manage that process?
Oliver Shorts: Thankfully we've not had any issues. We aren't in any major supermarkets in the UK. We're in Whole Foods and Planet Organic and that's via distribution, so, for us, it's never really been an issue. We've never had any sort of pricing spat. We're just hoping that, if we stick to what we're saying and big retailers stick to what they're promising consumers in the future, that when it comes to range reviews, we will be at the forefront of their minds.
just-food: Is price an obstacle to you guys getting into the major multiples here in the UK or is that not even yet an ambition for Seed and Bean? Are you waiting for the business to grow further before you take that next step?
Oliver Shorts: I don't think price is a barrier. If you look at some of the brands that the supermarket chains are stocking we'll fit seamlessly in there. We're not going to be at the top end. We're not going to be at the bottom end. We have a really nice price point. I think the only barrier is about what supermarkets are looking to do when they have range reviews. Are they looking to bring in a big brand that everyone knows? Or do they want to bring in a challenger brand and show consumers they are looking to bring in new products and new brands with a very high ethical standpoint to fit alongside what they're saying as a supermarket chain?
just-food: Are you in any active discussions with any of the UK supermarkets?
Oliver Shorts: I wouldn't say active. We've had discussions. They're aware of what we're about, what we're doing and I'm convinced it's about when the time is right. One of the issues that we have is if you're not in London and you can't get to a Whole Foods or Planet Organic it's about going into a local farm shop, your local independent, your local deli. Some people want to be able to go into that supermarket and pick it up there.
just-food: How do you want the shape of the business to look in a year's time?
Oliver Shorts: At the moment, we are really happy where we are. We're in a lot of brilliant places and the growth is there. I would love to say we can be in a supermarket where we've got 300 store listings. I don't think it's the be-all and end-all for the brand.
We've just launched our mini bar. I want to be in foodservice. I want to be in the local coffee shop. A big bar might not necessarily sell but if you're buying a coffee and you want a chocolate bar, you can have a 25g bar. We aren't in any foodservice. I'd like that to move to 10% of the business. There are so many coffee shops, hotel chains we should be in. We've never had the product that's enticed them before the mini bar. An 85g of chocolate isn't necessarily what a hotel wants to put in their mini bar or next to a pillow. Obviously, we want to grow the brand. We want to be doing not just chocolate bars but chocolate-covered beans, chocolate-covered nuts.
just-food: Over the next year, are there particular export markets you are particularly going to be focusing on next year? To try to manage 21 markets is difficult.
Oliver Shorts: Very difficult. We'd like to see growth in all our markets. The mini bar will be able to get into areas they've not been able to get to before. We will be launching in France in October, which is really exciting for us. We're looking to launch in the US in February.
Export is really key for us. You can focus so much on where you're from and getting into the UK market. Germany's a target for us. We'll hopefully pick up distribution within Germany, make sure the launches to France and the US are successful but make sure at the same time we're not forgetting about it the markets we've already got.
just-food: Have you got confirmed listings in France and in the US?
Oliver Shorts: In France, we'll be launching in La Vie Claire organic stores. We've just dropped them our first shipment. In the US, we're in talks with Central Market. They've given us the thumbs-up to launch the product there and we're hoping we can use that as a blueprint to grow within the US. That's where we're at. It's a very small team – four people are employed by the business – but a growing brand.
just-food: What are your annual sales?
Oliver Shorts: We will go past GBP1m (US$1.3m) at the end of this calendar year. We are profitable. We made a net profit last year, which was put straight back into the business. We're really happy. We've not needed to crowdfund and not needed to find investment elsewhere. Although sometimes I think it would be wonderful to go and get that investment, it's not something we need.
just-food: Have you got internal sales targets, looking two, three, four years out?
Oliver Shorts: We do but we like to keep them close to ourselves because they change all the time. Look at the summer weather in the UK. Our sales have dropped because of that. The weather has been such an anomaly. Next year are we going to have the same summer? I'd love to say actually I want it to be cooler.
just-food: How much importance do you place on the macro issue of health and how that could affect indulgence products like chocolate? There are products coming on to the chocolate market touting their low-sugar, low-calorie credentials.
Oliver Shorts: It's really important. Trying to reduce the sugar content that people are taking in is being spoken about all the time. If you look at Halo Top, it's the perfect example of bringing out a product that people love, halving the calorie content and taking market share from anyone, completely redefining a category.
It's huge and we need to make sure we're aware of that and how we convey it to the consumers and how we build new products. Is that something we want to be doing? Do we want to be more traditional? But I do look at Halo Top and how they disrupted the market.
just-food: Your innovation pipeline will be more around the ethical side of things rather than the health.
Oliver Shorts: Yeah, absolutely. Whatever we do, we're going to make sure that we stick to our ethos. That is really important to us and whenever we look at new products we have to make sure that it's 100% recyclable. Whenever it's new innovation, that's what we look towards. On health and moving away from sugars to sugar replacement, I think you'll see a lot more of it and, whether it's chocolate, ice cream, spreads, it's going to in the next two, three years, be really big.