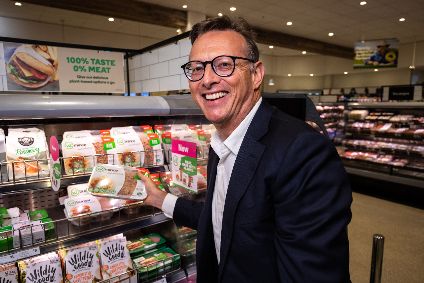 "We have to get to scale really quickly. We have to be mainstream. This isn't about selling to the one or two per cent rich vegans who can currently afford expensive plant-based meat."
Nick Hazell, a former R&D director at Mars and PepsiCo, is clear about the business premise for V2Food, the Australia-based plant-meat business he set up just under two years ago.
V2 Food wants to be part of "version two of the food system" (Hazell, also the company's CEO, says that's where the company's name came from) and, as well as contributing to improving the agri-food sector's impact on the environment and producing "delicious" alternatives to conventional meat, time and time again, he returns to the theme of price.
"It's got to be affordable. It's got to be available in the places where you buy your meat. It's got to taste fantastic, so there is absolutely no compromise whatsoever. If we can do all that, then it's not a big deal for somebody to make that choice and, in making that choice, they have done something really useful," Hazell tells just-food on a Zoom call from his base in Australia. "For us to make a difference on a planetary scale, you've got to design something which is going to be affordable and available."
Following four years at Mars and five at PepsiCo, Hazell was working as a consultant when he was approached by three parties – Jack Cowin, the businessman behind Australian Burger King franchise Hungry Jack's (who had been looking for plant-meat products to put on his menus); CSIRO, the country's national science agency; and sustainability-focused VC firm Main Sequence Ventures – to set up a company in the country focused on selling plant-based alternatives to meat.
The new V2Food was launched in January 2019 with investment from Cowin, CSIRO and Main Sequence Ventures. It was that month when Hazell said he had an "a-ha moment" while attending an event in San Francisco.
"I was at an alt-protein conference trying to find out what was going on in the space," he explains. "I was in this conference room. There would have been 100 other CEOs of alt-protein. I was really uncomfortable – that was part jet lag – but, apart from that fact, I realised I was the only non-vegan [and] the framing up of the problem was not around veganism.
"I was thinking: 'How are we framing this up?' If you frame it up as a vegan thing, then essentially you're targeting wealthy vegans and you're not so worried about price, whereas in the mainstream, meat is the most expensive grocery item. If you are actually going to do something on a planetary scale, if it's more expensive than meat, how on earth is that going to happen?"
Since then, after a Series A funding round, V2Food has built a presence in Australia's grocery retail market, securing listings at the country's two largest food retailers, Woolworths and Coles, for products including alternatives to mince and burgers.
Hazell says a 750g pack of V2Food mince is priced at AUD10 at Coles stores, underlining how the product is "the same line price" as 1kg of conventional meat mince. "There are meat products that are cheaper than us," he notes, before adding: "Currently, the plant-based offerings are all significantly more expensive. They range from being sort of 30 or 40 per cent more expensive, up until two or three hundred per cent more expensive than meat for particularly the US imported items."
The company has just closed on a Series B round, attracting a further AUD77m (US$58.3m) from investors including Singapore's state-backed investment fund Temasek and two VC firms, Hong Kong-based Horizons Ventures and Beijing-based Sequoia Capital China. To date, V2Food has raised AUD113m.
This new funding will be used, Hazell says, to "scale up", expanding production – V2Food is building a plant in Wodonga in southern Australia – "ramping up" R&D and looking further afield into Asia.
Scale will, of course, help V2Food's quest to price keenly and Hazell also sees R&D as an important tool in affordability. "Our focus on innovation from an innovation perspective is as much on the science – which is what we're doing at CSIRO, which I think is pretty cool – but it's also about the business model," Hazell says. "How do you actually deliver this in a way that's affordable for everybody? People seem to forget the price is actually pretty important.
"The actual formulation of V2 products is fundamental. Where we see ingredients that are over-priced and will lead us to have a formulation which is not the same price as meat or more than meat, we address that directly and try and figure out what can we do in our formulation to make sure that we're affordable. The good news is a lot of the flavour chemistry and the science behind good food formulation we understand quite well and we can go back to first principles. If it's not affordable, then we're not going to be mass market."
Hazell is quick to emphasise how that mass-market quest is not limited to Australia despite the cost of, at present, shipping products from its home country to markets in Asia. At present, V2Food works with co-manufacturers – meat processors – who shape the company's ingredient mix to manufacture the finished products. Ultimately, Hazell explains, the company will continue to have its "core ingredients" (presently the principal of which is soy) coming from Australia and then "likely" use local co-packers in the countries in which it sells its products.
"Particularly in Asia, which is our focus at the moment, Australian provenance is important. If you're going to buy a formulated product in China, there's a lot of distrust actually for local manufacturers. Coming from Australia is quite important. That gives a lot of trust in what we're doing," he insists.
However, Hazell shakes his head when it's put to him that V2Food could look to cover the cost of shipping to its new markets in Asia by selling its products locally at higher prices.
"We don't believe we will be successful if we are trying to premium-price versus the local meat offering, so that's the task ahead of us," he says. "Whilst it's true that if we're doing frozen [plant-based] meat in Australia and shipping it to other markets, there is a cost associated, it's not actually necessarily prohibitive and, ultimately, for major markets, whilst we will export directly from Australia in the beginning, we would be looking to work with local supply chains using our ingredients. We would then therefore adopt the cost of local supply chains. I think that's a model which is being explored around the world with many competitors now, who are realising it's just not tenable to run a supply chain from one continent to feed other continents."
V2Food's initial contracts in Asia are to supply Burger King, with a deal in the Philippines publicly confirmed and others to be announced "very shortly", Hazell says. However, he hints at the work ahead in scoping out where in Asia V2Food needs to target. "QSR is not where the bulk of meat consumption is [and] if we're going to be in China, for example, we need to be able to do pork. Beef is important but pork is three times beef," he explains. "We're very much focused on: what is the volume of meat being eaten? In what format is it being eaten? And then how do we get into that format? We are already exporting into all of these countries in a small scale just to sort of test the waters."
As V2Food tests the waters and looks to, in the wake of the Series B funding, "double down" on exports, the company will also be monitoring the growing number of homegrown plant-based meat businesses and brands being launched in markets in Asia – and some that are attracting significant funding.
"It's insane the amount of competition but we have an excellent product with some really cool science behind it. There's a couple of pretty strong patents around some of the technology we're doing. That's one thing," Hazell asserts. "We are affordable. I don't think we should underestimate that. We are as delicious as the best of the competitors and we're on the shelf for the same price as meat. We're the only ones who are doing that."
Hazell also believes the make-up of the investors in V2Food's Series B funding round will help the company in its quest to carve out – and grow – a foothold in the region.
"We have some excellent Asian investors, Chinese investors, who know the market, they're very deeply networked, they understand the issues and the hurdles that need to be overcome," Hazell says. "But, look, when you do the math, this is a US$1trn industry that's going to be created over the next 20 years or so. There's going to be room for a number of competitors and we just want to be one of those players in that market making a difference."
"Carbon-negative" target
Hazell says the new funding will also help V2Food look at what he calls "the whole protein infrastructure". As well as working on the make-up of recipes and the shape of its manufacturing, V2Food also has an aim of being a "carbon-negative" company.
"We're already doing work on what our carbon footprint is and how can we reduce our carbon footprint, Hazell says. "Whilst, of course, we can do all of the good things in our factory in terms of energy minimisation, ultimately, there will be a carbon footprint that we're going to have to offset. Apart from buying carbon credits, which we could do short-term and we possibly will do, we have to get involved in the agricultural part of the business.
Working with CSIRO, V2Food has done some initial analysis to estimate its carbon footprint. "We've done a preliminary hotspot analysis, a life-cycle assessment, of our carbon footprint, even before we'd fully bedded down our supply chain. It's a little bit rough and ready but it gave us an indication that we have a carbon footprint of about three to three and a half kilos of CO2 per kilo of [plant-based] meat that we produce," Hazell reveals. "That gives us something to aim at and we're doing that, so, when we're designing our factory, we have sustainability in mind. We think that we can probably halve our footprint, just through good design, good engineering."
"Then the question is what do we do with the other half and that's where it's going to take a bit of time because, essentially, we're going to be growing our crops in a way that we sequester carbon in the agricultural system into the soils effectively. It's going to take a few years to get all of our ingredients grown in Australia. The reality is there isn't a [plant-based] protein industry currently in Australia so we're going to have to invent it but we're already doing work with some of our ingredients to look at what we can do to sequester more carbon and then offset the carbon footprint of our products.
"I guess the short answer is that it's not going to be within a couple of years. I would imagine the earliest will be four years but we are working as fast as we can to get to a position where we're carbon zero and we've got a reasonable idea about what needs to be done. And certainly the back of the envelope calculations indicate that we could be carbon negative in that sort of time-frame."
Hazell adds: "We want to be part of that sort of catalyst in the food system. It's very unusual. Normally with a start-up, you'd want to be laser-targeted, to do one thing and we're actually looking a bit broader than that and saying 'Well, no, actually, we have to look at the system and innovate across that system. Otherwise, we're not actually solving the problem that we've set out for us to solve.'"
In parallel to working on environmental measures, V2Food does have ambitious growth targets. "[Our sales target] next year is ten times this year and this year is ten times last year," Hazell says, while refusing to be drawn on what the company's revenues are at present. "I don't believe that we're going to do multiples of ten every year in perpetuity but, if you look at the size of the problem, that's the sort of growth you're going to need to do in order to make a meaningful difference. It's a hundreds of millions of tonnes of problem that needs to be solved, so ten times per year for the next few years will be a good goal."
In a year's time, Hazell wants to see V2Food's export volumes "exceed" those sold domestically, with "a really strong story in Asia", a foothold particularly in China" and "to be demonstrably winning in Australia".
He adds: "I think the other thing next year is we would to have certainly investigated business models in more developing markets." V2Food is "actively looking at opportunities in Europe and the US", Hazell says, though, for now, "our priority is Australia and Asia".
Managing that growth trajectory while working on sustainability initiatives will likely throw up some challenges but Hazell believes V2Food's partnership with CSIRO will help.
"We've just increased the amount of research we're doing at CSIRO. We know that we can apply the best science to whatever problem there is and so we are being very ambitious. We're not shying away from difficult technical problems and that includes the sustainability side," he says.
"It's very, very technically ambitious and quite risky I think it's fair to say because normally speaking you don't attempt these sorts of things until you're a mature industry but we're betting on ourselves that we can solve some of these problems."