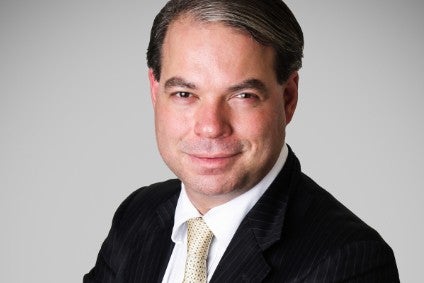 Jeroen van den Heuvel, European head of consumer investment banking at Oppenheimer & Co., has worked on deals for 20 years. He speaks to Dean Best about how Covid-19 has affected M&A activity in Europe's packaged food sector and explains why the next 18 months will be unusual.
just-food: Thinking back to 1 January, how did you expect 2020 would play out in terms of packaged-food M&A?
Jeroen van den Heuvel: Good question. 2019 was not such a great year in terms of deal volume and deal value for food. It came down quite sharply from '18 and also the conversion rate – so mandates actually moving into closed transactions – was at an historic low.
just-food: Why do you think that was?
Jeroen van den Heuvel: I talked a lot about it with some of my competitors whose experience was the same. Our conclusion was it was mainly a pricing issue. Because this bull market had been going on for 11 years – and with financing being available in such an abundant way and so cheaply – buyers in 2019 really became more picky. What we were seeing in '19 was a very polarised market. Only very high-quality assets got sold – [those of] super margins, super high growth, super A-brand. Those assets actually got sold, or highly strategic deals, and they were done for a very high price. Many of the rest didn't trade. All the other owners of assets were looking at those high prices being paid for those A-branded, star assets and said 'We want to have that same price' but the buyers were never willing to actually pay those kinds of prices. On top of that, Brexit's played a role of course, especially in Europe.
I didn't actually see that 2020 had a solution for this pricing issue. When I looked at our pipeline in Europe for 2020, it looked much better than '19. That was actually the case in the US, also. As a firm, our pipeline looked a hell of a lot better than '19 – more quality assets in the pipeline itself that would likely close.
We were very upbeat going into 2020. We expected volume, let's say for the market as a whole, at a similar level to 2019. For ourselves, a higher level. Valuation levels we expected 2020 to be the same as 2019. No large differences. A little bit more volume in the US, compared to Europe, given the health of the US economy in January 2020. Hot spots? Plant-based foods, functional food, parts of ingredients, cannabis – which in the US is relevant – and corporate carve-outs. That's where we were focusing in terms of origination of deals. That's where we were in January, 2020.
January went fine. Of course, in February, the first wrinkles started to show. And then it was a complete standstill, so both in the US team and my team here in Europe, all the active mandates, they went on hold. Everything sort of dried up. M&A came to a complete standstill. That was not only our firm. Signed deals became difficult to close. We witnessed one food deal in the US, and that continued in Q1, it looked very promising because everybody was aware at that time of what was going on with corona. That deal, it got financing, it got signed but it didn't close and we heard there's now a debate going on about price.
just-food: Is that deal still live?
Jeroen van den Heuvel: Yeah. We had that experience first-hand but we see that, of course, with a couple of other deals as well. What we saw with private equity clients – and that's still the case – is many are very much focused on their portfolio companies, having to manage them through a difficult time, having basically little interest in looking at new deals.
But there's also some private-equity funds who came out very actively asking us if we see any opportunities in the market. Those are private-equity funds that basically did their fundraising in '19 or late '18. They still have a lot of dry powder. They are still very much uninvested. They have all this money and they are keen to take advantage of the current climate. They're mainly looking for minority stakes. They'd prefer, of course, to have a majority stake in a business but what it looks like now is they are looking for strong companies temporarily hurt by the current situation in which they get to put equity in or some kind of hybrid sort of instrument.
just-food: What's your outlook now for valuations and activity for the rest of the year?
"Activity levels will remain extremely low during the summer. In September, there will be a sharp increase in situations"
Jeroen van den Heuvel: Activity levels will remain extremely low during the summer. In September, there will be a sharp increase in situations. That will be partly driven by companies that are either going bust, or are in a highly-distressed state, and that's especially of course in the foodservice or leisure part of the consumer [sector].
You don't see that yet. You don't see that many companies going into receivership right now. It's a very, very small number. There's still, in most European countries, government measures in place to keep those companies afloat. When governments are going to stop funding that, there will be companies that have a weak financial basis that will not make it. They will come to market and there will be, let's say, you know, a new owner, or equity infusion, or some kind of solution.
There will also be a number of deals where a seller will basically try the market. Say he wanted to go into the market in, let's say, early 2020. It didn't happen because of corona. He still intends to sell. He wants to test the market and see where valuations are. I've heard about a couple of these situations. They are preparing and they will come to market.
Where will valuations be? This is extremely difficult. Everybody is saying 'It's difficult to price the corona effect. It's sort of a one-off, this year.' But is it a one-off? As long as there is no vaccine, right, there can be a second wave. There may be a new wave in January or February of next year.
Also, food manufacturers that are selling predominantly to retailers are having a field day. It's like 20-30%-plus revenue on a month-to-month basis. They are extremely happy. They might think on the basis of that to go with an inflated budget for next year and they may want to have a very decent high multiple because they're doing so great. But a buyer is not going to do that. There will be a lot of price mismatches. There will again be a lot of deals that will not close – but the distressed deals have to close in the end at whatever the price level.
As of September, it will be more more busy, there will be more to do. For the rest it depends how quickly there is a vaccine. Eventually they can be a quick turn back to normal with a normal sort of deal flow but I'm afraid 2020 and 2021 will be not normal.
just-food: Where would you expect any activity we do see to take place? The hot spots you expected at the start of the year?
Jeroen van den Heuvel: Yeah and I think the coronavirus has really strengthened that health trend. Your personal immunity level is highly relevant in coping with the virus. I think people are now aware that when this virus is beaten, it maybe in five years time, there's gonna be another virus, right? We had SARS, Ebola. I think that the health trend is going to stay there.
Plant-based is super hot. Anything you do now – you do some sort of fundraising, or capital raise – in that space, it's hot, you get investors that go for that. I think functional foods that help you be more healthy, functional ingredients, that area, it's also very hot and will stay very hot.
Cannabis remains, I think, an active market in the US and, over time, we'll also see that spilling over in Europe sort of as a trend – but more on the medical side than on the consumer side. We're actually – in one of the few deals we're doing – in the market with a medical cannabis capital raise. There's healthy demand for that. It's not touched by the coronavirus as far as we can see.
just-food: As the UK and the EU look unlikely to strike a trade deal, do you expect Brexit to return again to be a shadow over biz confidence and therefore M&A activity?
"We've been asked by clients specifically to find assets in the UK to deal with Brexit"
Jeroen van den Heuvel: It was for a long time but I think this year and next year it's going to create M&A volume. We've been asked by clients specifically to find assets in the UK to deal with Brexit. There is going to be a real strong demand for local UK businesses in food. Large multinational companies that are not, let's say, present – they sell but through a distributor – want now to have their own business. They cannot afford to build it from scratch because it takes too long. I definitely see a source of new business for us.
just-food: Looking further than one or two years out, are there emerging categories or niches in food where you could predict M&A activity?
Jeroen van den Heuvel: Plant-based started in, let's say, the 1990s, right, but only now, is it taking off. If you look at food now, something that I think we see now as 'That will never happen' or 'It'll never be a large business' is insect protein. That's now in its infancy. I think there is a lot of innovation that can be done in that and that could be a much, much larger industry. It's probably about ten years from now [but] I definitely sort of see that.
For the rest, I think e-commerce is really top-of-mind now for every executive in foods. All the ones that said 'We have to do something more', when corona hit, they were 'We have to really, really do this.'
And I think, on a shorter-term horizon, it is very likely we will go into a recession this year and next year. In a recession, you always see a polarisation in consumer spend in food, so you'll see people either buy an A brand or more in private label and it means that everything that's in between gets hit. I think that will be to the more B2C brands being sold in the next 24 months in an auction process.
just-food: And potentially the underlying trend of Big Food continuing to really scrutinise their portfolios and offload brands that no longer fit their strategy?
Jeroen van den Heuvel: Exactly. We've seen that very strongly in '18 and '19 and that will be no different in 2020 and 2021, absolutely.
just-food: What does Oppenheimer have to do to ensure it manages to get its fair share of mandates? How are you competing?
Jeroen van den Heuvel: We started in Europe in 2015. It takes time to build a business. It's very much to keep interacting with clients so we're very active now marketing-wise. We focus as much as possible on proprietary ideas with clients. We have a different model than Houlihan [Lokey] or Rothschild. We have a lower volume of deals. We try to differentiate to be there on very specific situations where we can create access to a situation, very much sort of knowledge-based and proprietary. We did quite an overhaul in the last two, three years of the US and it takes a while to get a pipeline going but the US team is actually very, very busy at the moment on things like distressed assets that come to market or capital raises of fast-growing food products.
The other thing is to play on the strengths of the firm. When you talk about medical cannabis, there's also a link with healthcare. We have a very, very booming healthcare deals business in the US, especially due to IPOs and follow-on sort of issues.