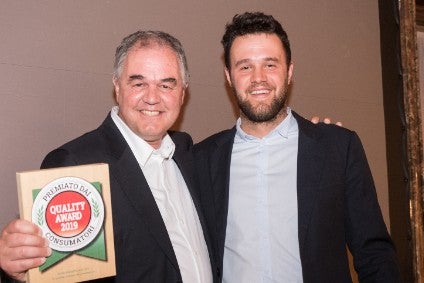 Joy Food is an ambitious plant-based start-up, even though demand for meat alternatives in its home market of Italy lags other countries in Europe. Dean Best spoke to founder and CEO Alberto Musacchio about the company and its brand Food Evolution.
just-food: Tell us how and why you set up Joy Food?
Alberto Musacchio: I opened my first vegetarian restaurant in 1979. My whole family is a dedicated, vegetarian family. We have been running vegetarian restaurants and hotels all our life. We wrote three cookbooks, so vegetarian has been our lifetime goal. I can tell you, in Italy 40 years ago, to open a vegetarian restaurant was really something weird.
About five years ago, my son, when he became 18 or 19, wanted to enter the business world. At the same time I got invited by the Netherlands – I've always been in touch with the Netherlands because one of my cookbooks was featured by Dutch television – and we went up to the University of Wageningen and tested some meat-analogue products. We found them simply fantastic. I'd been eating some vegetarian alternatives for 40 years and, for many years, those products were really inedible.
But, then all of a sudden, we discovered a new typology of products, so we really fell in love with the whole idea and we built a modern factory, where we produce a chicken alternative, a pork alternative and a beef alternative. We have spent literally millions on an extrusion facility, which is the most expensive way to produce a meat analogue and we achieved this wonderful texture. The texture of the products which we extrude is the same but then you gets colours, cut and flavours in a different way.
Now, we are in the position to attack the market. We won an innovation contest with Metro and we've just signed a contract with two big distributors in the UK – Petty Wood and Lupa Foods.
just-food: When did you start manufacturing?
Alberto Musacchio: We started manufacturing two years ago. It took us a year and a half of samples and testing to go from the first rough material into something that had the texture which we wanted and the flavour we wanted.
just-food: When was your first product launched?
Alberto Musacchio: About six months ago.
just-food: What are the key ingredients in your products?
Alberto Musacchio: We work with different levels of concentration of soy protein and then we use sunflower oil, salt, natural aroma and yeast extract. It's all natural ingredients. We've been working one year and a half in the production line and R&D to have a product that can be absolutely clean.
One thing I can say is that we do food with a lot of care and a lot of attention. Now sometimes vegan products can be much more chemical-based than real meat.
just-food: In more developed markets for meat alternatives, countries like the UK and Germany, more consumers are starting to look at the ingredients list of meat analogues and how they processed.
Alberto Musacchio: After we won the contest at Metro, a manager who was one of the jury that chose us, said to us that one of their parameters they would never have accepted any products with more than ten ingredients. We came out with five ingredients – and considering one was salt and one was oil – at the end we have a product with three ingredients. They loved it.
just-food: Where are the products on sale?
Alberto Musacchio: Well, we are at the beginning. For us, it's a little more difficult. If you do a product in England, you have Greggs, you have Waitrose, you have Sainsbury's – there is a boom in the UK. In Italy, nobody even knows what a plant-based meat analogue is, so for us to create the selling environment – let's call it that – is a bit more difficult, for sure.
just-food: What are the principal meat-analogue products on sale in Italian supermarkets?
Alberto Musacchio: Made in Italy, no-one. We are the only factory.
just-food: What about international brands?
Alberto Musacchio: It's starting now. We have some products from Nestle, Garden Gourmet, then we have some products from Vivera in some supermarkets. There are also some products from the old typology of vegetarian products – you know, typical veggie burgers – which sells nothing special. Plant-based meat analogues is still something very new.
just-food: Has Italy's love for meat and dairy products held back the development of the plant-based market?
Alberto Musacchio: It is always difficult for Italians to make any changes, I was in Thailand two days ago and where there were Italians in the restaurant they were eating pasta or pizza. In Thailand! Italy is a difficult country. I went on television two or three times where they were talking about vegans or vegetarians [and] they're trying to vegans down like idiots. In England now it's the other way around. I was watching one of these talk shows in England and there was a guy, a representative of the meat industry, and all the people were accusing him. England is a fantastic country from this point of view, because it's really very much advanced and very much developed.
In Italy, you need still to work much harder. Of course, there is a growing population of people who are changing their attitudes but, still here, if I get invited on television, I need to be absolutely aware of what I'm saying or what I'm bringing in. I need to know everything about the aromas because they will try to attack me. You don't have a particularly friendly environment still.
just-food: Is there any interest at all among meat-eaters in Italy to start to adopt what's been called a 'flexitarian' diet?
Alberto Musacchio: It is growing. In comparison to the UK, we may be from five to ten years behind. Where we are here now, how you were in England in 2009 approximately.
just-food: Do you believe a market will develop for your products in Italy?
Alberto Musacchio: I know the market is coming in Italy but I am also looking to sell my products in England, in Holland, in Germany. I know that if I want to take my products in the UK, I need to face the competition because The Vegetarian Butcher, Beyond Meat, Moving Mountains is selling there. I know that I will have to face the competition, which I don't have in Italy because there is no market at all. My idea is try to have some kind of strength internationally and then have the chance to be in Italy as the first player. That is my hope.
Internationally, I do suppose that an Italian, premium, plant-based product would be surely well accepted. People who do not meat are not people who go for savings. They go for quality. Something which is really good, it may cost GBP0.20 (US$0.26) more, but they will not care. So I do hope and expect that a good Italian product will be generally welcomed by everyone.
just-food: What are your main priorities internationally? Are you in any discussions about listings in any international markets?
Alberto Musacchio: We have been in touch with dozens of people. Of course, when you deal with people like Tesco, people like Lidl, they take a huge amount of time to make a decision. You have to go through a dozen different people and a dozen different managers. The timing, if you want to deal with the big guys, is very slow. We have a production line, which can make 1,500 packs in one hour, so I cannot work with a small shop in central London. I need to work with a big company but if you want to work with the big guys, they are very slow – not because they are inefficient just because they're very big.
just-food: Have you approached the foodservice channel?
Alberto Musacchio: This is the part where we're trying to invest quite a lot because … with the products we do, it's really very similar to meat. It's a different world in terms of analogues because our product is thermocoagulated. What does this mean? If I take a piece of my meat and put it inside a water, inside a sauce, inside an oil and I heat it, I pasteurise it, I even sterilise it, the product will not change.
We are working with the biggest Italian company that makes tomato sauce [Cirio]. They've been asked to make a vegan bolognese. They've tried to make vegan bolognese with tofu, with seitan, with all sorts of products. Those kind of products, once you put them inside something like a tomato sauce and heat it up to 120 degrees they implode and become a cream. They've tried with our meat and it came out perfectly because the product is thermocoagulated. So, for the food market, our product is fantastic, a product that will always keep strength and texture.
just-food: So you believe you have three possible avenues – retail, foodservice and industry.
Alberto Musacchio: Exactly. Our packaging line can make packaging of 165 grammes, which is the retail line, we can make packages of two kilos, which is the foodservice line and we can make packages of 20 kilos, which is the industrial line.
just-food: Across these channels, what customers do you have at present?
Alberto Musacchio: We've just entered in Metro in Germany. We sell in the Supermercati Tosano in Italy. We're selling bits and pieces here and there to small restaurants. We have just been been serving a [manufacturer] that makes 20 millions pizza per year and just delivered a pallet of pancetta because they're making for the English market a new vegan pizza with our pork. We're dealing with another two companies – one that makes some bolognese sauce for pasta making and another one, very big, which is making fillings for tortellini, which is usually the pasta filled with meat. They've done some tests using our meat instead.
We are obviously at the beginning. The company is new. We need to be a little bit patient but we are having big success. People are liking the product very much.
just-food: Where do you expect to see the most early success out of retail, foodservice and industry?
Alberto Musacchio: What we want to pursue is obviously the retail part because it's where we could have more brand awareness. At the moment we're trying to invest on that point because we want our company to become more and more well known. Foodservice or industrial is easier. It's much shorter and quicker than to deal with, say, Tesco, which will go through a million certifications, applications, controls, decisions. We want to push more on the retail market, but we need to be patient and to try to make some money also on the industrial and foodservice lines.
just-food: You're in the middle of attracting fresh investment.
Alberto Musacchio: We had the first round when we started which was five years ago. This money was used to start up the company, to do the production. Now this is over, we need to do a new part, which is what we're doing now. We're trying to raise some three to five million [euros].
just-food: Why should investors back Joy Food and Food Evolution given the plethora of plant-based companies out there?
Alberto Musacchio: You have to consider that 70% of those products are made by the meat industry. With all good respect, everybody makes their own living and I do respect that but if you had to do a vegan product, a vegetarian product, I do expect and would love a little bit of vegetarianism and veganism as an ethical approach to what you're doing. If it's only about doing business … passion should be behind food.
It's typical of Italians that we always believe that behind food must be some passion. So we have are different from others in that we have the passion. We have been vegetarians for 40 years. We have been cooking high-quality vegetarian food for forty years. And we have an Italian palate.
I had another business and I was living a very happy life, working much less and having much more money in my bank account than now. I could have been doing my business and taking it easy, but I love this job and I know that we can be an added value to the international panorama.