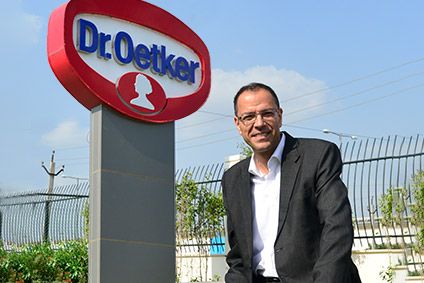 German giant Dr Oetker is looking to grow the sales its business in India generates five-fold in just three years. Oliver Mirza, the managing director and chief executive, of Dr Oetker's business in the country spoke to just-food about the company's goal.
There is no doubting Dr Oetker's ambitions for its business in India.
The company wants to grow the sales its subsidiary in the country generates from the INR2bn (US$30.8m) made in 2017 to INR10bn in just three years.
Within Dr Oetker's global network, India is a relatively small market, but it is its fastest-growing and the company has plans to try to further expand its business within the country, while using the subsidiary to crack other international markets.
Dr Oetker has only been present in India for a decade and took a significant step forward in the country in 2008 when it acquired FunFoods, a leader in offering western-style food products. The company subsequently added to the FunFoods range, launching mayonnaise, Italian sauces, peanut butter and salad dressings.
Oliver Mirza, the managing director and CEO of Dr Oetker's India arm and who has been at the helm since the unit's inception, expects the FunFoods brand to account for half that INR10bn in sales.
Central to Mirza's plans for FunFoods in India is to build the market for mayonnaise in the country. Dr Oetker first started selling mayonnaise in India in 2008 and he believes the category could reach the scale of ketchup.
"In India, ketchup is an INR12bn food category. Why should mayonnaise, which globally sells more than ketchup, not be the same size if not more? If ketchup is to grow to be INR20bn in the next ten years, why should the mayonnaise [market] not be the same size?" Mirza tells just-food. "Mayonnaise is much more versatile than any other condiment and consumed as a spread, dip, binding agent and a base sauce for many other sauces. This multi-utility aspect makes it more preferable over any other condiment."
However, while Indians already appreciate ketchup as a common condiment, the eggs present in mayonnaise means it is eaten less by local consumers – or eaten by meat-eaters only on certain days of the week for religious reasons.
"In India, the vegetarian population is huge, while most non-vegetarians observe vegetarianism on certain days of the week due to religious beliefs, one reason vegetarian mayonnaise has a huge market in India," Mirza explains.
Dr Oetker has sold conventional mayonnaise and an eggless since 2008 but last year tweaked the product's name from eggless to vegetarian to appeal to consumers wanting to be sure their mayonnaise was indeed suitable for vegetarians. "The product recipe is the same," Mirza underlines, "but changing the nomenclature has made a big difference. There are three categories of mayonnaise in the market. First is the conventional mayonnaise, which is made with eggs. Then there is mayonnaise that is eggless but can contain some non-veg ingredient, such as cheese made from rennet. Vegetarian mayonnaise is completely free of any such ingredients."
The company has used TV advertising to tout the versatility of mayonnaise with a campaign in 2015 helping drive the number of FunFoods mayonnaise consumers in India up from 6m in 2014 to 12m in 2017, Mirza says.
The marketing has been carefully targeted. "Our real growth driver is upscaling consumers: 140 million of India's 1.3 billion population lives in SEC A and SEC B [socio-economic class] in urban India. If we target 25% of that population, we have 35m consumers who are our short-term target by 2020. Our aim is to project mayonnaise as a convenience [condiment]," Mirza says.
The brand has a 70% share of the mayonnaise market in India, making it the country's number-one mayonnaise brand by value, volume and units sold, according to an AC Nielsen report issued last August.
Looking ahead, Dr Oetker, which also sells cake mixes in India, is undertaking marketing research for the possible launch of frozen pizza in India, inspired by the country's growing home-delivery market. The group, of course, is one of the world's largest pizza manufacturers, with brands including Ristorante. "For pizzas we are conducting research, we will assess the outcome and decide on the way forward," Mirza says.
With an international product portfolio containing food like baking mixes, pizza and condiments, Dr Oetker can justifiably be said to be operating at the more indulgent end of the market. "Globally, we are a pleasure food brand," Mirza concurs.
However, if the last ten years was about India opening up to the global palate, the next decade will be about health and wellness, with more consumers taking a keener interest in the links between diet and health.
Mirza says Dr Oetker will "as a market strategy, continue to stand for fun food and pleasure food, as we do today. What is fun to eat in India is not the idli dosa, paratha or dal chawal [Indian staples], but a burger, pasta, pizza, wrap or sandwich".
He argues health-conscious Indian consumers still want authentic tastes to please the palate, although, at the same time, he points to the relative health credentials of some of Dr Oetker's products.
"In our vegetarian range, fat percentages vary from 0% to a maximum 51%. An alternative for mayonnaise on bread is butter, which is actually much higher in fat with 82%. Our Vegetarian range is also completely cholesterol-free," Mirza argues. Further, our peanut butter caters to this demand [for healthier products].
Moreover, Mirza says Dr Oetker may try to tap into growing demand for healthier products with the possible launch of muesli. "From global strategic point of view this [launch of muesli] was put on hold in India at least for a year because the category of muesli inside the Dr Oetker portfolio is under evaluation in Europe. But we are serious [about the launch] and we can make it any day we want to [in India]."
Dr Oetker's plans for its India arm are not just predicated on growth within that market. Having cemented sales in India, the subsidiary started exporting in December, shipping its first mayonnaise and peanut butter to Malaysia, with business soon to start in Nepal.
High on Mirza's agenda is making India a major production hub, not just for scoring sales in the country itself but also for exports.
Mirza's aim is to export to the South Asian Association for Regional Cooperation (SAARC) countries, which, alongside Nepal also comprise Afghanistan, Bangladesh, Bhutan, the Maldives Pakistan and Sri Lanka. He also indicates there is internal demand within the wider Dr Oetker group for products made by its India subsidiary.
"We have a demand from various companies of Dr Oetker from the Gulf countries and from South America for supply of products from our India plant," he says. "We are looking at both these opportunities equally. We will have equal focus on exploring opportunities within SAARC countries and other Dr. Oetker companies in the Gulf and South America. By 2020, we believe our exports from India will be to the tune of INR1bn."
Entering and doing business in emerging markets carries with it inherent risk but it is clear Dr Oetker believes its India business can continue to prosper.
Additional reporting by Dean Best.