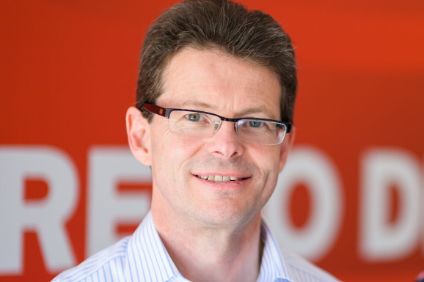 Andy Coyne speaks to David Hunt, MD of US baked goods giant Rich Products' operations in Europe and the Middle East, to hear about strategic plans linked to investment and innovation.
Rich Products, the US baked goods heavyweight, is hoping innovation will continue to drive the business forward as it plots expansion plans in the UK and Europe.
The Buffalo, New York-headquartered family-run business founded by Robert Rich Sr. in 1945, rose to prominence through invention – it created the world's first non-dairy whipped topping.
Rich Products' other claims to innovation fame include, its says, creating many of the sweet treats now available in every supermarket and High Street bakery outlet and being the first frozen food business into China.
Today, Rich Products is reputed to be the largest privately-owned frozen-food company in the US with US$3.7bn in annual sales. It has 10,000 employees and sells 4,000 products across more than 100 countries.
On the other side of the Atlantic from Rich Products' home market, the company is hoping investment in a new "centre of excellence" in southern England will help drive growth, through new product formats, an ability to respond quickly to market trends and by offering a personalised service to existing and future clients.
As David Hunt, the managing director of Rich Products' operations in Europe and the Middle East, puts it: "We've created a craft bakery at scale."
Rich Products provides products in a frozen state to retailers and the High Street food-to-go market – in a roughly 50-50 split in the UK. It is perhaps best known for supplying sweet baked goods such as muffins, cinnamon swirls and cookies on an own-label basis (90% of its business is own-label).
The company has operated in the UK since the 1990s. It turned over GBP45m (US$56.3m) last year and sees the potential to grow its sales significantly.
To this end, Rich Products announced last September its UK operations were to be consolidated in that centre of excellence in Andover, Hampshire.
The company had operated from bases at Fareham and Portchester, both in Hampshire, as well as in Hartlebury, in Worcestershire in the English Midlands.
The plan announced in November was for those facilities to close with all work switched to the new 15-acre Andover site.
Rich Products said its new facility represented a "multi-million pound investment" and underlined the company's commitment to expansion in the UK.
Hunt said at the time: "The food manufacturing world is constantly evolving and undergoing rapid change. This requires us to adapt and innovate, and the new Andover site will mean state-of-the-art technology, exceptional working conditions, and will enable us to continue to improve upon our already first class customer service and range of sweet bakery products."
The new site, which has Rich Products' operations in the UK, Europe and the Middle East under its remit, officially opened last month.
The facility, which features a large production hall, six automated production lines and a research and development centre, is intended to "future-proof the business for the next 15 years".
On operning, Hunt described the facility as being "on a scale that is unrivalled in the UK bakery sector," adding: "At a time when others are making cutbacks, this is an ambitious project marking a significant investment as we scale up our business across the UK, Europe and the Middle East."
Speaking to just-food less than a month after that opening, Hunt admits Rich Products' business in the US was unable to match its ambitions before the new facility opened.
"We had reached a point where existing assets and facilities couldn't cope so we took a strategic decision whether to invest further in them or not," he says.
"It's about understanding what the customer wants around sweet treats and indulgence purchases. After research we felt our proposition could scale up and the market needed innovation around snacking, on-the-go and convenience treats. So we invested to build the facility in Andover. We have gained a lot more capacity but also capability.
"The UK not a microcosm of the US businesses. It's very much 'think global but with a local mentality'"
"Andover gives us the opportunity to produce quality, consistent bakery products at scale, but retaining the ability to innovate and hand-finish as required. This is exactly what the consumer is demanding as they invest in visually-impactful sweet bakery products that are a real treat."
At the new centre, Rich Products says it offers a service where clients can visit and work collaboratively with its team. "It is this consumer-centric approach, alongside a focus on insight and innovation that sets our business apart," Hunt suggests.
Investing in UK-based manufacturing facilities – especially with an idea of exporting products from there to continental Europe – may raise a few eyebrows this close to Brexit, the UK's departure from the European Union, possibly without a trade deal, but Hunt is not overly concerned.
"We've done all we can. We've done the preparation and the homework with our supply chains," he says. "What will happen afterwards? Who knows what the impact will be on the cost base and export strategies?"
Rich Products' shelter against any fallout from Brexit is it has plenty to occupy it within the UK. "The strategic rationale is to scale up things we are doing very well," he says.
New commercial and marketing executives have been brought in to help with this push. John Want who joins as marketing director, has almost 20 years' experience, including at Adelie Foods and at Samworth Brothers-owned pasty brand Ginsters. He will be responsible for driving growth across all channels.
Hazel Tomkinson, who joins Want on a "steering team" as insight and innovation director, also has a long track-record in the industry, having worked with businesses including Mars, Burger King and Schwan's International. She will be responsible for managing Rich Products' attempts to accelerate its innovation and maximising opportunities from the new production lines.
And John Moore, another Adelie alumni and also formerly of PepsiCo and Bacardi, also joins as commercial director, responsible for accelerating sales growth out of Andover.
Hunt, who has been with Rich Products for 13 years, says: "Bringing the best talent into Rich UK is absolutely fundamental to business growth."
He is keen to stress decisions about the local business are largely taken locally. "The UK not a microcosm of the US businesses. It's very much 'think global but with a local mentality'", he says. "Going from ambient into frozen was a local decision. We decided making everything for everyone every day isn't efficient. Frozen ups capacity."
Hunt is very aware, though, that – notwithstanding its expansion into other lines – Rich Products is best known for its calorific muffins and cookies in a world where the words health and wellness seem to be on everybody's lips.
"We have to be mindful to stay ahead of the game. In terms of 'tech' platforms we are on the front foot," Hunt says. "But a lot of our research show that when people indulge they want to make sure it is worth the calories. Indulgence is still very much there. If you go too far [down the route of creating healthier products] it stops being a cake and stops being a treat.
"But we can work with different market alternatives for different occasions. There is some crossover in things like breakfast squares which are in the lower calories area."
Hunt, meanwhile, sees growth in the wider foodservice category. "We do a lot already with High Street operators but we are always looking to reach other sectors. There are opportunities there," he says.
And, with his job title in mind, Hunt is keen to do more business in continental Europe – Brexit or no Brexit – and to push on into the Middle East.
"This [international expansion] is a big driver for the business," he says. "Rich Products has gone from being a North American-based company to an international one. It is looking at things now with a global perspective.
"We have a very large business in Asia, we were the first frozen food business into China and have factories in China, Indonesia and Vietnam. And we've got a business in India and a presence in Latin America and Africa. Andover will become the centre of excellence for the whole business."